It has been a while since we have not posted in our product updates section, this is because we have been extremely occupied carving the future of Bettingmetrics. As most of you have already noticed we have introduced various changes and the major once have been the full integration with Ladbrokes and soon Vbet – we will write a new article covering everything you should know about the full integration functionality and how to make the most of it.
The focus of today's article is to announce the winners of the last free tipster competition, share with you what we have learnt by running a tipster challenges for the last year and last but not least introduce to you some additional rules we will be adding for the future competitions.
Tipster competition 6th of January to 9th of March 2020 – Facts and Figures
The last competition that took place between 6th of January and 9th of March 2020 has been one of the busiest we have had so far. The tipsters that took place were over 280 and they have managed to place 19330 betting tips. This is on average 69 tips per tipster and 322 tips per day for a period of 60 days. That indeed has given a great variety of opportunities to our users and certainly, many people have landed some very good profits during this period. Our automated tips verification algorithm has verified and settled 18366, which is 95% of all tips published on Bettingmetrics site, meaning there were only 964 unverified tips published during the tipster competition for which we did not manage to automatically check the odds and settle the outcome of the event.
The winners of this competition are:
1st place Conquer with a 403.9 units in profit in just 2 months. He posted 353 tips during the competition period and ended up with a profit of 403.9 units. Meaning if you have followed his tips during the competition with a £20 per unit advised you would have made a profit of £20 * 403.9 = £8078.
2nd place Scelam another great tipster on Bettingmetrics with a profit of 373.2 units. Have you followed him with £20 per unit advised for the last two months you would have made £20 * 373.2 = £7464
3rd place Kezmann with a profit of 250.7 units. Have you followed him with £20 per unit advised for the last two months you would have made £20 * 250.7 = £5014
4th place Niroj86 with a profit of 236 units. He has been extremely active during the competition and advised the enormous 945 tips for a 2 months period. Posting that many tips and still managing to be on profit is certain sign that this person knows very well what he is doing.
5th place Park-Life-Tips – with a profit of 126.7 units. He is one of the most experienced tipster on the platform. He posted 380 tips during the competition. Have you followed him with £20 per unit advised you would have made £20 * 126.7 = £2534

Another interesting fact for everyone who is into following tipsters is that if you blindly followed the top 5 tipsters during the competition you would have placed 2425 bets, which is 40 bets per day on average. If you backed each and every tip with £20 per unit advised, you would have earned the whooping amount of £27810 in two-month time.
We have always been honest with you and this is why we would like to share with you what would have happened if you backed with £20 per unit advised each tip during the competition. Well that would have not ended very well for you, as you would have lost £14662 with a negative ROI of 3.79%. Quite obviously, it is impossible to back each and every tip suggested in two months.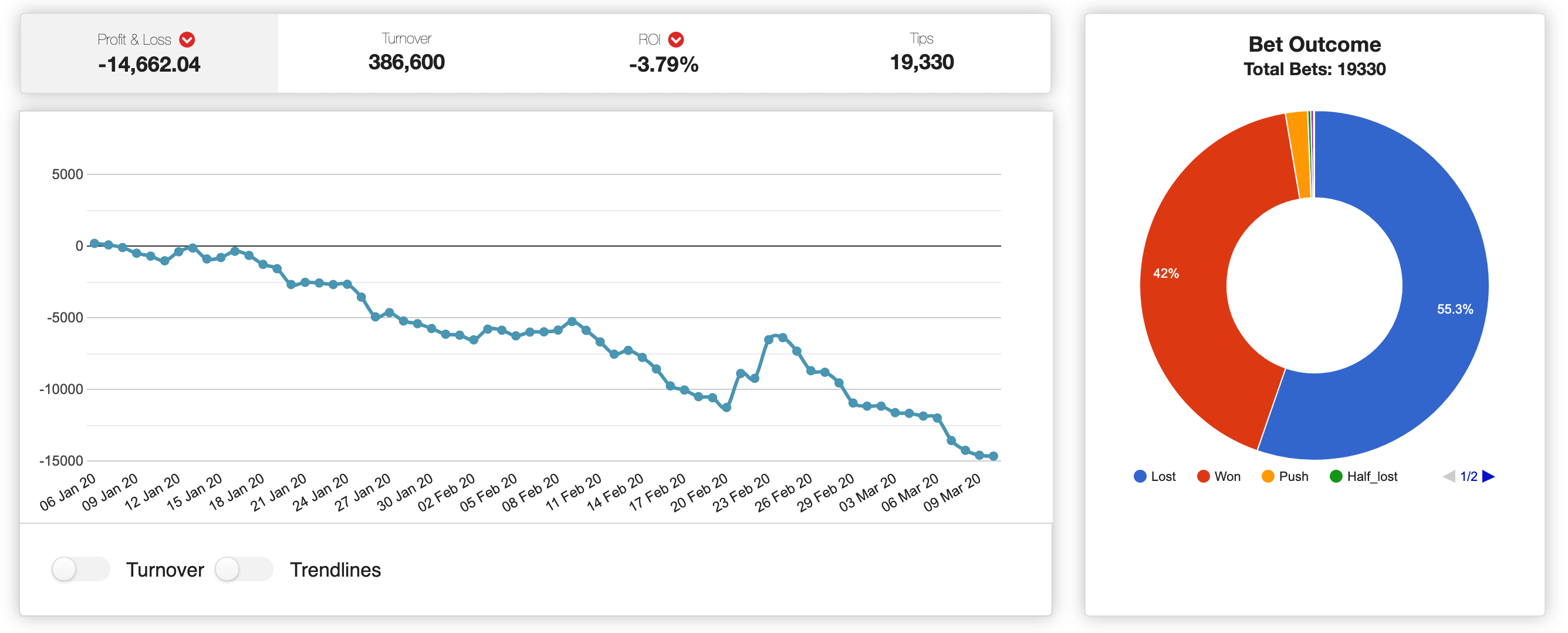 There will always be winners and losers in the betting industry it is our own responsibility to select which tipsters to follow. We try to provide you with well-verified tipsters and all the tools needed to maximize your chances of being successful with your betting.
Challenges running a free tipster competition
One thing that we have learnt for sure is that when you are one of the very few on the web giving real cash as reward in a tipster competition is that people will definitely try to take advantage from you and any system bugs. This is something we are not very happy with as we have been extremely honest and transparent with all participants and have always delivered on what we promised – everyone who has been part of the competition received its financial reward in a timely manner and the necessary customer service that ensures smooth sailing during the tipster challenge.
During this competition, multiple tipsters have been reported cheating in many different ways. We are extremely grateful to all responsible users of the Bettingmetrics community that contacted us in multiple occasions and reported wrong doings. We have penalized everyone who was taking unfair advantage of the competition.
We want to see in our next tipster competition people being fairer with each other and avoid cheating, as this is not really helping anyone. The goal of the tipster challenge is to help tipster proof their skills, build an audience and get compensated for the hard work they did during the time competition.
Changes for the next competition
We have received a positive feedback from our users about the free tipster competition we run and we have no plans to stop although the operational difficulties. We have learnt a lot from previous rounds and we are now introducing some new rules that aim to make the tipster challenge more honest and reduce the risk of cheating to extremely low.
First, there has been a bug in the last competition that allowed tipster to publish a multiple tip with Betfair exchange odds. This bug has been largely exploited by tipsters and some have managed to gain unfair advantage. Unfortunately, for them we have discovered that on time and for all the odds of all multiple bets published with odds quoted from Betfair Exchange and Smarkets we introduced 15% odds reduction. We have now fixed that bug and people would never be able to benefit from it again. Multiple tips will only be allowed with bookmakers odds.
Second thing there have been many tipsters trying to cheat with either quoting misleading odds or selections or tipping unverified finished events and so on, so from the next competition we will forbidden publishing unverified tips during the competition. From all 19330 tips published in the competition, only 5% have been unverified so that will have very small to no impact on the experience. In addition, we are increasing our sports events on a daily basis so the occasion where we are either missing an event or betting market will be very few.
Lots of tipster tried to place duplicated multiple bets and take advantage over other players. Following this we have introduced an automated check that will not only allow you place a duplicated accumulator. Duplicated accumulator is a bet that has the exact same events and selections. Further other tipsters tried to come up with strategies where they combine a few events in various multiple combinations so they can boost their profit dramatically if they land a winning accumulator bet. Following this abuse we are introducing a new rule, no more than seven accumulator bets will be allowed during the next competition.
Following the feedback, we received from tipsters we are also increasing the daily limit of bets that can be posted on BM site to 25. On multiple occasions, participants have requested ability to publish more tips on a daily basis. All these new rules are now added in the free tipster competition rules so if you want to get your fingers on the latest updates feel welcome to read them.
The next competition we will launch on first of April with some chances to be delayed a little further due to the coronavirus and the uncertainty that is going around all sports now. We will keep you posted for any changes.