Bettingmetrics betting portfolio
Hey everyone my name is Martin and as you may already know I am a co-founder of Bettingmetrics. Myself and the rest of the Bettingmetrics team are huge betting enthusiasts who are fully dedicated to developing a software that will cover all your betting needs. We know how hard it is to make money from sports betting and this is why we created our betting university. You can find everything from educational articles to betting previews, tips and bookmaker reviews.
We love listening to the feedback from our users. We identified that one of the major issues that punters experience is finding and following profitable tipsters. We wrote two educational articles that are available on Bettingmetrics blog. Both articles are explaining how to find and successfully follow a tipster. Although we have received numerous positive feedbacks for what we have written, we have also been asked to provide more practical help when it comes to choosing and following a tipster!
Recognising this major and very common problem punters encounter, we decided to practically show how to choose and follow a tipster that fits your betting behavior.
We are happy to announce the launch of Bettingmetrics Betting Portfolio ! I am also happy to introduce you to Anthony. He will be the person building and maintaining the Bettingmetrics betting portfolio and reporting the results via our bet dairy.
Anthony has over 5 years of experience in the betting industry. He has managed to earn 5-figure amount of money by following tipsters. He has agreed to build Bettingmetrics betting portfolio and report his results in our blog. Anthony wants to help others become more educated and start making money or at least decrease their betting loses.
Anthony has utilised various betting strategies, such as arbitrage and value betting, matched betting and following tipsters. He particularly enjoys following tipsters as they do most of the hard work and provide him with the predictions. He is having another job as an iGaming professional, so time is incredibly important asset for him. Anthony does not fully rely on the income generated by sports betting activities.
The main goal is to show that healthy profits can be made by following tipsters and betting on their predictions also known as betting tips. In our betting diary we will not only be following tipsters from Bettingmetrics market place but we will also use other reliable sources of information such as Smart betting club.
On a different note we want to underline that we are not getting paid nor having any affiliate relationship with the tipsters that will be featured in Bettingmetrics diary. All tipsters have been chosen after analyzing their past performance and evaluating the future risks associated with following them. Please note that there is no guarantee and of course we do not promise the result we will have can be achieved if you copy our betting portfolio.
We are fully aware of the fact that most of the people are skeptic about following tipsters. We also know that there are numerous fake tipsters online which claim will make you rich fast (They can predominantly be found on all sorts of social medias). However, we are confident that there are still honest, genuine tipsters that can help you make money from sports betting. Anthony will use Bettingmetrics bet diary to test this hypothesis and report the results.
Anthony will take care of updating the bet diary every Tuesday. He has chosen every Tuesday as the weekend games will be finished and effectively allow him to provide a report with more accurate results of the performance of his betting portfolio.
We have created a sub section in our betting university where all the updates will be posted. Furthermore, all users that have chosen to receive updates via email will get weekly performance email by Anthony with some key figures around his activities.
Antony will be taking over from here onward and will tell you a little more about his Betting diary, his ideas and plans.
Anthony shares his vision
Martin thanks for introducing me!
I know everyone is looking for easy ways to make money from sports betting. Unfortunately, the truth is that there are no short cuts with sports betting – you have to be disciplined and patient. That will not guarantee you profits but will dramatically increase your chances of making money.
My betting portfolio is long term oriented. I will most likely have to lose weeks and months. Nevertheless, my ultimate goal is not to have loosing years. Weekly losses will often occur, you should remain calm and focus and avoid taking emotional decisions. Emotions are the enemy of profits. 99% of the people that bet with emotions lose – keep that in mind when you feel frustrated and chasing any loss.
Betting portfolio strategy
Betting portfolio strategy
Further, I will invest £9 000 pounds into my betting portfolio and distribute this amount among the tipsters I will be following. The goal is to make 100% return on my capital for the period of 12 months!
Through the years I have been betting I developed a standardized approach of choosing profitable tipsters. I have noticed that Bettingmetrics team already wrote an extensive guide "How to choose a profitable tipster". I certainly recommend you to read through it and make some notes.
Briefly, for my new betting portfolio I will be using tipsters based on the following criteria:
Sport they bet on

Leagues

Frequency of betting tips and timing

Verified tips

Availability of betting history

ROI and Profit

Description added to the tips
The above 6 criteria are only touching the surface and I will be using more evaluation inputs but for that I will be talking in my weekly updates.
Betting portfolio tipsters
The first tipster I have decided to add to my betting portfolio and follow is KaluGuru who bets on football, tennis and basketball. So far he has achieved 5.43 % ROI, posted 658 tips with a hit rate of 62.5% and 411 winning tips. His profit to date is 337 units.
If you are following him with a bank of 5k and bet £25 per unit 337 units will be £8425 only by following this tipster and risking £25 per unit. KaluGuru has placed 170 bets at 1.40-1.70 odds range and has 60.89% hit rate. KaluGuru's favourite bookmaker is Pinnacle sportsbook.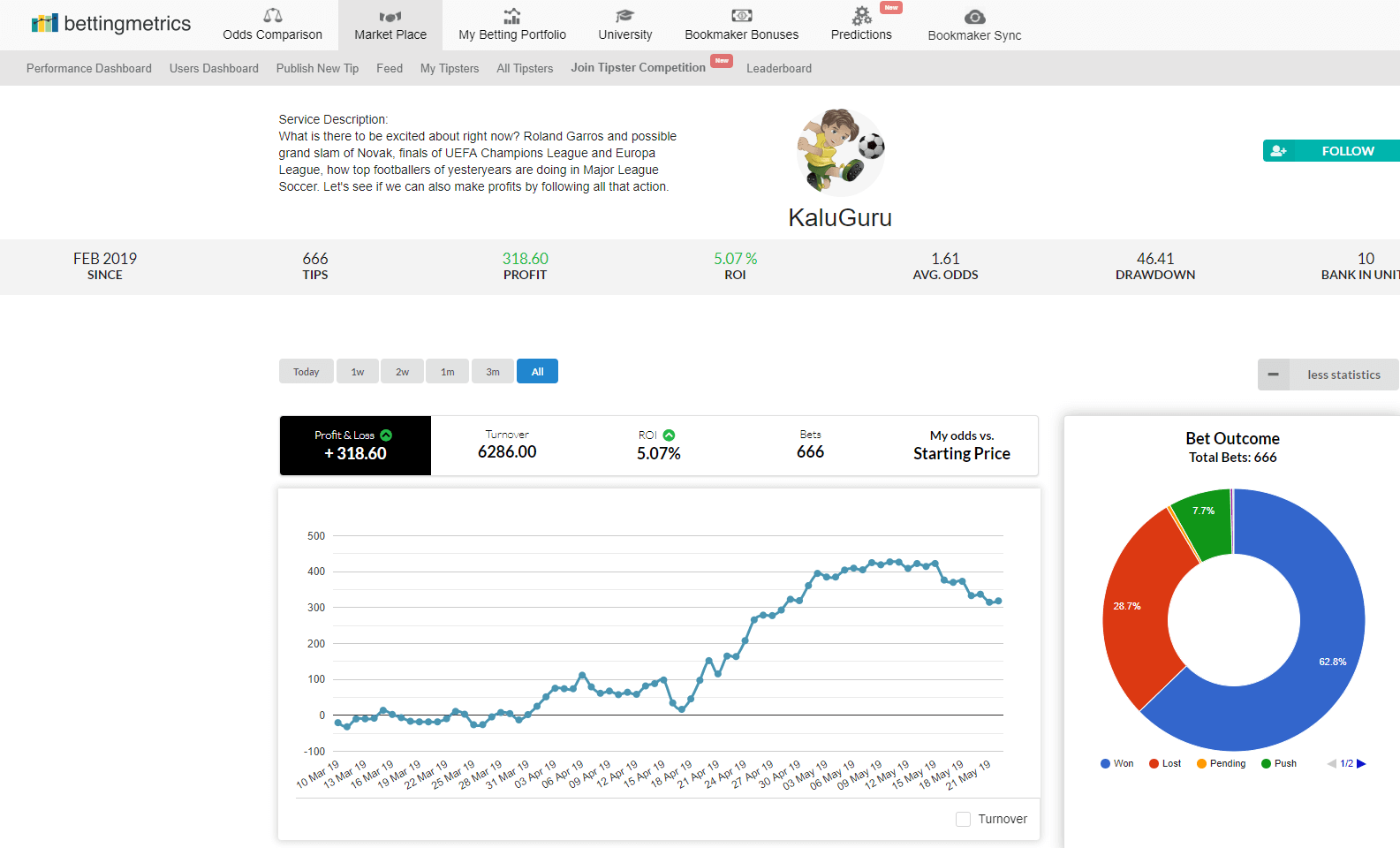 The second tipster I will be adding to my betting portfolio is Alcuni who focuses on football. So far he has achieved 7.97% ROI, posted 71 betting tips with a hit rate of 59.2% and 42 winning tips. His profit to date is 43 units. If you are following him with a bank of 5k and bet £25 per unit 43 units will be £1075 only by following the tipster and risking £25 per unit.
Alcuni has placed 21 bets at 3.20-4.20 odds range and has a 38% hit rate. The tipster bets predominantly on Betfair Exchange and his preferred sport is football.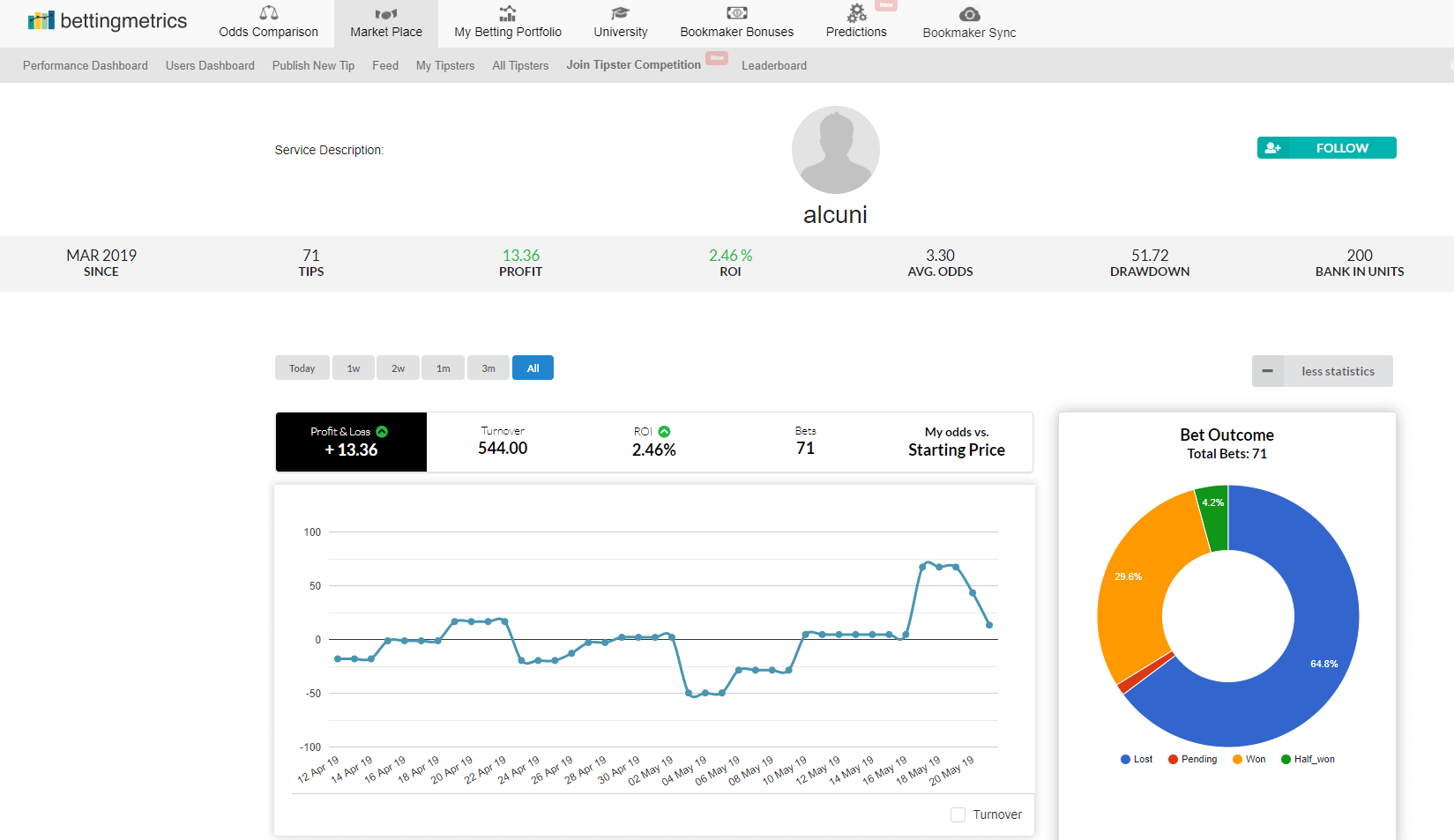 The third tipster I will add to my betting portfolio is TennisTipsUK</a who focuses on tennis. I particularly like him as he is value betting evangelist and always places bets with positive expected value. Currently he stands at 18.18% ROI, posted 203 betting tips with a hit rate of 44.8% and 91 winning tips. His profit to date is 181 units. If you are following him with a bank of 5k and bet £25 per unit, 181 units will be £4525 only by following the tipster and risking £25 per unit.
One more tipster who I'm going to add is Drazen. With 444 bets tipped and hit rate of 42.8% and 190 winning tips he has achieved 9.31% ROI. His profit to date is 216 units. If you are following him with a bank of 5k and bet £25 per unit 216 units will be £5400 only by following Drazen and risking £25 per unit. His bets are mostly around 1.70-2.00 odds range and he has 53.06% hit rate. Drazen uses Betfair Exchange and Betfair Sportsbook for his betting tips.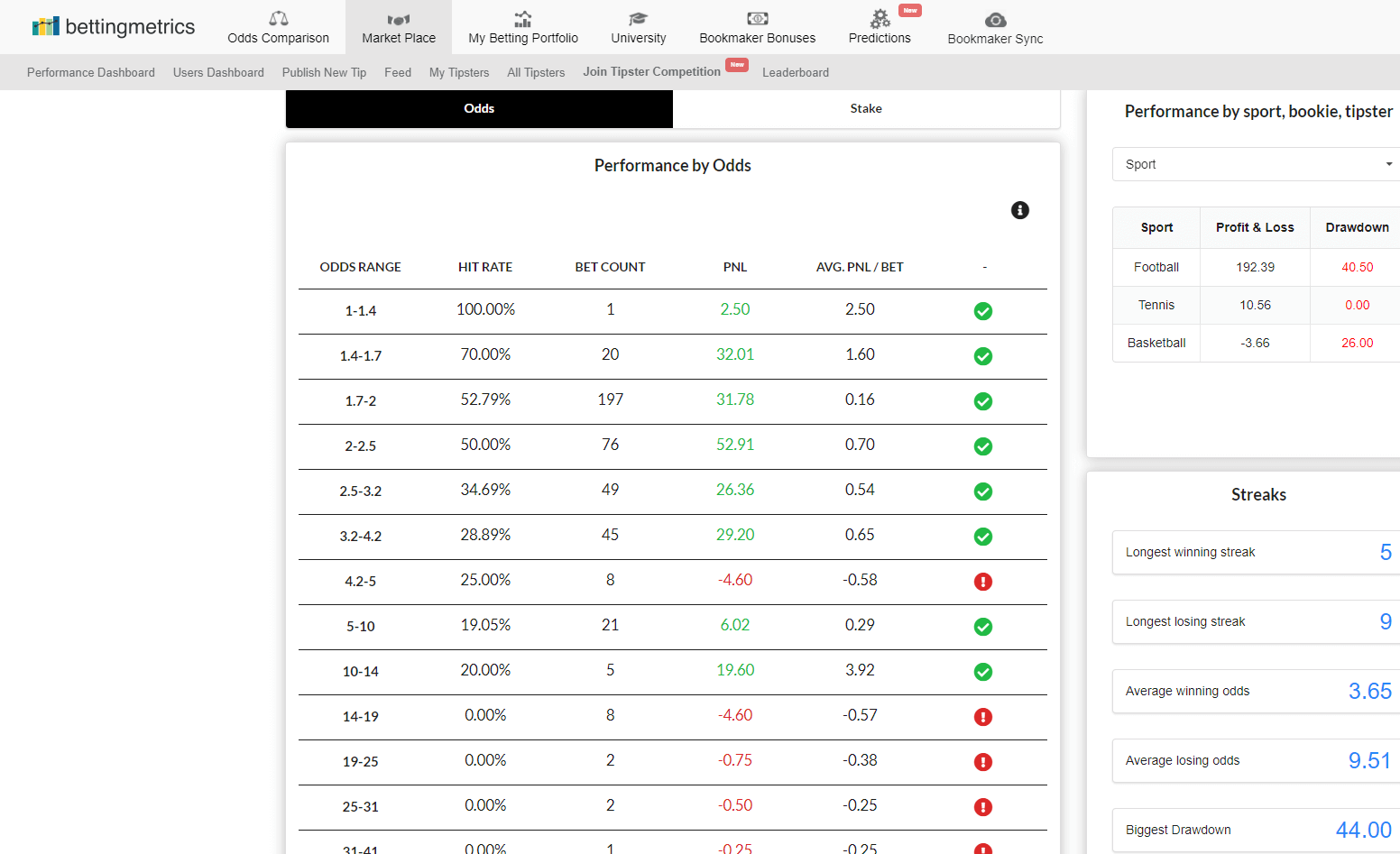 The last tipster I will be following in my betting portfolio is Park-Life-Tips. He made me the impression of being extremely consistent with his tips. So far he has tipped 1275 bets and achieved a hit rate of 41.7% with 532 winning tips he has achieved a 5.36% ROI. His profit to date is 541 units. If you have been following him with a bank of 5k and be £25 per unit 541 units will be £13,525 only by following his betting tips. Park-Life-Tips bets on football leagues and mostly in Betfair Exchange. He likes 2-2.50 odds range and has 51.27% hit range.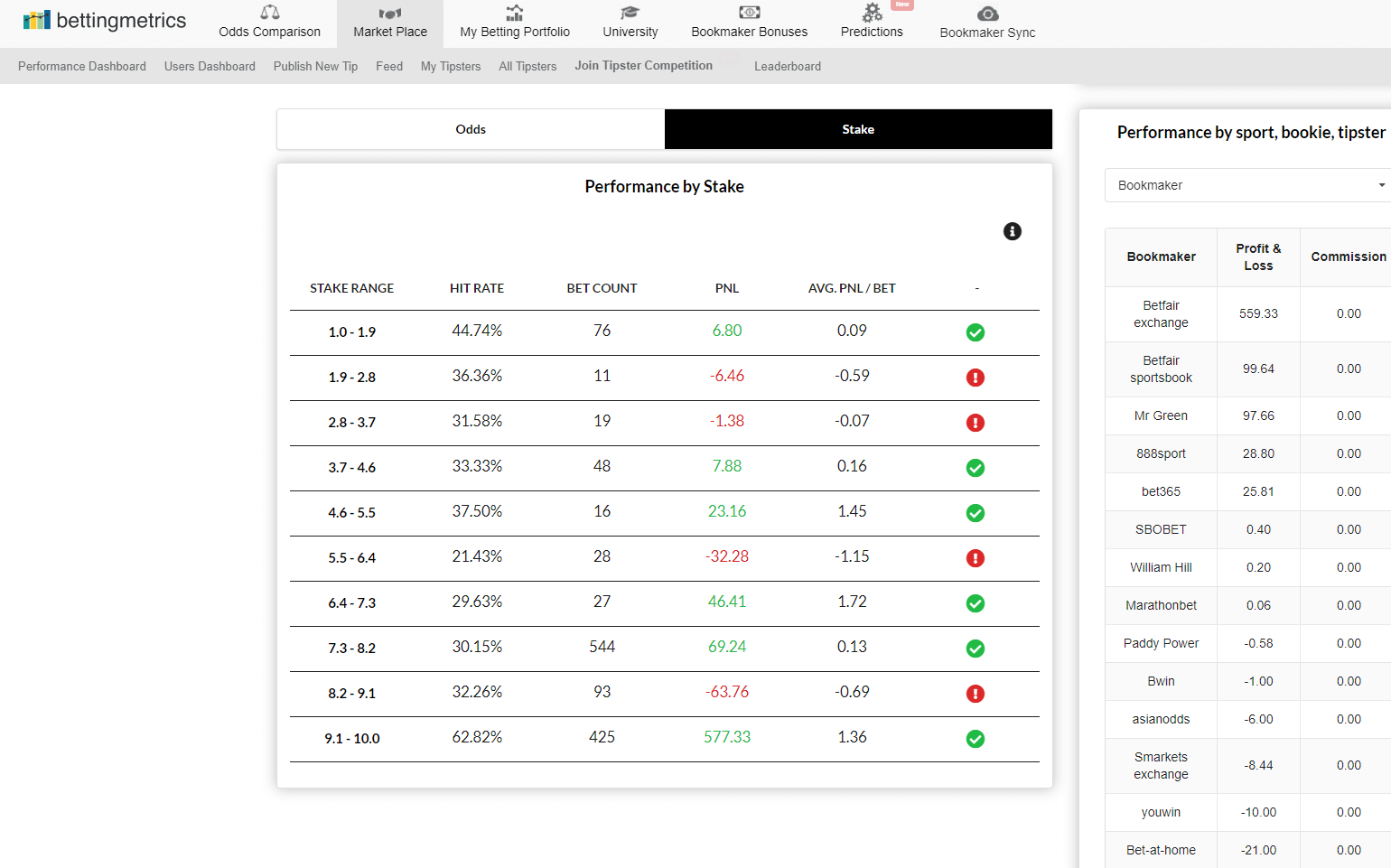 All of those 5 chosen tipsters are profitable as of today and have grabbed my attention. 95% of the tips posted by the tipsters I have selected are verified by Bettingmetrics automated algorithm which effectively means that I should be able to reach similar results. I will start following them conservatively and avoid the very common mistake of being extremely aggressive with the amount of money placed on their predictions.
Following this five tipsters form the beginning of the year with a £25 per units would have generated me a profit of £32,950. That of course would have happened if I have invested £25,000 pounds so it does involve quite significant amount of risk.
Please do not forget – there is no guarantee I will be successful in my journey. I will be following these tipsters for the long term and will be also adding more tipsters to my betting portfolio in order to diversify the risk and maximize the profits.
Let's all enjoy the journey, be disciplined and make sure we will close a profitable year.