We are continuously working on improving Bettingmetrics functionalities and the customer service we provide. We have recently released a new version of Bettingmetrics that includes new features such as multiple odds formats, track commission paid in exchanges, bugs fixed and an alpha version of our odds comparison.
A feature that has been requested on multiple occasions from Bettingmetrics users was to have the capability to track the commission paid to exchanges, brokers and bookmakers. It is always important to say on the top of your finance and know how much money you have paid. Bettingmetrics will now not only settle your profit and loss correctly deducting the commission paid but will allow you to see how much you have spent on commissions. In order to do that do the following:
Log in to your Bettingmetrics account

Go to your betting dashboard

In the "Performance by sport, bookie, tipster "select form the drop down menu Bookmaker
By doing the above you should end up with the following information: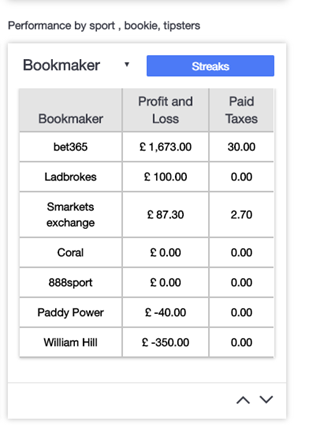 The "paid taxes" represent the aggregate number of funds you have spent on commission in that given exchange or bookmaker. Please note the commission is already deducted from you profit and loss.
Another feature that we released with the update made on 1st of August is the ability to track tipster fees. We already mentioned numerous times that choosing a tipster is not an easy task. There are many tipsters out there who pretend to make you rich overnight but please do not trust them. Our mantra when choosing a tipster "be cautious and data driven" – we have also wrote an extensive guide that aims to help you avoid the most common mistakes when choosing a tipster.
By tracking the fees you have paid to a tipster you can also get a realistic view of whether that person is actually making you money or simply throws dust in your eyes with some short term results. It is quite simply to add the fees in your Bettingmetrics account
Log in to your Bettingmetrics account

Go to Bankroll

Select tipster from the switcher located on the top

In the column "Fee" add the amount of funds you have paid to the tipster

In the column "Fee Type" indicate whether you are paying monthly or annually
This is what you should end with: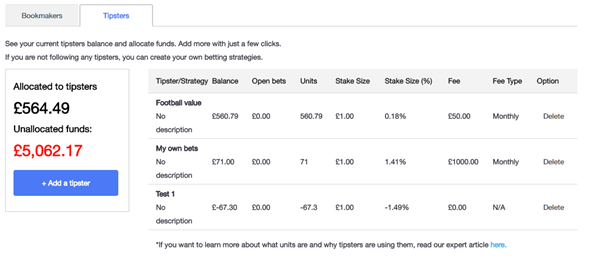 Here at Bettingmetrics whatever we do, we do it with the customer needs in our mind. We realise there are many punters benefiting from our service so we added the ability to use different odds types – you can now track your bets in both decimal and fractional odds. The switcher is located in the header of Bettingmetrics site so in case you prefer to track you bets in fractional odds simply go ahead an test it now.

Bettingmetrics bet tracker is perhaps one of the most advanced, automated and easy to use bet tracking softwares available online. Guess what we just raised another level – you can now even track cashed out multiple bets. At first look that feature does not look super exciting compare to tohers but when you research a little more you will find out that over 60% of all multiple bets have been cashed out. If these are the stats we should follow the trend and allow all Bettingmetrics users to track their cashed out bets. To track a cashed out bet, simply go to your bet tracker and under the column "outcome" select cash out and follow the instruction. As with everything in Bettingmetrics this is really straight to the point and easy process.
Another improvement we added to the Bettingmetrics bet tracker is that punters can also switch bet types once the bet is tracked. For example if you tracked a back instead of lay bet you should simply expand the bet and change it. For comparison so far you had to delete the bet and a new one – should save you some time J
I have kept the most interesting part for the end with the genuine hope you will read the whole article – quite silly of me. However the big and most existing news we have release the alpha version of Bettingmetrics odds comparison. The odds comparison is under construction and we will be adding more bookmakers shortly we want to take the design up first so you can share your feedback with us. It will be very nice of you if you go ahead test it and send us your feedback. Our ultimate goal is to focus on live events, and speed so the odds you see in Bettingmetrics odds comparison are the once that you can actually take when placing your bet. The nicest part: once you place a bet via our odds comparison we will automatically track the bet for you – no more manual work!
In case you want to support our project and like Bettingmetrics, or simply want to share your feedback with us please go ahead and subscribe now - it is free. Check out our odds calculator.