We have always put at the upfront of our company values honesty and transparency. We believe that this is part of the magical formula for business success and will do our absolute best in order to keep these values at the heart of Bettingmetrics and our bet tracker. The reason why I am saying this is because today I will be reviewing another company Smart Betting Club that shares similar to our philosophy and helped many punters to make money from their betting.
Following the OddStorm review we have recently produced I want to underline the fact that we DO NOT have any affiliate deals or sponsorships in place with Smart Betting Club. The reason we have decided to write this article about them is simply because the service they provide to the community is so helpful to anyone who wants to follow a tipster and we want to spread the word about them.
Who they are and what do they offer?
Smart Betting Club is 100 per cent independent website that has been established in 2006 and it has one single and major goal to provide authentic tipster reviews. They have described themselves as
"Fully focused on helping YOU – the ordinary punter make money from their betting. This independent stance ensures we accept no affiliate deals, bungs or favours in exchange for writing positive reviews, unlike most, if not all other tipster review websites.
You will NEVER see affiliate links in any of our tipster reviews.
This is vitally important as many people are caught out these days by 'free review' websites who are inherently biased towards the services or systems they review. This is because they take a commission for every sale they refer to the tipster being reviewed, so you need to be very careful who you trust. Although their reviews are free, the advice and recommendations they give can be very costly!"
Smart Betting Club do not only provide independent tipster reviews but they aim to cover all sorts of betting topics that are interesting for the regular punter. On their website there is a large amount of information that stresses matters such as account restriction, betting brokers and exchanges, useful betting products and basically anything else that a sports bettor needs in order to increase its chances of making money.
How it works?
Smart Betting Club has in interesting concept of delivering its information. Generally speaking as you can expect all the information is available online on their site presented in a nice, easy to use and well-structured manner. However, they also produce magazines every month that features tipster reviews, ratings and recommendations. They have developed in-house methods of assisting how good and consistent a given tipsters is, so they will actually recommend you how much of your portfolio to risk with him. Furthermore, they will also asses and provide you with ratings which will help you to decide whether that tipster is good fit for you or not.
A tipster review of Smart Betting Club will look something like that:
1.It will start with the most important information about the service such as price, website name etc.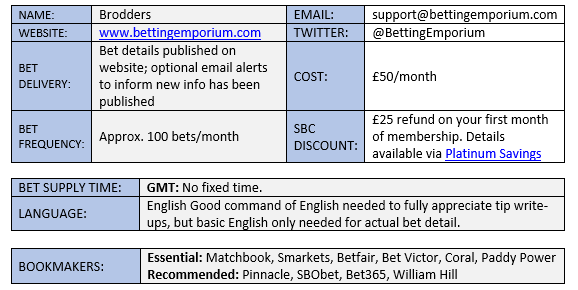 **All info provided on the photos is just for illustrational purposes**
2.Than they will review the service in details. In the body of the review the guys from SBC will observe winning and losing runs, odds availability and pretty much everything you need. There will also be graphs and tables with information that will indeed help you to make an informed decision
3.At the end of the review Smart Betting Club will provide you with summary and ratings.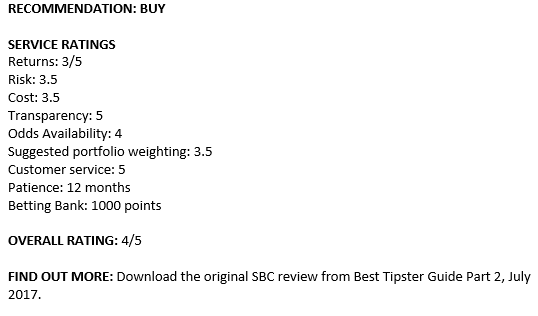 **All info provided on the photos is just for illustrational purposes**
We find this information absolutely priceless. In summary what they did for you is to do all the analysis and verify the tipster's results for you. They went even further and simplify and visualise the data for you. In addition they made the effort to create in house rating systems that quantify the information and makes the decision making process much easier.
Alongside the regular monthly magazine issue, there are also tipster profit reports. The reports track the whole betting history of the given tipster for the last 12 months and offer full break down of their results. That is really useful and can help people to distinguish a genuine tipster of a scammer.
Prices and Memberships!
As you can imagine Smart Betting Club service is not for free and it comes at small cost. I am saying a small cost because it brings so much value to the punter and the price of £105 (£8,75per month) per year seems like nothing. Nevertheless if that too much to you there are other memberships available that are much cheaper. Please see the below picture for full price guide.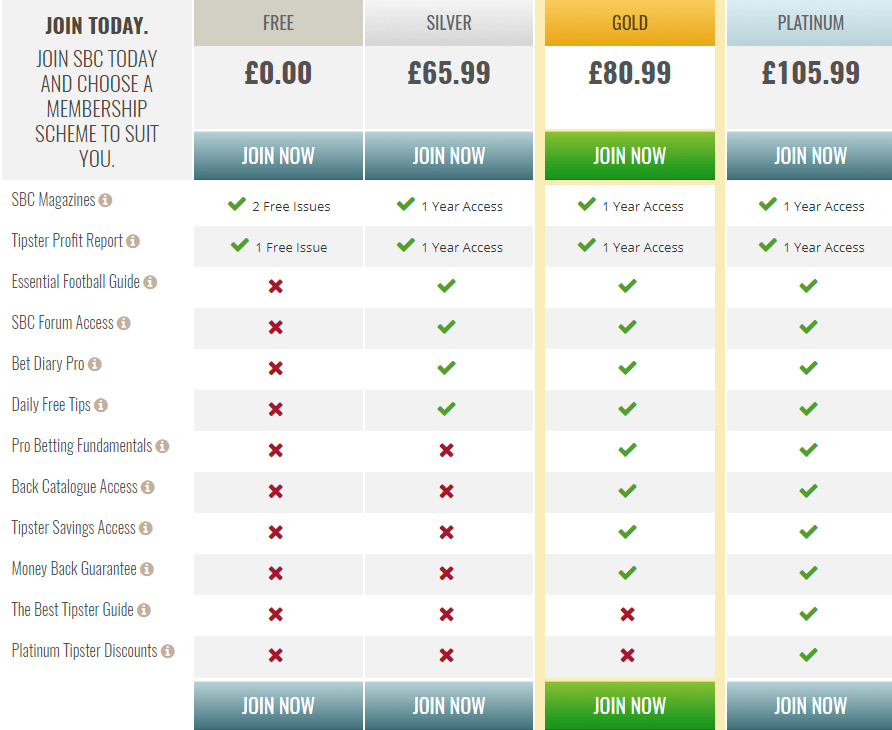 Summary!
In my opinion Smart Betting Club is an inevitable tool if you take your betting seriously. The amount of information they provide you with is so useful that there are countless ways you can use is. It guides through the ocean of dishonest people and helps you choose the once that are worth trusting. By joining the Smart Betting Club you can be sure that you are making a save investment. Just imagine how much money you can save, from purchasing fake tipsters and subscription as well as funds you would have potentially lose from following fraudulent people. By being a member you are having access to so much educational resources and a likeminded and experienced punters that is certainly worth £8 a month.
There is even more good news. As I mentioned in the beginning of the article we are not having an affiliate deal with them. Furthermore, we are currently trying to negotiate a discount for all Bettingmetrics premium users. Once we close the deal with Smart Betting Club all premium users of Bettingmetrics will have exclusive discounts for the SBC memberships. We will keep you posted on the progress.
Meanwhile feel welcome to go and check themselves at smartbettingclub.com
Did you like the review?
In case you liked what you read I would kindly ask you to make me a little favour
To be perfectly honest it took me about two days to play around with Smart Betting Club and come up with this review. If I helped you to make a decision regardless whether to buy or not I would be very happy if you share the article in any social media – Facebook, Google+, Twitter. By doing that you are helping other people to either save or make money from betting.
Thank you!