Well it is this time of the month where we have released a newer better version of Bettingmetrics. As you already know we aim to make frequent updates based on your feedback, so if you have some and you have not yet shared with us please do not hesitate to use the feedback button.
Following the launch of our alpha version of odds comparison which was initially available only on desktop we are now mobile friendly so Bettingmetrics odds comparison is accessible from each and every device as usual.
Furthermore we continued our partnership with Betfair Exchange and improved the bet placement process. We will now be removing the current bet lobby and moving the whole functionality towards our odds comparison – so you will be able to see betting odds from other bookies and exchanges. Do not worry you can still bet and synchronise you Betfair account straight from Bettingmetrics site it will simply be in a nicer and more user friendly manner.
We added MrGreen bookmaker to our odds comparison as well quite a few new markets so you can always take the best odds for your preferred selection. We are continuously adding new markets, leagues and bookmakers but it does take some time so "stay calm and keep on using Bettingemtrics".
In the Bettingmetrics bet tracker we have added the functionality to see and track bets in different odds formats. You can switch between decimal and fractional odds. The switcher is located at the top of the new header as shown on the image below. Kind reminder, that you can import your old custom Excel spreadsheet to Bettingmetrics and start benefiting from our beautiful data visualisation and advanced analytical tools.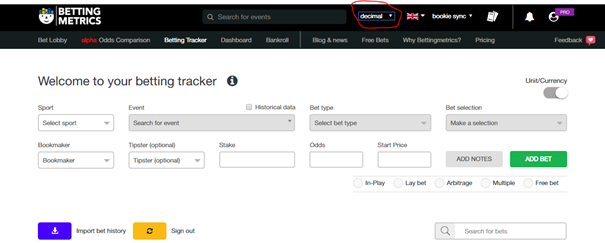 Other improvements on the technical side of Bettingmetrics have also been done - although you cannot see them in the short term they are from huge importance for us to continue excel in what we do. We changed our frond-end technology from server side templating to react – single page application. By doing this we are achieving much better site performance that results in faster page loading, hence grater user experience. Further, we are applying component based approach that enables us to quickly modify elements on Bettingmetrics site, therefore we on-board customer feedback much quicker.
Apart from continuously improving Bettingmetrics odds comparison site we are now working on an AI algorithm that will be analysing your data for you and provide you with suggestions how to enhance your betting approach based on your historical betting data. The first version should be launched for feedback soon. Sign up for free with Bettignmertics and stay tuned with the newest improvements.