Do you consider yourself to be a lucky or unlucky person?
Very few people are born with the skill needed to be a footballer or professional sportsmen. From that point of view, we're probably all in the 'unlucky camp'.
We weren't born gifted enough! We're we born with above average, average, or lower than average intelligence levels? I'd guess we fall in the first two categories. We were probably born 'lucky' in this instance.
Do we regularly suffer from illnesses, aches and pains, and general bad health? I definitely feel lucky here. I cannot remember the last time I felt unwell.
Our lives, or lifestyles, can influence all of the above to some degree but for the most part, we're either 'born lucky' or 'born unlucky'. Just imagine, we could have easily been born in a country riddled with civil war, or in a very poor country with little food to eat, and have none of the luxuries we take for granted. Luck was definitely smiling on us all there!
Without a doubt, luck also plays a significant part in the outcome of sporting events. After six matches in a season, the team at the top of the table may be there due to having had more good luck than the mid-table sides, but by the end of the season, good and bad luck will have had more chance to have averaged out. Not that it necessarily will have done, mind, it will have had more chance of doing so.
In a darts match, for example, the shorter the length of the match, the more the outcome will be influenced by luck. The longer the darts match, the more likely the better player's skill will prevail. A snooker match over one frame will also be decided more by luck that a match over 9 frames. The better player is more likely still to win over 35 frames.
Most of the time, predicting the winner of a rugby match is easier than predicting the winner of a football match. The reason for this is that in low scoring games, luck plays a bigger role. If a rugby game ends 40-20, the winning side would still win if one of their tries had been chalked off for a forward pass, whereas in football, where 1-0 is the most popular scoreline, having a goal chalked off for offside will change the final outcome.
Do football teams always get the result their deserve?
First of all, we'll take a close look at the English Championship last season. The table below shows the number of goals scored and conceded by the top teams plus bottom side Ipswich. It also shows the shots at goal both for and against, and the ratio of shots to goals scored and conceded. I'll take you through it shortly.

Champions Norwich scored 93 goals. They had 703 shots at goal in the season. They scored one goal for every 7.56 shots at goal.
Sheffield United only scored 78 goals. That was from 583 shots at goal. They scored one goal for every 7.47 shots. Even though they scored 15 fewer goals than Norwich, their ratio of shots to goals was very similar.
Leeds scored fewer goals still with 73. They needed, on average, 10.38 shots to score one goal.
The best conversion rate of shots to goals was West Brom. They only needed 7.15 shots to score a goal.
Middlesbrough's attacking record was awful. They only scored 49 goals. They only managed one goal for every 12.79 shots. That ratio was even worse than Ipswich's record. Ipswich only needed 12.64 shots, on average, to get the ball in the net.
On the defensive side of things, Middlesbrough conceded 600 shots at goal all season, but they only let in 41 goals. Their opponents needed 14.63 shots before they were likely to score.
The worst defensive record was Ipswich's, as you would expect from the team that finished bottom. They conceded one goal for every 8.31 shots their opponents had.
The top seven teams, on average, scored one goal for every 8.90 shots at goal. They conceded one goal for every 10.98 shots their opponents had. That sets the scene, take a look at the next table: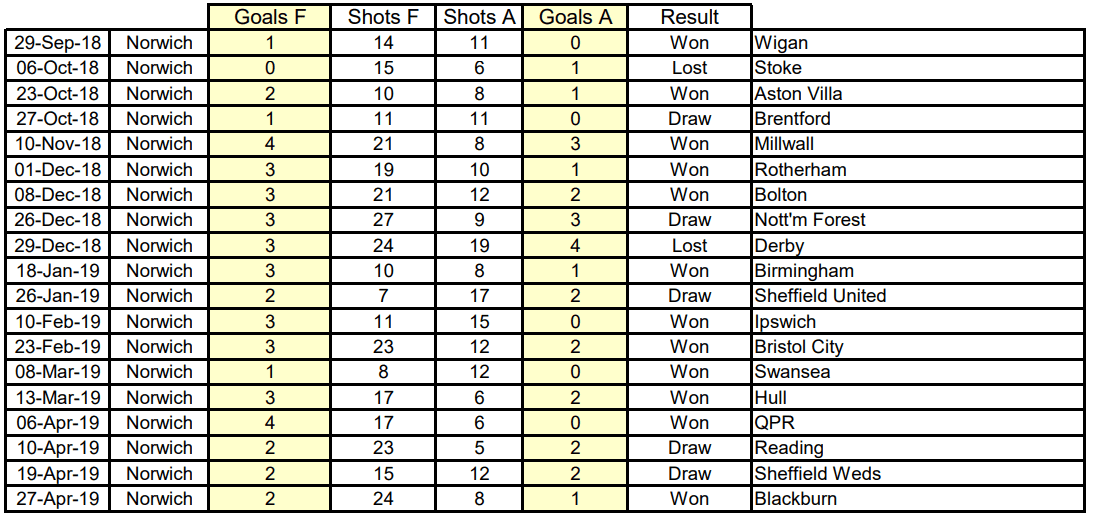 The table shows some of Norwich's home games from last season. It lists both the shots and goals scored and conceded. They lost 1-0 at home to Stoke but they 'outshot' Stoke by 15 shots to 6. Using the rough measure of 9 shots needed to score (or concede a goal), Norwich would typically have scored between one and two goals in this game, Stoke would have scored between no goals and one goal.
The typical score for a game like this would have been Norwich 1.66, Stoke 0.66. Okay, we can't have games with 'part goals', but the evidence seems to suggest Stoke were perhaps lucky to win this game; Norwich were unlucky to lose it. On another day, with the same 'shots at goal' numbers, the outcome could well have been different.
The Norwich v Nott'm Forest game on 26th December was particularly interesting. The game ended 3-3. Forest scored three goals from just 9 shots at goal. Nine shots would only normally see one goal. On the other hand, Norwich's 3 goals came from 27 shots. Their ratio of shots to goal was near to normal. Forest wouldn't normally score three in these circumstances. I would be inclined to think Forest got the rub of the green for this to happen. Maybe Norwich were unlucky not to win this one.
Something similar happened when Norwich played Reading. The score was 2-2, but the shots were 23 to 5 in Norwich's favour. Reading wouldn't normally score two goals from 5 shots, but they did on this occasion. Norwich were perhaps unlucky to find Reading's striker having a red hot day!
Norwich didn't always seem to have the bad luck though. They beat Swansea 1-0 on the back of losing the shots at goal by 8 shots to 12. A draw may have been a fairer outcome in this one. They drew 2-2 against Sheffield United when losing the shots by 17 shots to 7. Perhaps they were lucky not to lose.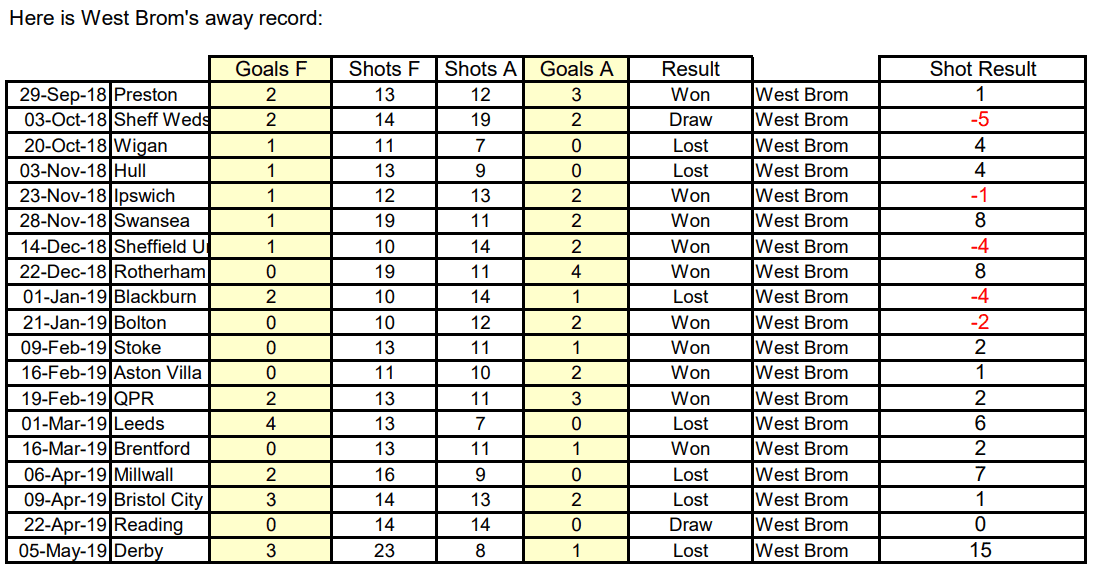 I've added the 'shot balance' in the right column. The negative numbers are when West Brom had more shots than their opponents. They actually won 7 times when they had fewer shots than the home team (lucky devils I hear you cry!).
If you were in any doubt that it pays to 'boss the shots' the next table shows the percentage of home wins, draws and away wins relative to the 'shot result'. Results are from the start of the 2014-15 season:

When the home team has had 10 or more shots than the away side, the home team wins 61% of the time, 22% of games are draws, whilst the away team wins 17% of the time.
The bottom row shows that when the away team has 10 or more shots than the home side, the away team wins 55% of the time, the draw happens 23% of the time, and the home side wins 22%.
If a team bosses the shots and loses the game, they can probably consider themselves unlucky; if a team is beaten on shots but wins, they may consider themselves lucky.
However, everything isn't always as clear cut as it seems. A team maybe 2-0 up and decide they want to defend their lead and let their opponents come at them. If they don't concede a goal, even if the other side has had 15 shots at goal, they may be happy to continue to sit back. So there's no foolproof way of knowing if a team has been lucky or unlucky but, as the table shows, it does pay to boss the shots.
The next table expands on the last one. It shows the ROI from backing the teams relative to the shot result:

Backing every home team that had 10 or more shots than the away team would have made 11.22% ROI, backing the away teams in those games would have lost 26.06%.
The cells highlighted in a yellow show that backing all home teams when they win the 'shots at goal' are profitable, along with backing all away teams when they have the majority of shots at goal.
In effect, a simple strategy to finding the good value bets is to try to find the teams that will dominate the shots.
I use the shots at goal numbers to give me an idea as to whether a team may have been a 'lucky winner' or an 'unlucky loser'. It's not foolproof, but it eases my pain a little if the team I backed won the shots 20 to 5 but lost 1-0.
Mike Lindley - Winabotatoo.co.uk
PS. Mike is the person who runs Winabobatoo tipping service. He has been around the betting industry for well over 25 years. He is an extremely experienced person and loves math, stats, analysis and pretty much anything you can think of related to crunching numbers and deriving decisions based on data. For the upcoming seasons, he has a special offer for everyone who wants to join his service for season 2019-2020 of just £20!
Please note, we do not have an affiliate deal with him, we make no money if you decide to join service. He is simply one of the most genuine people in this industry, and we have been collaborating with him since the beginning of Bettingmetrics.