With the world cup just kicking off we decided to let you know for some new useful and cool features we have been working on. Although it has been a while since we wrote an article related to Bettingmetrics we have not just been relaxing on the beach in Cancun, Mexico. We have been working really hard on adding more features that will save you time and even enable you to bet directly from Bettingmetrics site. The purpose of this article is to tell you more about the new features, how to benefit from them and how they will help you build and sustain a profitable sports betting portfolio.
As you have perhaps already know our ultimate goals is to build a one station hub for all sports betting activities. A place where punters will have the capabilities to find detail statistics, read news and tips, compare odds, place their bets, track and analyse their betting performance, hence I would suggest you to open an account if you have not done it yet. So far we have been focused on developing a bet tracker and advanced analytics which enable punters to save time on the admin site of their betting activates as well as to gain valuable insights on their own bettinghistory and improve future results. However, we have now made a huge step towards being all in one betting platform.
So the big news - we have partnered with Betfair and worked tirelessly for over two months, in order to comply with their extremely high security standards and now we are happy to announce that all Bettingmertics users will have the ability to place bets directly on the Betfair Exchange website without even leaving Bettingmetrics site. Furthermore, you will be able to sync your account directly with Betfair exchange so all your betting history will be automatically synced with Bettingmetrics. With other words, no more manual work, log in to Bettingmetrics sync with Betfair and you are settled – all your betting history will automatically feed to Bettingmetrics. In addition, it will be 100% accurate, regardless your reduction factor on the commission or the amount of trades you made it will always be correct. It is really simple process and it takes no more than 1 minute, I have recorded a short video that walks you
through the steps you have to do in order to sync your Bettingmetrics account with Betfair so please watch and if have any questions do not hesitate to contact us J
Another feature we just released is the capability to import custom spreadsheet. We know how painful It can be to switch from one way of doing something ot another. However, we are confident that the only way to stay ahead of the bookies is evolve with them and adopt technologies. We are confident that Bettingmetrics is much better way to manage your sport betting portfolio – read why.
A huge effort has been made at our end to enable you to import your old excel spreadsheet to Bettingmetrics so you can benefit from all Bettingmetrics features so you can save time, leverage technologies and make more informed betting decision. It is a 3 steps simple process that should not take a long time. First go ahead to your betting tracker and click the blue betting icon called "import bet history" and follow the instruction.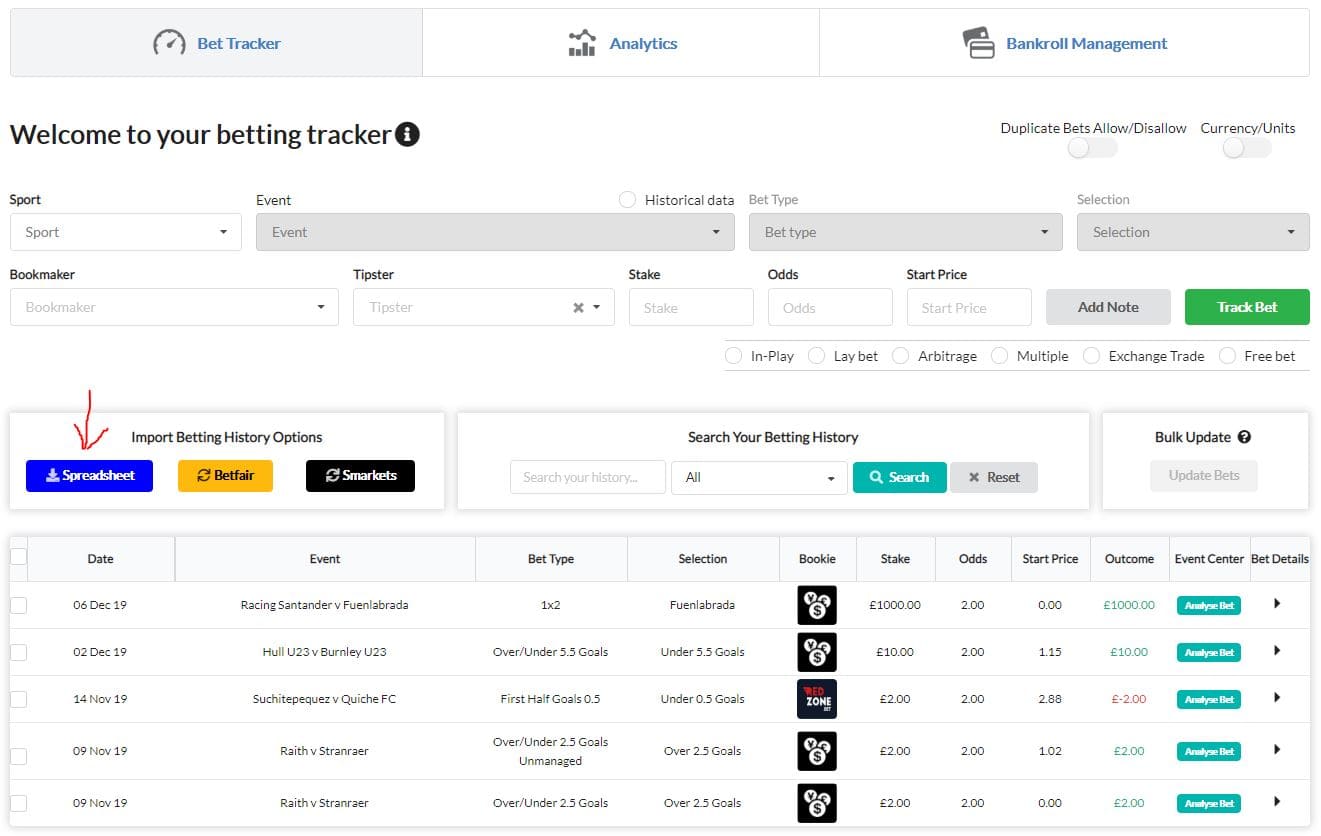 In simple terms we have created a template that you have to download and adapt your data to it. Once you are done simply import the file you have just created that is it – you are all done you can start adding all future bets in Bettingmetrics without worrying for losing your past history. Just a kind reminder, Bettingmetrics is much more secure than Excel as your data is securely stored as well as backed every 72 hours.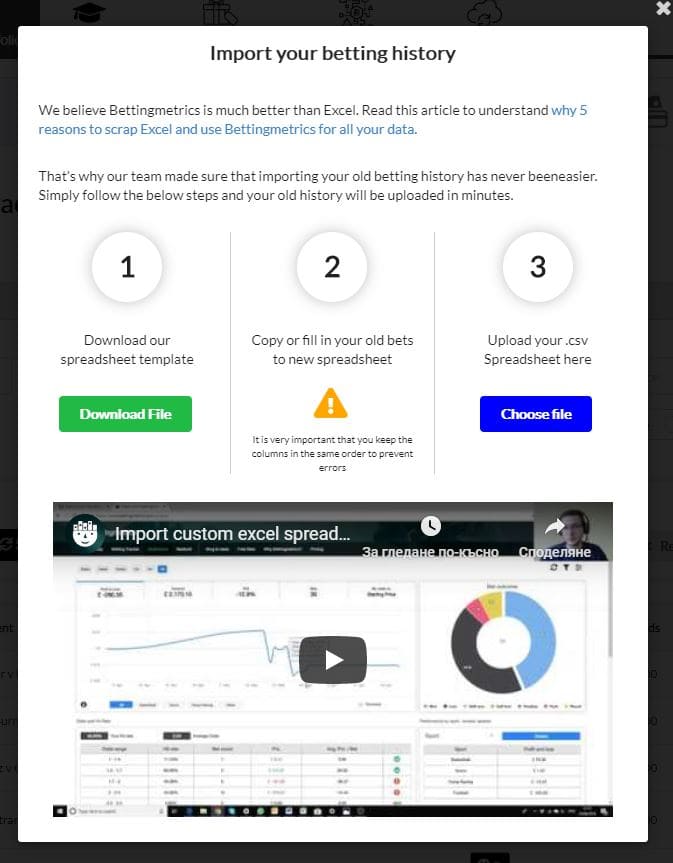 Tracking your betting history is important, but we all know that the real value is in the analysis. Our goals is to update both simultaneously so there is nice feature we added to the betting dashboard which will help you to have much better overview of your data while analysing it. As perhaps you already know, on your dashboard you can see at glance different stat for your betting portfolios, such as: Profit and Loss, Turnover, ROI, Number of bets, compare your odds vs starting price etc.. While looking at this stats is important to get to know what was the reason for having a huge win or loss. For fundamental importance is to understand whether it was luck or part of your systematic approach to betting. You can now click on the graph and a pop will appear and show you all bets you have placed on that given day – that will help you to get a better understanding of what caused the unusual profit or loss on that day
Bettingmetrics Hint:
We recommend you to combine you "number of bets" filter with PnL graph. It is extremely easy, on your main graph, select "bets" from the quick filters and then click the PnL box located on the same graph in the bottom right corner. By performing this analysis you can get a much better idea of whether bigger daily betting volumes are leading to greater profits or not. If you discover that you are consistently making profits when placing more bets on a given day that should be a good sign – your betting strategy is good – it is always good to double check your money management strategy, it can always be optimized. On the other hand, if you find that the more bets you place on a daily basis the lower the PnL is that is a strong sign that the betting strategy you are following needs to be update. .
Furthermore if you are following a tipster, it can help you to identify whether he is better at certain days compare to other and adjust the staking plan - bet more when on the days he is more profitable and less when he seem to be losing. Please note that is risky approach and I in on order to adopt it you have to have a significant data sample from this tipster. The bigger the data is the more accurate you conclusion will be. In general a data set of 1000 bets should be okay to give you the confidence to make some money management adjustments.
Feel welcome to join the ever growing Bettingmetrics community of wise punters, it is free and will most likely help you increase your betting profits