We are getting closer to the Christmas period in which the productivity of people naturally slows down. However as we are 100% committed to become the place that combines all your betting activities in one place we have no plans to slow down our pace of improving Bettingmetrics, adding new features and helping punters make wise and data driven decisions. We have been working for a while on a few features that have not only been requested by punters but also will add lots of value to your betting life.
Bettingmetrics Odds Comparison
We are happy to announce that we have improved not only the design of our odds comparison but also added new functionality that will allow you to track and visualize the odds movement.
The design now looks a lot more professional and smooth. We are trying to distinguish ourselves from the majority of the betting websites that are heavily advertising bookmakers and provide a little better experience to you. Following this trajectory we have removed the majority of the ads in the odds comparison area. Our goal is to keep the advertisement as minimalistic as possible so we do not distract you from finding the best odds and placing your bet.
The odds movement feature is something we really take pride of, as it allows punters to track and easily visualize how the odds have been moving over a certain period of time. It highlights the odds movement by betting market and participant. You can also choose for which bookmaker you want to see the odds movement. I personally believe the odds movement feature is a great indicator of what is happening on the market and it can help you to assess whether you are placing value bets or not. It is also particularly useful for your preparation for in-play betting.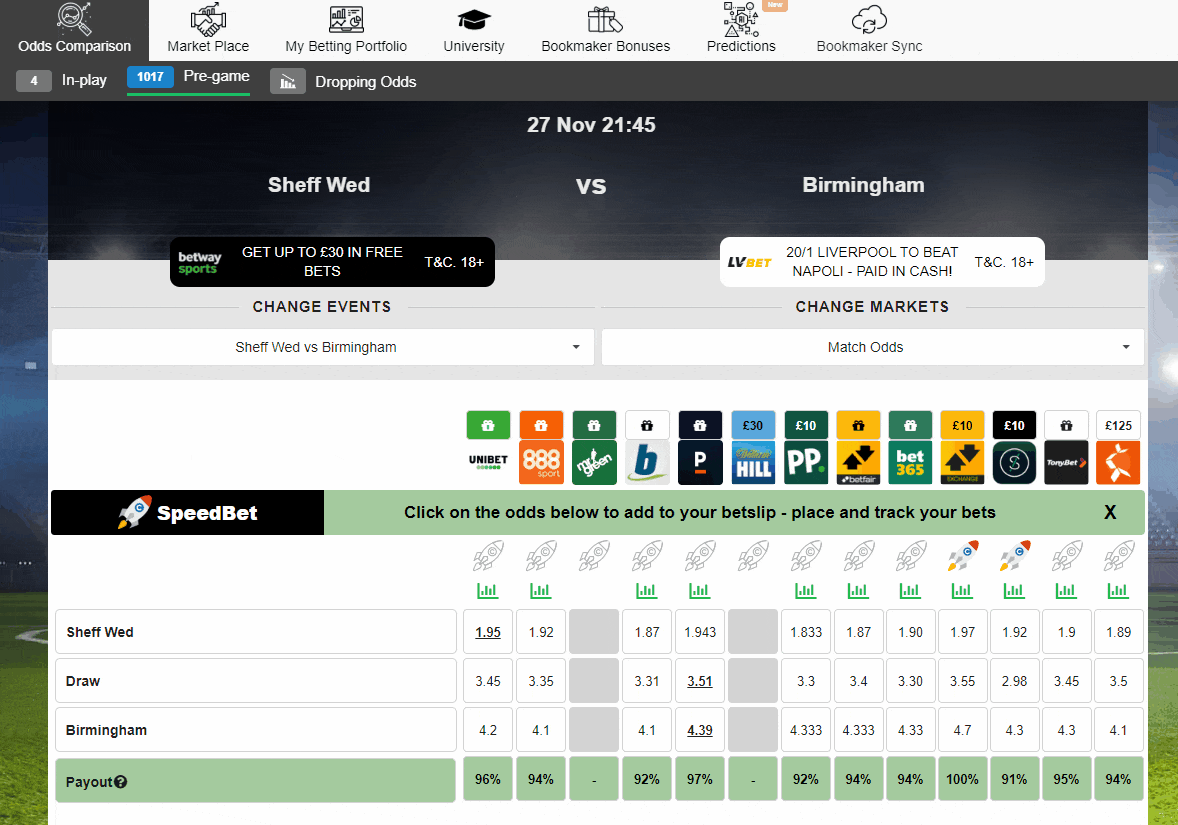 To access the feature simply go to our odds comparison areas, find the event you are looking for and click the "more odds" button. Once you are in the game center view you will notice the green graph above the quoted odds, press it and the magic will happen.
Bettingmetrics portfolio tools improvements
You may have noticed that we are extremely dedicated to building a sports betting portfolio management software that will help you make the most of your historical data and therefore support you in improving your future performance.
Following the recent release of the trend lines that help you identify what direction is your performance moving we are now releasing a massive new feature. We have spent weeks to come up with the exact design, code the functionality and we will appreciate if you share your feedback with us.
The new tool is called "Staking Plans Simulator" it can be reached by going to your analytical dashboard and switching the tab from "Dashboard" to "Staking Plans Simulator". It is a feature that is only available to Bettingmetrics Pro subscribers.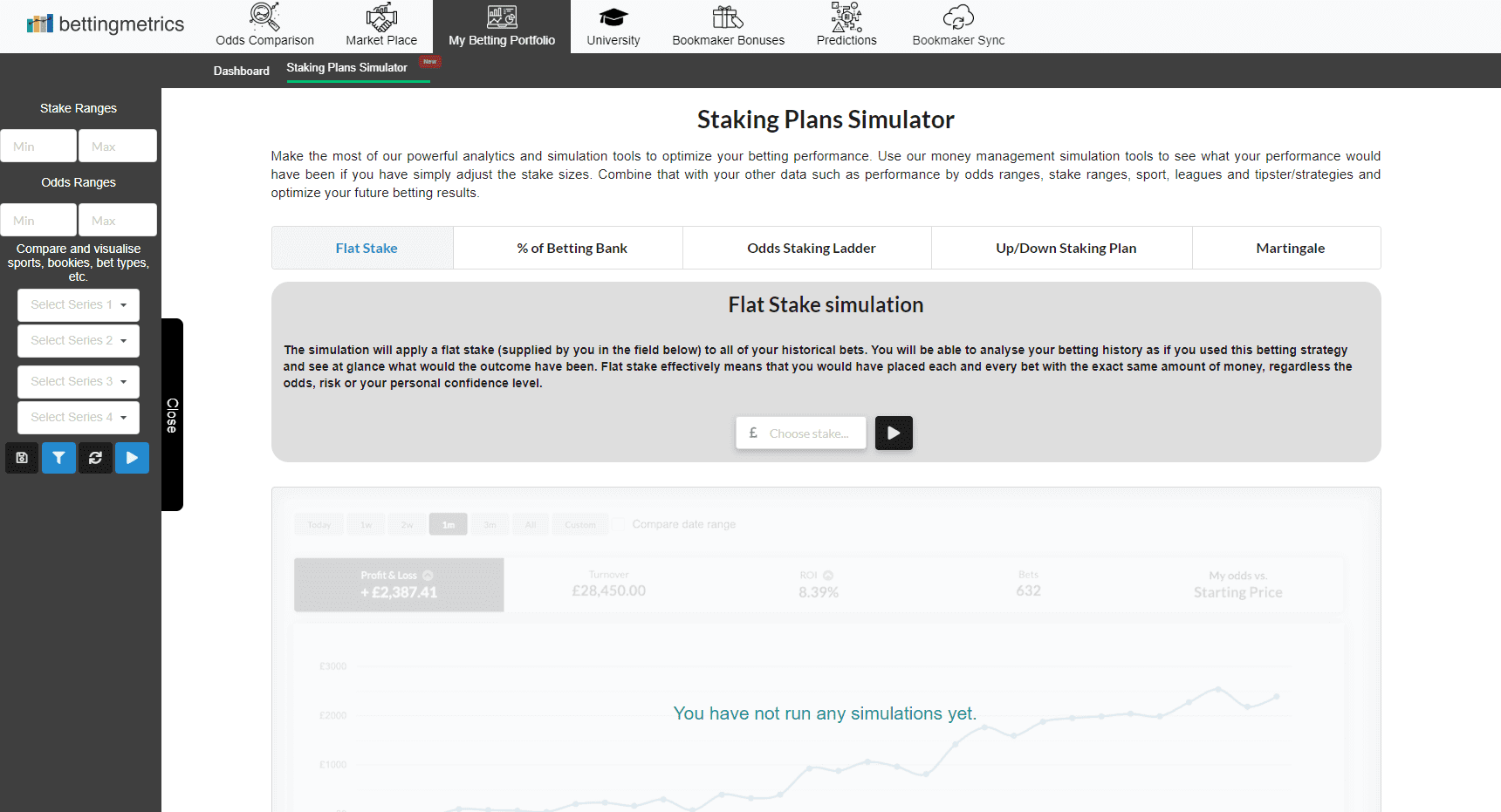 The staking plans simulator is a feature that effectively allows you to use your historical data (the one you store in Bettingmetrics), and apply different staking plans on it, in order to see what would your performance have been if you simply adjust your staking plan. Your money management approach to betting is from extreme importance for your betting success. It is similar to being fit you can exercise a lot but if you haven't got your diet right it will be difficult to reach good results. From our perspective as bettors, we may have the best betting model in place or follow verified and proven tipster but if we do not have the staking settled correctly it will be difficult to make profits.
We have written a great article about the importance of different stake plans that I strongly recommend you reading as it will help you expand your vision and eventually improve your performance in the future.
Our staking plan simulator is powered by our advanced analytics which allows you to analyse the simulated results by pretty much every single detail. You can use the full capacity of our advanced filters and other analytical tools.
For example, you can run a simulation test by using a flat stake then analyse the performance by tipster/strategy, betting market, bookmaker, sports, league, odds range pretty much anything you can think of. This is a great way to reevaluate your betting strategy or tipsters you are following , optimize your decision making process and introduce new money management approaches tailored to your strategy or tipsters you are following. Taking that data driven approach of data simulations and assessment will very likely help you improve your future performance.
Using the staking plan simulator is extremely easy, it literally requires no more than 3 clicks - all other processes are automated. We currently support 5 different money management strategies you can run simulations with but we are planning to add more in foreseeable future. As the old saying goes the more the merrier.
You can run simulations with the following staking plans:
Flat staking plane
Percentage of Betting Bank
Odds Staking Ladder
Up/Down Staking Plan
Martingale
We are also planning to make our staking plans simulator more advanced and allow you to plot and compare your actual historical results to the simulated ones. We will also add some additional visual elements that will help you to draw conclusions faster and more precisely.
Introducing Bookmaker Bonus Generator
We are an educational platform that helps you bring all of your betting activities in one place and make data driven wise decisions. We love betting ourselves and we know how important is to place a high risk punt every now and then in order to spice up the game.
The best way to minimize the risk of placing a punt and maximize the upside potential is to take advantage of the large variety of bookmaker bonuses available online.
This is why we are happy to introduce to all of our existing and future users Bettingmetrics Bookmaker Bonus Generator! The single goal of our bonus generator is to help you have more fun and quickly find a bookmaker with a great bonus.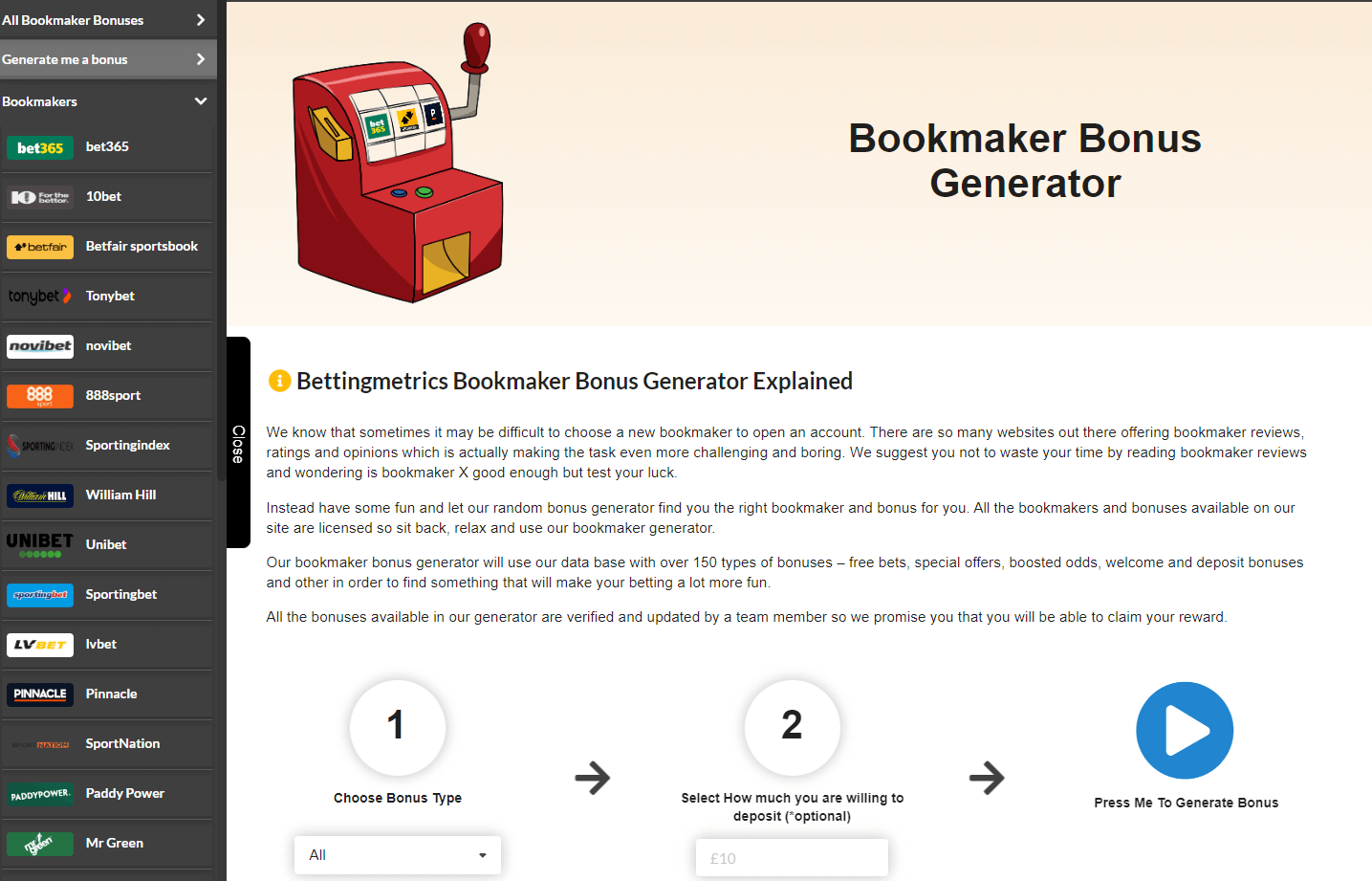 Obviously you do not want to spend hours of researching what bookmaker is good enough, has an excellent welcome offer and it is reliable so you can open an account and deposit funds with it. We suggest you not to waste your time by researching the web for additional information and wondering is bookmaker XYZ good enough for you.
Instead have some fun and let our random bonus generator find you the right bookmaker and bonus for you. All the bookmakers and bonuses available on our site are provided by licensed bookmakers and have been tested by a team member so sit back, relax and use our bookmaker generator.
Our bookmaker bonus generator will use our data base with over 150 types of bonuses – free bets, special offers, boosted odds, welcome and deposit bonuses and other in order to find something that will make your betting a lot more fun.
Bettingmetrics Market Place
We know that our market place is an area that needs massive improvement and we are indeed working towards delivering a better version that will help punters find the right tipsters.
We have now added the ability to comment the tips published by tipsters which will allow the community to exchange ideas and feedback with the tipsters.
Last but not least we have fixed various bugs and improved the overall performance of the software.