We have added some features to the bet tracker that have been requested on multiple occasions. For example, our users can now quickly search for bets via our search bar located in the top right corner.
It is extremely easy to use it. Simply go ahead to your bet tracker and write the event that you want to find in the search bar area, once that is done, hit enter In no time the event/s you are looking for will be short listed so you can check whatever information you are looking for.That feature has been requested by quite a few Bettingmetrics users. Since there are many punters who bet on horse racing and they do that on large an frequent daily basis we are now solving their struggle to quickly find a bet in their bet tracker and the information they need to check.
Further we have also added the ability to sort your events in the bet tracker table by "Date", "Stake", "Odds" and "Outcome". You can use the quick filters to adjust your information in both ascending and descending order. We encourage you to use this filters so you can have an extremely quick snapshot of your biggest stakes, wins or losses, you can also use it to adjust the date and perform brief analysis of your most recent or oldest tracked events.
Here at Bettingmetrics we realise the importance of interesting betting content, hence we are focused on delivering high quality engaging betting content to our users. Saying that it is worth underlying that with the release made on 16.01.2018 we added a brand new blog area where our users can now enjoy reading interesting articles. We aim to cover large variety of betting topics such as betting knowledge, game previews and analysis as well as some betting related products reviews. Our blog section is constantly growing and our goal is to publish at least one new article every day. We are not that far from reaching it out as we are in advanced negotiation with a few famous and particularly skillful and knowledgeable people from the betting industry, so keep a close eye on our betting blog. Further, if you want us to cover some specific topic do not hesitate to contact us you can do that by joining our public slack channel, following this link http://bit.ly/2n3ODIM. Slack is easy to use app and helps us to exchange simultaneously messages and information.
Below is a screen shot of our new blog area check it out and let us know your feedback.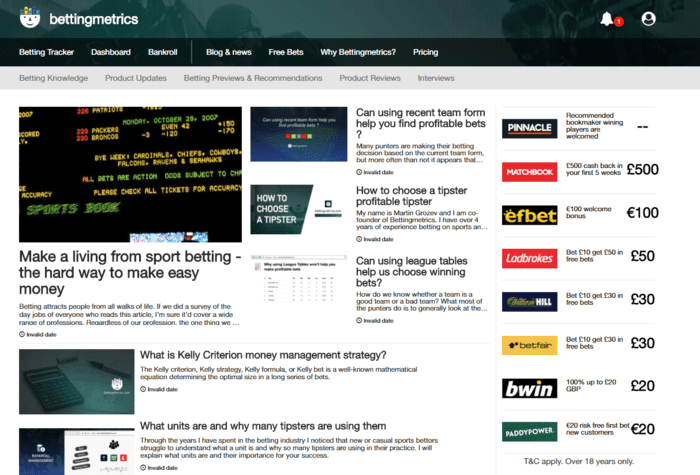 Perhaps the most exciting news to be shared is the launching our Bettingmetrics pro version. As perhaps you already know here at Bettingmetrics we constantly strive to ensure punters have all the tools available to make informed betting decisions. Since our service started in Jan 2017, our team has been working countless hours to build and maintain sports betting platform that collates all your betting activities in one place.
In order to keep the service running, we now introduce PRO membership accounts, offering more features and functionality for smart punters. We will continuously add more features for the pro members and will surly make their betting operations much easier and less time consuming. We are charging very little compared to the hard work we put into the development of Bettingmetrics. You can have the pro monthly subscription for only £0,33 per day and if you buy the annual which is half the price your subscription cost will be £0,16 pence per day J Just think about a cup coffee which costs £2 J.
We also have an introductory offer which is 50% off on the monthly subscription and 70% of on the yearly annual one.
Although it did not come with our last release it may be worth mentioning that there are some useful features available in the bettingdashboard . Apart from the KPIs (key performing indicators) that are snapshot of your betting activities you can also use the "advanced filters" located on the top of the page. You can use them to compare up to for tipsters, sports, bookmakers or any combination you can think of between these. For instance you can compare your performance in all your football bets placed at bet 365 and the one placed in pinnacle. In case you do not have an account with pinnacle please do open one, this is perhaps the best bookmaker in the world that offers the highest odds and will never limit winning players. You can also use the advanced filters to dig down into your odds, check what is your hit rate in different odds range and much more. What is even nicer is that you can save all your custom filters and easily reuse them whenever you want.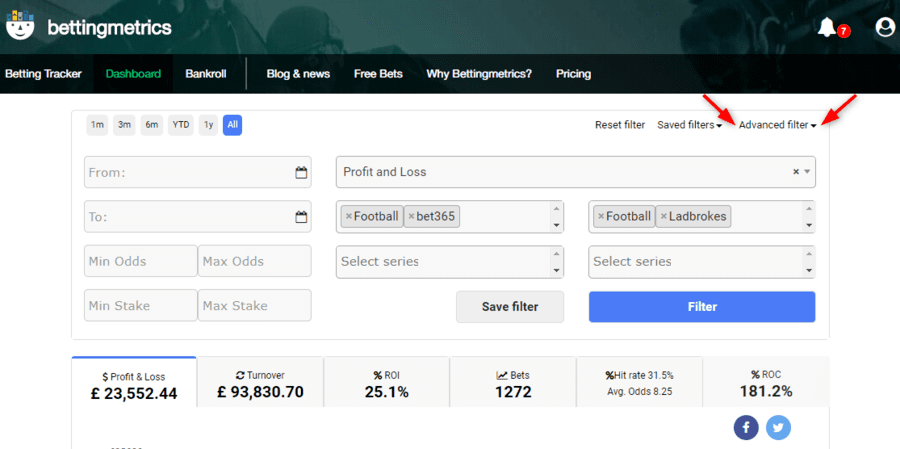 As we generally do with all release our code is improved and the betting site is getting more secured and operates faster which is important for us as a service provider and for our users. Please feel free to go ahead and check our updated version. If you have some feedback do not be shy and share it with us. You can do that via email or slack.