In the days before I started my Winabobatoo service in 2006, I used to settle down in front of the TV on a Saturday afternoon to watch Sky's Gillette Soccer Saturday. I'd have my list of bets and my list of match ratings in front of me. Dealing with the emotional ups and downs of the 90 minutes plus wimp time (injury time) was a fun way to spend the afternoon.
As time has passed, I no longer do this. After a busy week at my Winabobatoo desk, I prefer to chill out on a Saturday afternoon, usually taking my dog, Charlie, for a long walk in the local woods. I'd rather let the results take care of themselves.
Being 1-0 up with two minutes to go, only to concede at the end of a game isn't really very good for my nerves. Not only do I feel the pain on my own behalf, I feel the pain on behalf of all my customers too.
While I take life very seriously, I do have a general philosophy: don't worry about the things you have no control over. Why should I get stressed over whether an opposing side may or may not score in the last couple of minutes and rob me of money that I thought was mine? There's no point; it's wasted energy.
Of course, we're all made differently. My way might not be your preferred way of doing things. In life, we each tend to find what works best for us. Faced with 52-weekend results to check, how do I now go about checking them? If I see all 52 results at once, I don't know where to look! If I listen to a classified check of results, again, it all happens too fast for me!
Comfortably sitting at my desk, I have a piece of card. It's the same piece of card I've been using for the last eight years, at least! I cover my screen and reveal one match result at a time. It gets worse... I reveal the home team's score first, then the away team's score. With suitable grunts being made if a home side I want to win has a big fat zero next to their name, and suitable feelings of hope if they've scored two goals or more!
When wanting an away side to win, I'm hoping to see nil next to the home side's name. I give up any hope if the home side has scored three goals or more, don't have much hope if they've scored two goals, think there's a reasonable chance if they've scored one goal, but I want to see the big fat zero on my side this time!
Revealing the away team's score is always the deciding factor unless all hope has gone when the home bets have failed to score. I enter each result on my printed off a sheet. I keep the sheets throughout the season as I quite often pick them up and have another look at them sometime later.
So, you've backed the home team, and they've only managed to score one goal, what are your chances of being on a winner? The home team has failed to score, and you're on the away team, surely it won't be a 0-0 draw? We can do without the head-shaking that brings!
Table Of Scores: (home scores shown in the first column, away scores are in the top row)

I have 25,852 match results in my database covering games played in the English Premiership, Championship, League One, League Two, National League, and Scottish Premiership dating back to the start of the 2006-07 season.
My "revealing process" has taken place in every single one of those games, although I may have known a few results beforehand if I'd watched a game live.
The most common score is 1-1. I've recorded that on my printed off sheets 3,129 times. The next most popular score is a 1-0 home win. That's occurred 2,702 times.
The most extreme result came on 5th May 2010 in the Scottish Premiership. That's the fellow accounted for in the bottom right of the table. Motherwell drew 6-6 with Hibernian. I remember almost falling off my chair as I wanted Motherwell to win! It certainly taught me never to take anything at all for granted!
The highest away score ever recorded was a 9-0 win for Rushden & Diamonds at Weymouth on 21st February 2009. The highest home score was a 9-1 win for Spurs at home to Wigan on 22nd November 2009. The highest aggregate score was the 6-6 draw mentioned earlier, although there have been a couple of 11 goal games. Portsmouth beat Reading 7-4 on 29th September 2007, Accrington beat Gillingham 7-4 on 2nd October 2010.
The highest-scoring game I've ever watched was Doncaster v Reading on 25th September 1982. Doncaster won 7-5. Doncaster had been scoring quite a few goals in their games around that time, but they also had a leaky defence. It was certainly a game to remember!
Percentage chances of each outcome happening:

The most popular score is 1-1. It has a 12.142% chance of happening.
Home Goal Chances: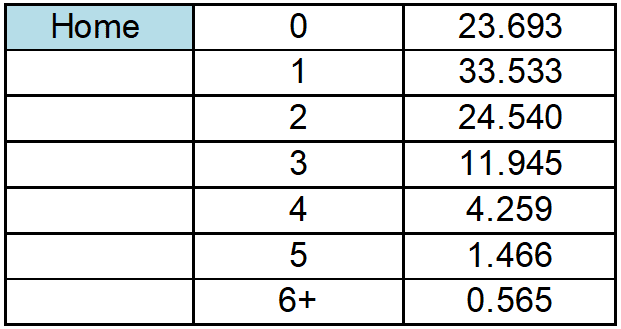 Home sides have a 23.693% chance of failing to score. The most likely home is scored one. This occurs in around one in three games. Home sides have a slightly better chance of scoring two goals than no goals. Two goals occur in around one in four home games.
One in eight games sees the home side score three goals. Four goals or more happen 6.29% of the time, or once in every 16 matches.
Away Goal Chances: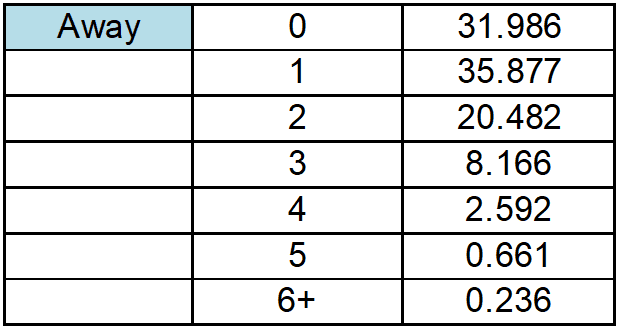 Just under one in three away teams fail to score, almost 36% score one goal, around one in five score two goals. One in 12 manages to hit the net three times in a game with just under one in 25 managings to score four goals.
So, when I'm checking results, wanting the home team to win, I know that if they score one goal, the chances of them winning is around one in three, if they score two goals their chance of winning is in the region of two in three. Should they score three goals, it should be good for a win around nine times out of ten.
With regards to the away sides, if the home team scores no goals, the away team will win around two-thirds of the time. If the home team scores once, the away team has a one in three chance of winning. If the home team scores two goals, the away side's chance of winning drops down to one in eight. If the home side scores three goals, the away side needs help! They'll only win around once in every 33 times.
Summary Tables:

Now, just to avoid any confusion, I think I'll add those figures to my piece of card. I'll know exactly where I stand when I'm checking the next 26,000 results!
Enjoy your betting!
To find more quality information and improve your knowledge about football betting we recommend checking Winabobatoo website. He has been on the market since 2006 and is among the most informative and quality betting services available on the market. The service is suitable for everyone who treats betting as an investment, has a reasonable expectation and is willing to educate. Furthermore, we would like to underline the fact that we are not having any sort of affiliate deals with Winabobatoo service. We are simply experienced enough to realise how good, detailed and useful is his information, so we love sharing the word about his service.
Take a look at betting spreadsheet.