We believe that OddsChecker has become all too comfortable at the top of the tree when it comes to the comparison of sports betting odds.
Despite being the market-leader, OddsChecker is clunky, offers very little in additional services, and is full of adverts.
But fear not! The Bettingmetrics odds comparison tool is here to shake things up, and combined with our excellent tracking facilities and easy-to-use bookmaker integration, it makes us the one-stop shop for all of your sports betting activity.
So let's get into the nitty gritty of it: Here are our eight reasons why you should be using the Bettingmetrics oddschecker instead of the so-called "market leader".
1. Speed is the name of the game
Timing is everything when it comes to betting. Just a few seconds wasted can leave your profit margins slashed to pieces, so you need an odds comparison website to be as accurate as possible before you navigate to the third-party sites and place your bets.
One problem with oddscheckers is that generally speaking they can be a little bit slow to react to changing odds on bookmaker sites. This can cause disappointment to punters when they see an offer they like via an oddschecker, only for the price to be different when they go to place the bet. This is where the Bettingmetrics odds comparison comes in.
The Bettingmetrics odds comparison refreshes odds on a much more regular basis than its OddsChecker counterpart thanks to the new technologies being adopted. Not only does this mean that you can spot moving markets quickly, it also means that you won't be disappointed when you spot a price that you would like to take up, because you will have the most up-to-date price each time.
2. In-play Options
Another facet of the Bettingmetrics odds comparison tool is its offering of live odds on in-play markets. In my experience as a bettor it is very rare for me to switch from one betting site to another to place bets in-play. Because odds fluctuate so quickly on the in-play markets it is very difficult for you to manually check odds with multiple Internet browsers to make sure you get the best deal.
You guessed it – this is where the Bettingmetrics odds comparison offers great value. Not only does their odds comparison allow you to de-clutter your mind and have all the in-play odds in once place (and updating each and every 5 to 10 seconds), it also allows to quickly pin-point where the greatest value is.
A good example would be if you were in the market for an in-play bet on Barcelona, who are 1-0 down at home to a mid-table La Liga side. Barca will still probably come out on top, but you're going to want the most bang for your buck. Just a few extra seconds spent on the Bettingmetrics odds comparison would allow you to spot which bookmaker is offering the best odds in-play for you to make the bet and gain the highest return.
3. Sync your accounts with Bettingmetrics Odds comparison
Another victory for the punters who want to make their use of Internet tabs more efficient!
Switching between different sites can be a pain when you need to make quick decisions and bets, so the beauty of the Bettingmetrics odds comparison is that you can sync your Betfair and Smarkets accounts and place bets directly from Bettingmetrics site within a matter of seconds without even having to leave. This allows you to highlight a price you like stay on the top of the odds movement and always place your bets with the highest possible odds and therefore maximise your betting profits.
OddsChecker themselves do offer a "QuickBet" service, but it is anything but fast. I was looking at the odds for a Championship game, and decided I liked the look of a price, so I selected it, only to be met by an "updating odds" message that didn't even update after five minutes of waiting. Nobody has time for that, and over the course of several bets, you are going to be pulling your hair out while you wait for all of your bets to sync.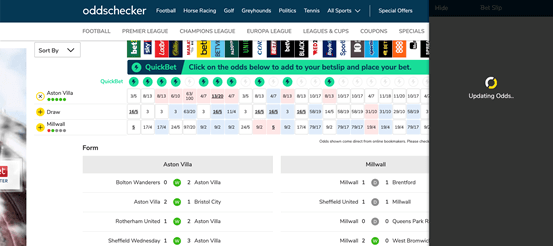 The QuickBet service on OddsChecker being ironically slow on this occasion…
No such problem with the Bettingmetrics odds comparison, however, with the syncing of bets taking a fraction of the time in comparison. We are continuing to add more and more bookmaker syncing options to our odds comparison tool, so Bettingmetrics will be your one-stop shop for all your sports betting needs in no time.
Furthermore, being extremely technologically focused we see there is a plenty of room for improvements. We will be using out recently raised investment to expand the team and deliver an even better odds comparison tool having a strong focus on speed and automation.
4. The pro punter experience
Here at Bettingmetrics we are extremely customer focused and everything we do, we do it in order to help punters have better and more profitable times while betting. We have underlined the importance of tracking your bets numerous times and did our best to help you save time. With Bettingmetrics, all of your bets that are placed via us are automatically logged and tracked, saving you a huge deal of time.
As a punter myself, this is an absolute godsend because the task of manually inputting my bets into a spreadsheet is a fiddly process which, when added up, can eat hours into your month, which could be spent making more money.
The combination of Bettingmetrics odds comparison tool, along with the account syncing & tracking of bets, also allows you to analyze your betting activity at a glance, as well as helping you manage your bankroll. Are there any patterns in your play? Are you making big profits in the over 2.5 goals markets? Are you losing money in the Premier League markets this month? We allow you to keep on top of all of that, and our odds comparison helps you squeeze that little bit extra out of your precious profit margins.
5. No distractions
The big oddschecker sites have to make money somehow, and it takes no expert to know that they do so via referrals to bookmaker sites. In addition to their oddschecker tool, users are inundated with banner ads, as well as pop-up advertisements.
These ads combine to make for a pretty mediocre user experience. It is incredibly distracting when you have lots of different graphics thrown at you from different gambling ads, and you just don't have the time to consume all of those, while also using the oddschecker to quickly find the best odds.
The Bettingmetrics odds comparison tool has minimised all those advertisements or other hazardous elements of distraction. You log on, and everything you need is right there on our odds comparisons. No fuss simply compare odds and place your bets.
6. Oddschecker synced with Bettingmetrics Marketplace
Bettingmetrics is not only the home to the number 1 odds comparison tool; it also offers a fantastic marketplace for the buying and selling of betting tips.
Not only do we offer subscription services to some of the space's most profitable tipsters, Bettingmetrics' odds comparison tool is also home to an excellent range of free tips.
On the right-hand side of our odds comparison, we have a section that is dedicated to a live feed of tips from our top tipsters. If you see a bet you like, you can place it in a matter of seconds without having to leave the Bettingmetrics odds comparison page. This gives punters flexibility and options – two vital commodities in the world of sports betting.
7. The Techy Stuff
The Bettingmetrics odds comparison defeats its counterparts on a technological aspect thanks to its use of various API feeds which allow for data to be processed and presented to you quickly, meaning you have the freshest feed of odds in the market. This further enhances the already fabulous Bettingmetrics odds comparison user experience (if we do say so ourselves).
8. It's Only Going to get Better
The Bettingmetrics odds comparison gives users a more vibrant feel, and gives punters the reassurance that we are on their side. Traditional oddschecker sites make their money via third-party referral schemes, while the bulk of our revenue is on a subscription model for tools that serve to enhance your betting experience, and ultimately, your betting profit.
Our odds comparison is designed with you in mind. It is vibrant, fresh, and doesn't chuck sub-par odds in your face because there is a tasty commission in it for us. We give you the most up-to-date odds every single time.
And the good news is our odds comparison tool is only going to get better. We are continuing to expand our offering of bookmaker syncing partnerships, and our pool of seasoned tipsters is ever-growing, meaning that the Bettingmetrics odds comparison is fast-becoming a key ingredient in the professional betting.
Summary
To conclude, the overriding benefit of the Bettingmetrics odds comparison in comparison with its competitors is the feeling that you aren't being pushed into making decisions that aren't in the interest of your sports betting success.
We are all about analysis here at Bettingmetrics. We provide you with all the tools to ensure you are successful in your sports betting activity, and our odds comparison tool is just another ingredient in that mix. In addition to the fast and reliable odds comparison Bettingmetrics also offers:
A marketplace of betting tips, including a selection of free tips, giving you the ability to find new profitable sports betting avenues
Advanced, automated tracking – eliminating the need to spend hours manually inputting bets into a spreadsheet.
The syncing of bookmakers including Betfair and Smarkets, allowing you to manage all of your sports betting in one place.
In-house developed data driven football prediction model
Advanced football stats