I wanted to talk about a tool that I found quite interesting and very useful for the punters who take sports betting seriously and want to significantly increase their chances of making money from their sport betting activities.
Betaminic is grate complimentary product to Bettingmetrics as it helps you to build and test quantitative models in a quick and easy way. Combine their service with a reliable odds comparison and you are step closer of becoming successful with your betting activities. If you have ever spotted a trend and thought that can be a good betting strategy Betaminic is your fastest solution to built and test you betting strategy. What i really love about Betaminic it is really easy to use and intuitive software, it does not require any technical knowledge and it can be equally useful to both amateur and professional bettors.
I really liked their service so before I actually start I wanted to let you know that have personally been using them for a while and they do deliver on what they promise.
What can you get with Betamin Builder?
Betamin Builder is an innovative tool designed to create sports betting strategies using Big Data by applying hundreds of filters and/or conditions. You can create strategies to search for trends or variables with thousands of historical data, and all in a few minutes. Data is reallt powerful but combine data with the right tools you have go the chances of making some good profits from sports betting.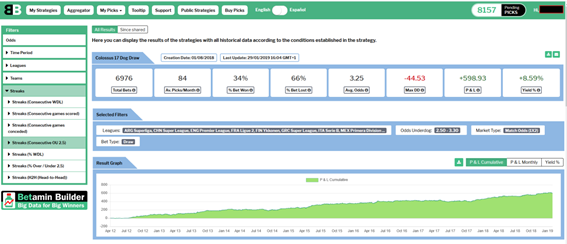 Each time a match is available and meets the conditions registered in your strategy, you will receive an email with all the information necessary to place the bet and with the minimum suggested odds.
You can follow your own strategies or the PRO strategies created by the Betaminic Team, and also shared strategies created by other users.
Who can benefit from the advantages of Betaminic Builder?
The software is designed for all types of punters' profiles, for newcomers in the world of betting, for those who have more experience and even for professional users and tipsters that predict on websites, platforms or forums.
Create Betting Strategies
With this betamin tool, you will be able to test different betting systems that you have in mind. You can simulate your ideas for strategy over a historical data and identify which one can be profitable or not. The best part iirt is fast and it is completely risk free.
The most important betting markets are available in the tool, with many types of bets to select, such as Home Win, Draw, Away Win, Bet on favourite / Underdog among others.
Betaminic filter user interface
A wide variety of filters to choose from
By using the Betaminic filters you will have at your disposal large amount of historical data to create and test variety strategies. You can also combine a different powerful filters and discover long-term winning trends, which otherwise is very difficult to achieve or it will take you lots of time and money.
You can combine odds filters, period of time, leagues, teams and streaks. Within the streaks, you can select consecutive streaks or percentage streaks. All this will help you create profitable and solid strategies in the future.
Betaminic wild variety filter user interface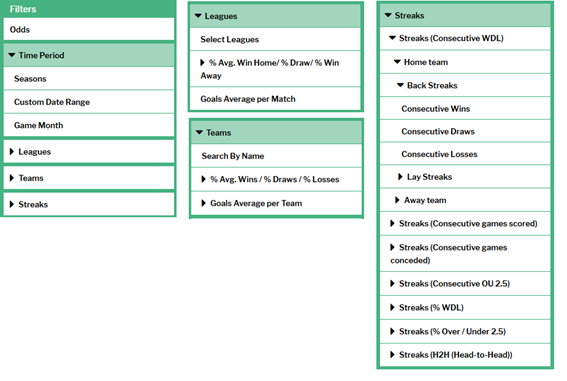 Public Strategies
Besides being able to create your own strategies you can also follow the PRO strategies created by the Betaminic team, or SHARED by the users.
Betaminic strategies interface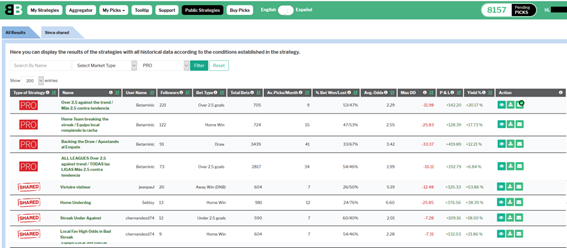 You can choose among more than 100 public strategies, new strategies are usually added on a regular basis.
What is great about the Betaminic is that you can follow public strategies for FREE and get some great betting insights at no cost.
Receive the picks by email
If the strategies meet the established conditions, you will receive the picks by email approximately 48 hours before the start of the match which ensure you have plenty of time to place your bets. In the email, you will also receive some additional information such as the minimum suggested odds, below which we do not recommend betting.
Betaminic ability to analyse results of the strategies
All the strategies you have build will automatically show updated results so you can easily analyze the performance and make decisions. The tool will indicate at all times the result that is obtained according to the different available filters.
In the data summary, you will find indicators such as PL, Yield, average monthly picks and the Maximum draw-down among others. The Max DD is a very important value that will help you to evaluate the risk of the strategy.

You have at your convenience an interactive dashboard that enables you to see the major key performance indicators of a given strategy and decide which strategy fits best you betting expectations.

Betaminic Graphic charts
In addition, Betamin Builder shows three different types of graphics to see how your strategies and other KPIs evolve from them: P&L Cumulative, P&L Monthly and Yield.
Betaminic data visualisation tools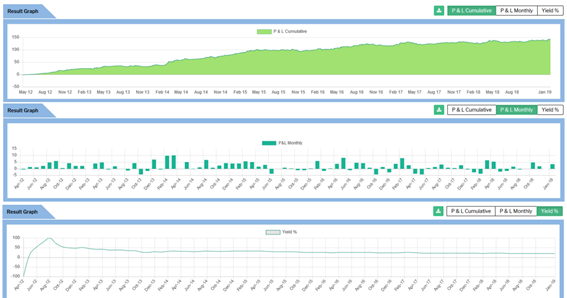 Betaminic Aggregator
I can imagine that many people will wonder what would happen when following several strategies at the same time? What would be the joint result? The guys from Betaminic have thought about that as well. You can use a feature they call the aggregator, an innovative and useful feature with which you can create and design your own sports betting portfolio of strategies.
Thanks to the Betaminic aggragator feature you can know the results obtained when combining different strategies. Diversify the risk, analyse the maximum draw down, yield and other data of your own portfolio of strategies and make data driven decisions.

Betaminic account features
Within the tool, you have a wide variety of options that will facilitate your tasks, such as viewing the list of all your private strategies, or public ones.
One of the most important aspects is to be able to visualize the picks that you have pending, as well as the history of all the picks you have received.
Betaminic account feature view

Betaminic Books
One more thing that i believe is worth mentioning is the Betaminic collection of books written by Tom Whitaker, "Winning Sports Betting Strategies with Betaminic" and "Big Data Betting on Football".
In case you enjoy sports betting and data you will find both both books interesting. The books explain in detail several profitable strategies systems created with the Betamin Builder tool which you can replicate and increase the chances of making money. In addition, in the book you will be able to discover and read about important aspects as betting bank, stake size and staking plan analysis and other very relevant matters.
I kept the best news for the last you can download the "Big Data Betting on Football" for free and increase your sports betting knowledge!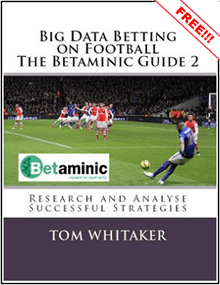 Why choose Betaminic software?
The main advantage that I find in Betamin Builder is the amount of time and money you save testing your own strategies; in a few minutes, you can create profitable strategies using hundreds of thousands of data. The only alternative is to create huge Excel files, with the time and effort it takes. It is also a great place to discover new ready-to-use strategies.
In case you are not that much into data or building your own data driven betting model you may want to consider following a tipster. Bettingmetrics market place is great place to start looking for 100% verified tipsters.
With Betamin Builder you will have access to:
The most complete data from the year 2012 until today.
54 top football leagues.
More than 100 filters: odds, leagues, teams, back and lay streaks, and much more
Access to over 100,000 games.
Most common betting markets (1X2, O/U 2.5 goals, Double Chance and DNB).
A quick view of results while you create your strategy
Three types of graphs, PL, Yield, etc.
Maximum draw-down to evaluate the risk.
And many more features that will help you improve your betting results.