In the middle of the past week, I decided to change my betting strategy. My move came after deep thinking about my mistakes during this journey. In an attempt to change the winds, I combined 2 weeks of betting in 1 report with the hope to help my tipsters with more time for their advice, and if someone fails to deliver good service initially, to have time to recover. I'm not a big fan of changes, but undoubtedly, sometimes the risk gives results.
As you know, I follow five tipsters, and all of them post their tips at Bettingmetrics, a platform which helps me to operate all my betting activities in one place.
The conditions for betting during the last 2 weeks were favourable thanks to the start of the major football competitions and the presence of many events and my tipsters did well with more options to bet on.
During those 2 weeks, I had the time to explore a few new bookmakers and open new accounts at their websites to take advantage of some welcome offers. This was possible thanks to the daily updated special page, which Bettingmetrics gives to its customers. I'm happy with the fact that I placed many of my bets with the extra cash which I received from those offers.
The tipsters posted 460 tips last two weeks, and I placed all of them with different stakes, depending on their performance during the betting journey. I'm glad to say that the period was successful and I won £941 with a positive ROI of 6%. My total balance raised to £8920.
Profit&Loss graph 6-19 August:

I analysed thoroughly all of the data and tips thanks to the bunch of tools that Bettingmetrics has in "My betting portfolio'' section. This area is very useful to punters like me as it has instruments to help in taking the needed decisions for my increasing betting profits on a daily basis.
I present you the brief below to give you a good view of what happened during the period between 6-19 August. I bet on interesting games mostly football and tennis, but also my tipsters suggested value tips for cricket and basketball.
KaluGuru causing me a loss of £126 last two weeks with a negative ROI of 2%. He posted 169 tips and won 109 of them. I bet each of his tips with £40 but when I analyzed his performance, I noted that he suggested a lot of winning selections in the low odds range between 1.40-1.70, odds which do not contain value and I have to bet with more than £40 if I want to make some profit.
TennisTipsUK had a poor time during the above mentioned period. He posted 13 tips and won 8 of them. I bet his tips with £50 and this harmed my portfolio with £161 and a negative ROI of 24%. I prefer to bet his value-oriented tips with £50 because of the fact that I checked his performance from the beginning of this journey thanks to the comprehensive analyses on Bettingmetrics, and I noted that he made me a profit of £400 with a positive ROI of 16%.The fact is that I undoubtedly like him as a tipster and I will continue to trust his tips.
On the good side, the last couple of weeks were successful for Park-Life-Tips. I made a good decision during my betting last week. I saw that PLT had good signs of value in his tips for the dates 11-12 August and I increased the stakes for some of the tips for 14-15 August to £200. Bettingmetrics analytics showed me in which odds exactly PLT had success during the journey (2.00-4.20) and I placed the tips with those odds last week with increased stakes. This move led me to victory and those two days were extremely profitable for me and my portfolio. Overall, during the period PLT posted 87 tips, 46 of which were won. Those tips and the successful move with the increased stakes in the middle of last week brought me a profit of £1461 with a positive ROI of 49%. His average odds are 2.50 and if you follow him and take the risk to bet some of them with high stakes you can reach a good profit.
Park-Life-TIps tips:

Last two weeks freguli gave unsatisfying tips. He posted 50, which I bet with £20, and lost 28 of them. His performance damaged my portfolio with £146. His football tips couldn't bring me any achievements during his participation in this journey and I lost £693 with a negative ROI of 18%.
Bobbie2006 suggested 141 tips the last two weeks which I bet with £25 each. He won 88 of them but mostly in the odds range 1-1.40 which brought me a loss of £85 with a negative ROI of 2%. He had some good winning streaks but the low odds are not something special and can't lead my portfolio to success.
I will mention the numbers one more time. The past two weeks I received 460 tips. I won 260 of them and this brought me a profit of £941 with a positive ROI of 6%.
From the beginning of this journey, I placed 2132 bets and I lost £79 with a negative ROI of 0.13%. As soon as possible I plan to change my balance to positive with the tips which I receive from the tipsters I follow.
See you next week with a regular update.
P&L all times graph: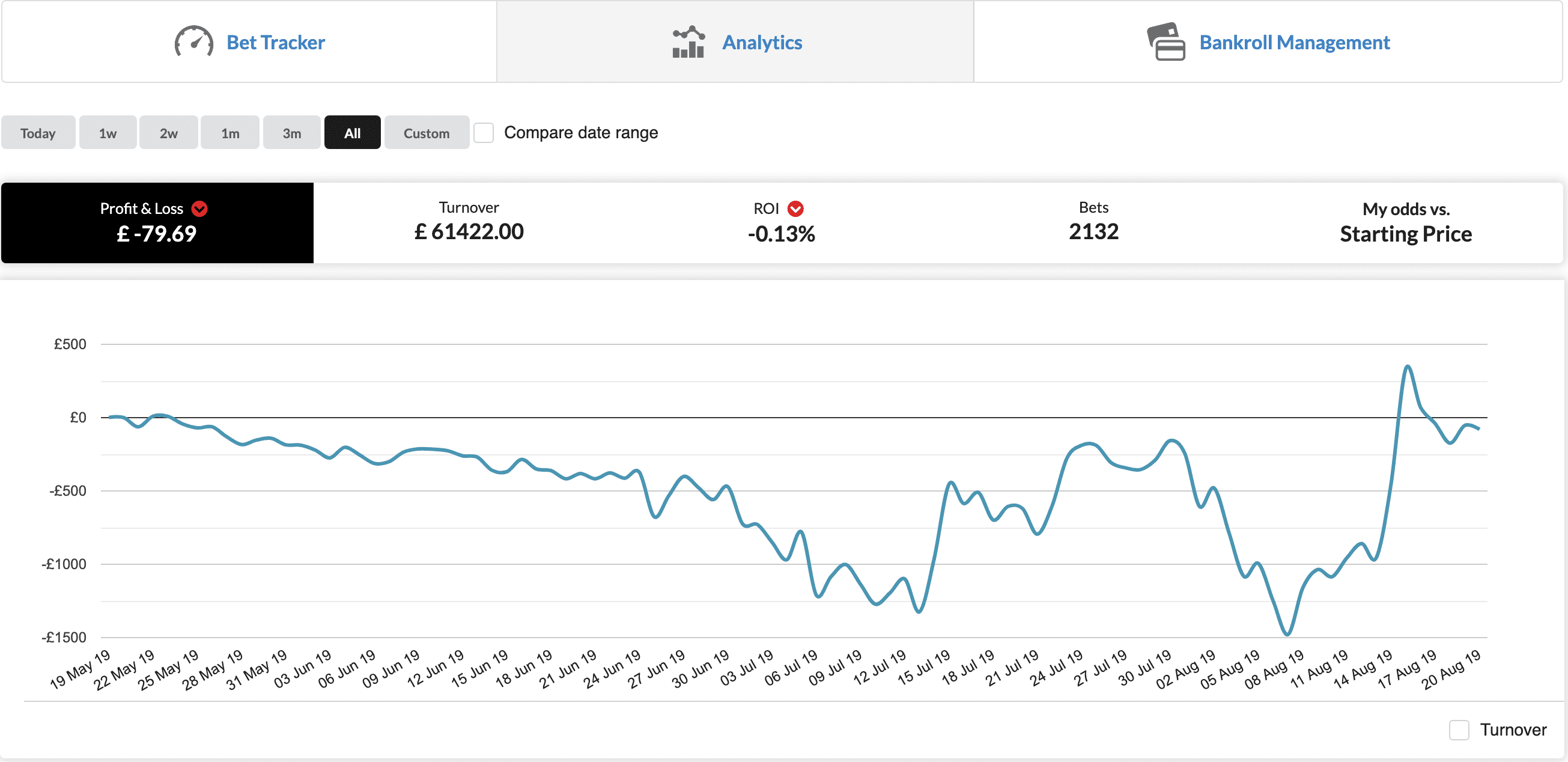 Stats Summary 6-19 August
Total bet amount: £14725
Profit/Loss: £914
ROI: 6%
Bets Placed: 460
Won: 260
Lost: 189
Push: 5
Half Lost: 5
Half Won: 1
Winning: 56.7%
Average Odds: 2.00
Average Win odds: 1.71
Average Losing odds: 2.33
Average Bet size: £32