A great week filled with success and good profit. This is how I can summarise what happened last week. My name is Anthony and I'm pretty confident in my journey and its benefits. The years I spent in the iGaming industry showed me how exactly to influence my betting strategy, and as I have mentioned before, if something is going in the wrong direction, you have to find the mistake and fix it.
As usual, Bettingmetrics continues to support me with its noteworthy betting platform. The website proves its customer-oriented approach by giving its members all necessary betting tools. The summer is in the full swing, and although I'm not fully focused every day thanks to the help of Bettingmetrics bet tracker, I managed to follow my tipsters, track and analyse all their tips on time.
Although the week began with a loss, towards its end, the gains came out. Last week I placed 193 bets and won 124 of them.
A couple of weeks ago I changed my money strategy by assigning flat stakes to my tipsters and adding a new tipster to my portfolio, moves, which gave good results. The tips last week generated a profit of £484 with a positive ROI of 6%. My portfolio consists of 5 tipsters which are fully verified by Bettingmetrics and possess great potential. My bank now raised to £8545.
Profit & Loss graph: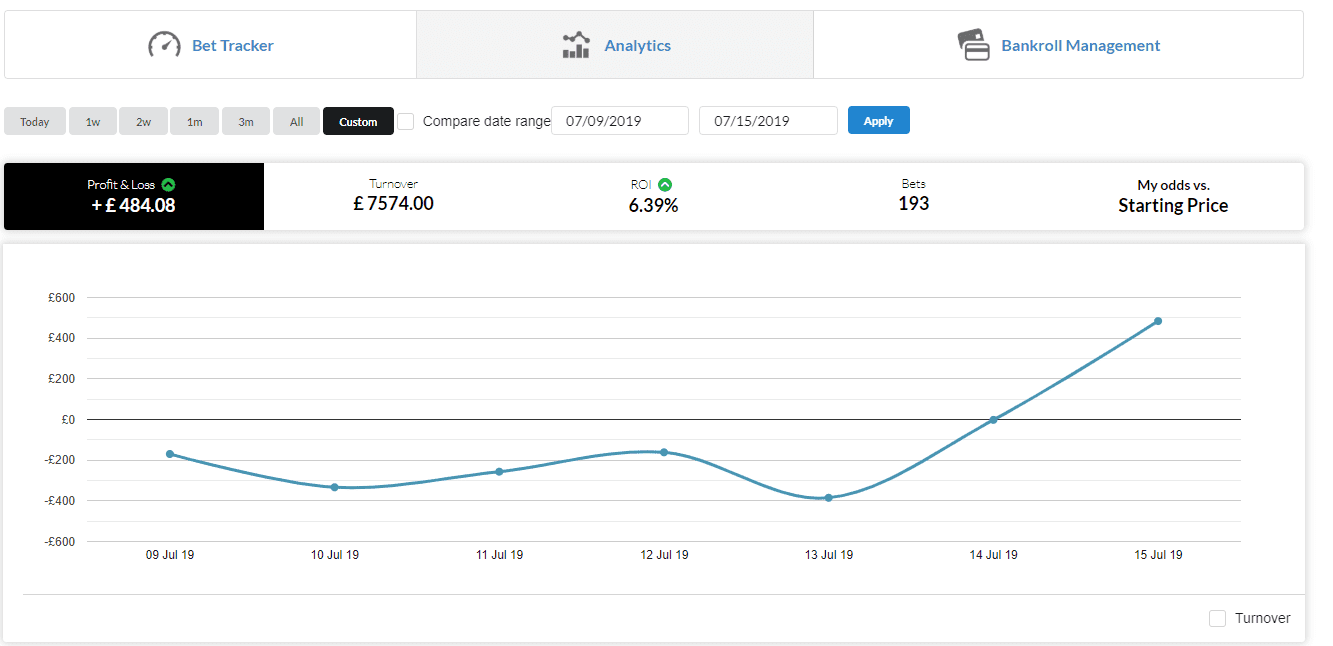 Below you can check the detailed brief about the tipsters' performance.
Firstly, I will start with the new member of my betting adventure Bobbie2006. He showed a good active position and suggested 51 tips,32 of which were winning. Unfortunately, his first week started with a loss and his tips damaged my portfolio with £83 and negative ROI of 4%. I analysed his performance thanks to Bettingmetrics analytics and the stats showed me that Bobbie2006 prefers football tips with average odds of 1.60, which are valuable if you bet on them with higher stakes. I tend to believe him and his knowledge about sports betting, so let's see his performance for the next couple of weeks.
KaluGuru posted 101 tips last week. 72 of them were winning, which generated a weekly profit of £254 and a positive ROI of 6%. Last week KaluGuru raised the average odds to 1.60, a fact that I am confident will benefit my profit. He was very active during the Wimbledon tournaments, affirming his strategy to be a long-term oriented and well-prepared tips advisor.
Park-Life-Tips posted 28 tips last week, 16 of which were winning. One of the successful tips he had was with odds of 11.00, which helped me to hit the jackpot. PLT generated a weekly profit of £485 with a positive ROI of 59%, which brought me significant earnings, making the past week a perfect one. My flat stake assigned to him is £28, which with his average odds of 3.20, is very valuable and gives me a great opportunity for profit.

Just 6 tips were added by gerry5 and he won only 2 of them. The 4 losing tips generated a weekly loss of £87 with a negative ROI of 37%. In general, his tips with average odds of 3.20 have great potential for profit, however, he needs to be more active in the next week if he wants to keep his place in my betting journey.
TennisTipsUK has almost the same statistics as gerry5. He advised 6 tips and won 4 of them which generated a weekly loss of £84. Having in mind his strong expertise in tennis, he has to be more aggressive, active, and effective with his tips. Of course, this is his way of applying a strategy and my betting discipline tells me that I must continue to bet his tips because they are data-driven and with huge value and he has affirmed that during the weeks. Since the start of this journey, he brought to my portfolio positive ROI of 16% and a profit of £141.
Overall, I'm happy with the results last week. Of course, I know that there is still more to be desired. The betting industry is very windy and you can win or lose a lot just for a week. In conclusion, I will mention the numbers one more time. The week ended with a profit of £484 and a positive ROI of 6%.
All in all, I still have a negative balance and my entire portfolio is with a loss of £496. Of course, the long-term oriented journey gives me the opportunity to fix the situation not just by regaining the money but also doubling it.
See you next week.
Bet outcome graph:

Stats Summary for week 8
Total bet amount: £7574
Profit/Loss: £484
ROI: 6%
Bets Placed: 193
Won: 124
Lost: 66
Push: 2
Winning: 64%
Average Odds: 2.00
Average Win odds: 1.71
Average Losing odds: 2.50
Average Bet size: £39