For now, we are moving in the wrong direction but always keep in mind the long term strategy is indeed the basis of profitable betting. And as such, it can always be changed. My name is Anthony, as you already know and I am making an attempt to show the people who are interested in betting how to make money by following tipsters.
I would not have succeeded to follow, track, analyse and present the results of my journey without the exceptional betting platform Bettingmetrics provides. Last week I was super busy with things outside of betting and I couldn't track all the tips I got on time. But just for a couple of hours, I managed to do it thanks to Bettingmetrics bet tracker. This is an easy way to get rid of the tiring manual work. The tracker just does everything for you.
Last week I continued to bet with 2% of my entire bank, I have assigned to each tipster as a strategy of my betting money. Keep in mind this decision is only recommendation and you are not obligated to do it. And from time to time I can certainly make changes to the stakes I bet with and the tipsters which I trust. My current portfolio is composed of 5 tipsters.
The week passed by under the legendary tennis tournaments Wimbledon and football tournaments such as Copa America, Africa Cup of Nations and friendly games.
Last week I placed 156 bets and won 101 of them but despite that, the betting week generated me a loss of £213 with a negative ROI of 3%. Therefore, my betting bank lost more money and now my portfolio balance is £8036
Profit & Loss graph: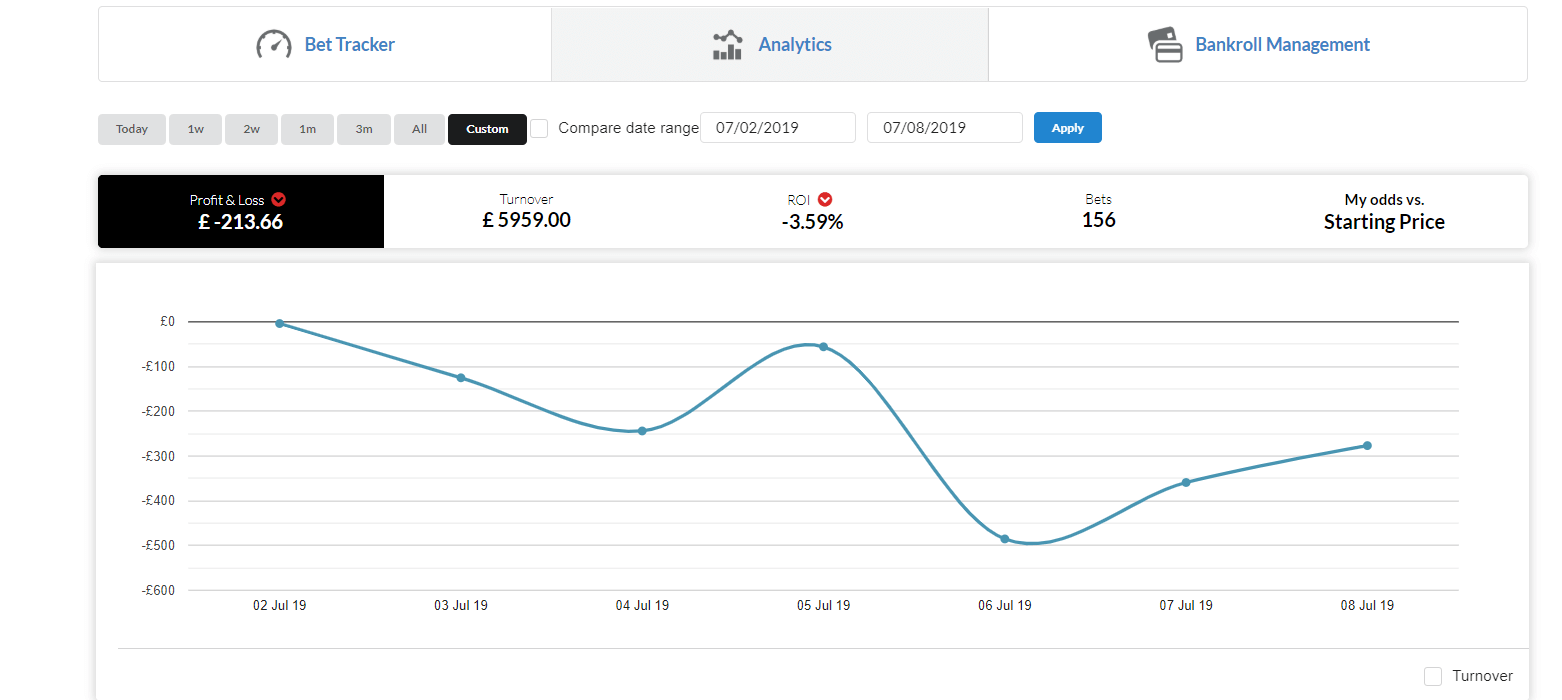 Check out the summary to get a better idea of what's happened last week:
Last week KaluGuru was active and posted 109 tips, 80 of which were winning. But because his tips are with low odds and exclude any risk my portfolio lost £186 with a negative ROI of 3%. Thanks to Bettingmetrics I analysed his performance and tracked all of his tips quickly and I realized that he is extremely well prepared and spends a lot of time posting tips. This strategy is long-term oriented and thus he affirms his betting durability approach.
TennisTipsUK had a good week which generated me a profit of £167 with a positive ROI of 81%. Obviously, he is oriented to post a few tips per week but with high value. He suggested 5 tips, 2 of them, were winning but with very high odds which is the reason why I recommend him. You can always find profit in his tips even if the winning suggestions are less of the lost ones.
Last week Park-Life-Tips advised 41 tips and lost 23 of them. He is back in a negative position and generated me a weekly loss of £243 with a negative ROI of 21%. Additionally, I analysed his performance in the past and because of his overall positive ROI, I am sure he is indeed trusted tipster. His advice certainly has a future and with average odds of 2.40, he can be very profitable for me and my journey.
gerry5 posted only 1 tip. I won the tip and this brought me a profit of £49. Unfortunately, with this little active approach, gerry5 is not my favorite tipster for now, but still, he has the chance to show more than the previous weeks. I follow him for a while and for sure he has what to offer for this journey.
Drazen did not post any tips this week. I'm sure he has the potential to be a tipster that I want in my portfolio but probably because he is football oriented the summer for him is to take a breath and relax. I will replace him with Bobbie2006 because I want to have 5 active tipsters in my betting portfolio. Anyway, I will continue to follow Drazen and if he comes back when the major football leagues start and he shows good activity I can rethink and bring him back in the betting journey.
I add Bobbie2006 because he is one of Bettingmetrics verified tipsters which is popular in the platform with his football tips and good signs of value. He has 13 years of experience in sports betting and I decided to give him a chance to show his skills in a professional journey like ours. You can see his performance in the graph below:

The week added more loss to my portfolio. I generated a loss of £213 with a negative ROI of 3%. With some changes in the team and with a high desire to return the money I lost, I'm confident that the winds can be changed and I will make a profit in the end.
Week 7 Bet outcome graph:

Stats Summary for week 7
Total bet amount: £5959
Profit/Loss: -£213
ROI: -3%
Bets Placed: 156
Won: 101
Lost: 52
Push: 3
Winning: 64%
Average Odds: 1.70
Average Win odds: 1.44
Average Losing odds: 2.32
Average Bet size: £ 38