The betting discipline means to keep your faith and focus on your end goal. Nevertheless, if you detect something wrong in your approach you can always change it even entirely for your future profit. I emphasize, the change, of course, should come with a calculated risk of what will happen and what you can afford as a change.
My name is Anthony, as you already know and I am making an attempt to help others to make money from betting with the help of Bettingmetrics.
I have created my betting journal using Bettingmetrics platform as it caters all my needs. I use the software to track, analyse and optimise my performance as well as deliver weekly performance updates. Furthermore, I am using their marketplace to source tipsters and adjust my betting portfolio if needed.
Last week, I mentioned that I intend to use a 2% flat stake from the betting banks, I have assigned to each tipster. Keep in mind this decision is only recommendation and you are not obligated to do it because I'm sure everyone who reads this journey has their own bank with their own money strategy which they follow.
Just a reminder my portfolio is long term orientated and I will reveal weekly the results and performance of each tipster. My portfolio this week, as every other past week, consists of 5 tipsters, every one of them is verified by Bettingmetrics such as someone who not only posts tips for quantity but also quality. All tipsters show long-term approach which is based on mathematical decisions, calculated risks and knowledge about sports and sports betting.
This week was again negative for me and my portfolio. I placed 102 tips and lost 49 of them which generated me a weekly loss of £324 with a negative ROI of 8%. First of July is the start of the legendary tennis tournaments Wimbledon and I'm confident the summer hole of events will be filled and the tipsters I'm trusted for will have the chance to show the world their skills and knowledge.
Tipsters performance graph: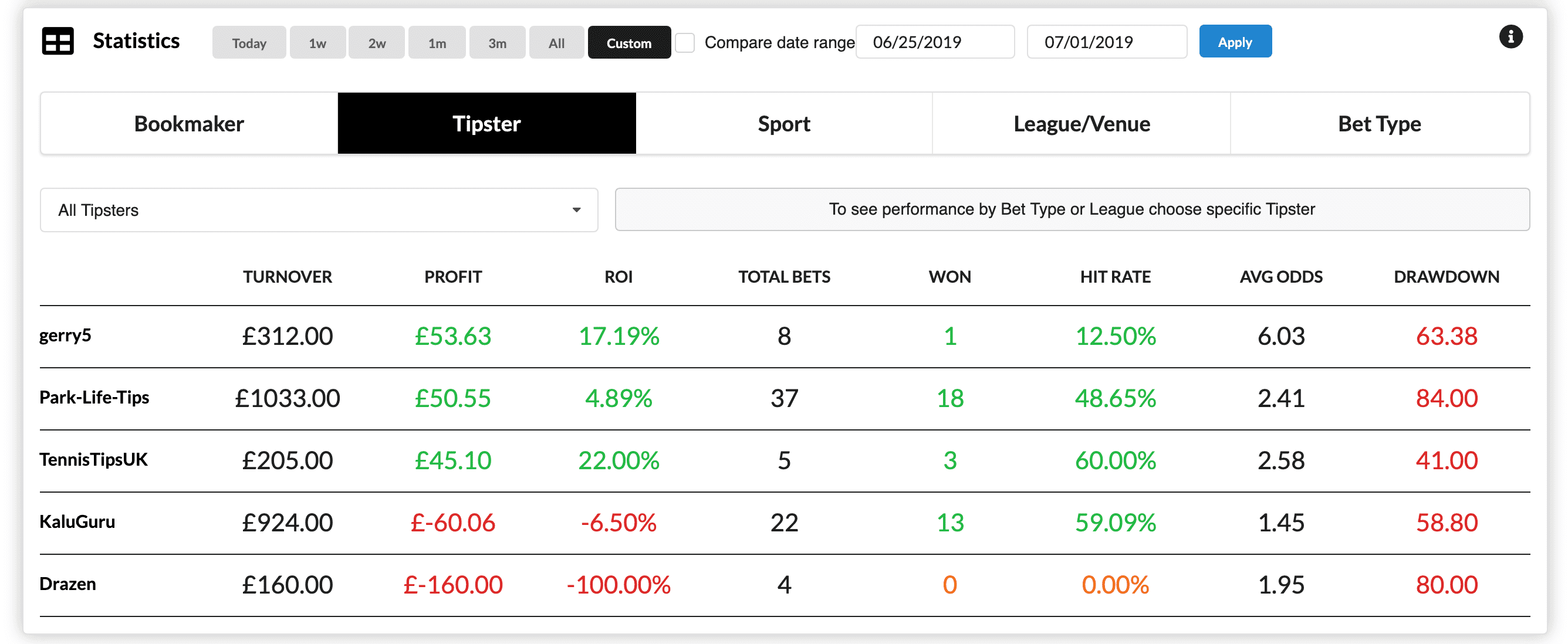 Check out my summary of tipsters performance:
Last week Park-Life-Tips showed why he is on this journey and finally, I believe he changed the winds of his tips. After 5 consecutive weeks of losses, he produced the first of many weekly wins. This week he suggested 38 tips and won 20 of them. With a positive ROI of 2% this week PLT brought a weekly profit of £22. PLT enhanced his performance and justified why he is so popular in Bettingmetrics and why people, including me, trust him. Thanks to Bettingmetrics analysis I saw where his strength was. His profitable tips are between the odds 2.00 and 2.50 and I might focus most in them when I place bets although PLT posts valuable tips in various ranges which should not be overlooked.
KaluGuru last week had losing days and damaged my betting bank with £244 with a negative ROI of 12%. He posted 46 tips, 28 of which were winning. With the help of Bettingmetrics Bet tracker, I tracked daily his tips and I noticed they are always with a solid explanation. He is well prepared, something I quite like because this guy spends a lot of his time to analyse events and he takes the whole process very seriously. Still, his low average odds of 1.33 are very difficult for me to find any value.
TennisTipsUK disappointed me with his low activity for the past couple of weeks. The greatest tournaments of Wimbledon are available for him to affirm his profitable knowledge about the tennis and now is the perfect time for TennisTipsUK to attract me and his followers in Bettingmetrics with his exceptional tennis tips. Although his low activity this week, with 6 tips he generated a weekly profit of £4 with a positive ROI of 3%
Drazen advised me 4 tips last week and all of them were lost. Weekly loss of £160 with a negative ROI of 100% what else can I say...except that he definitely has to raise the level and show better approach and dedication to reveal his betting skills.
gerry5 posted 8 tips last week, 6 of them were winning and this generated a weekly profit of £53 with positive ROI of 17%. I find value in his average odds of 6.00 which are with great potential to make a good profit.
My betting journey continuous until I have fulfilled my mission to win money from betting tips. This week I generated a loss of £324 with a negative ROI of 8%. I do not lose my will power because my experience I have gained in iGaming sector tells me the winds in the betting industry often change their direction. As of today, my entire bank lost £628 but I'm still confident the tipsters I follow will enhance their performance and they will produce lucrative tips and increase my profit for the long run.
Profit&Loss graph:

Stats Summary for week 6
Total bet amount: £3711
Profit/Loss: -£324
ROI: -8%
Bets Placed: 102
Won: 50
Lost: 48
Push: 3
Winning: 49%
Average Odds: 2.30
Average Win odds: 1.80
Average Losing odds: 2.84
Average Bet size: £ 36
Bet outcome graph