The summer is in full swing, but the sports betting is with no timeouts. Another week, another betting experience for me and for everyone who follows this journey. My name is Anthony and I'm presenting week 5 of my Bet Journal. As you know I use the popular for everyone platform Bettingmetrics to follow tipsters, track, analyse and report my results every week.
My goal for the next 12 months is to make money from betting tips and with starting amount of £9k I have the opportunity to increase my income by following tipsters.
As you know from my previous reports, my opinion about the betting industry is that only the long-term results matters. Applying the right betting techniques, making calculated risks and following strictly your betting strategy should result in gaining an edge over the bookmakers and therefore in sustainable profits.
I always advise everyone who follows my journey to do not panic if there is a losing week. Exactly the same rule applies for when you have a winning week don't fall into euphoria thinking you are the king of betting. What you should focus on is the end goal. If you are into the sports game for 12 months follow your strategy during this period if successful keep on doing what you are doing. If you are not successful and lose money take your time to analyse your performance apply the changes and start again.
My current portfolio is composed of 5 tipsters. 3 of them I follow with flat stakes KaluGuru and Park-Life-Tips with £20 for every tip and TennisTipsUK with £10 per tip. The others are even smaller stakes as I am still working out my money management strategies.
From here onwards I have decided that I will use 2% flat stake from the betting banks I have assigned to each tipster. By adopting this approach I will finally start making the most of my betting bank while still be relatively risk-averse.
The last week has again been negative for my betting portfolio. I generated a loss of £59 with negative ROI of 5%. I'm sure the summer hole of events affects the tipsters and their performance as they have a very limited choice of available events to bet on. The years I spent in the iGaming sector and the experience I gained by following tipsters thought me that when the tipsters are limited by the availability of events they tend to underperform. My current betting portfolio balance is £9707 meaning that I have lost £293 in total which is 2.93% of my entire betting bank.
Weekly performance graph :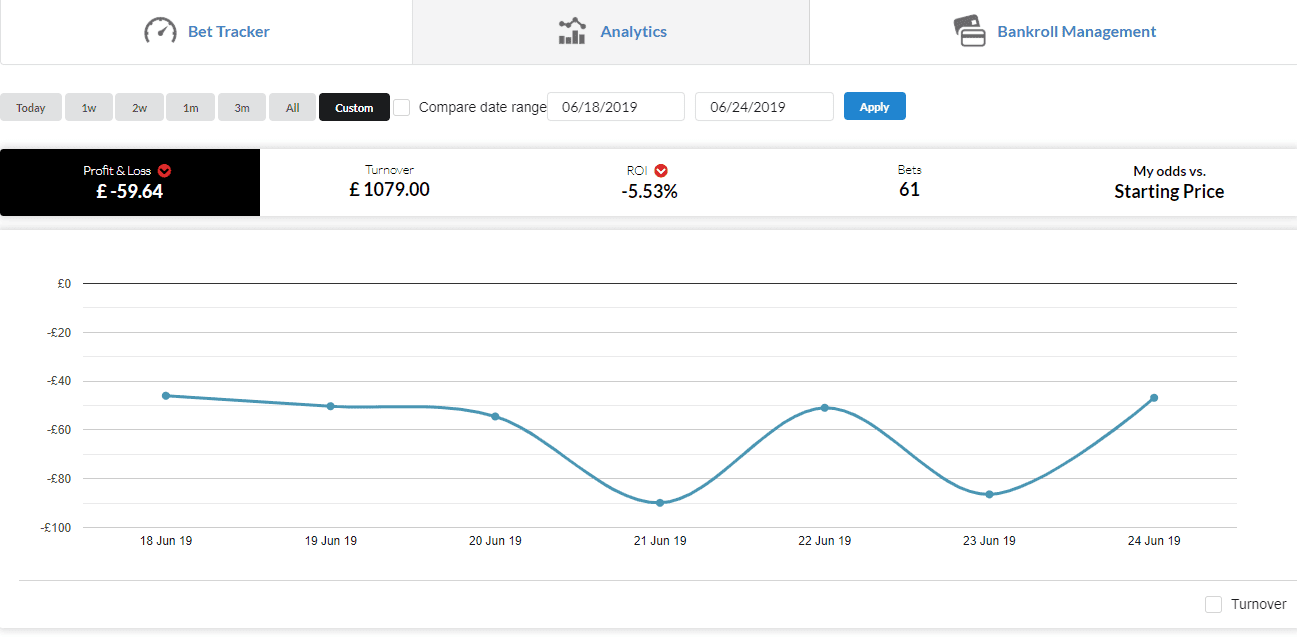 Bellow, I will briefly and individually go through the performance of each tipster I am following.
I will start with Park-Life-Tips. In the beginning, I decided to add him to my portfolio because he had shown exceptional performance and did have enough data to suggest that he is value betting focused person. He has been on negative run for the last 5 weeks since I started following him. I have spent some time analyzing his results thanks to Bettingmetrics analytics and noticed that this has been the longest losing period since he joined Bettingmetrics – quite funny. I am looking forward to PKT reversing the trend and hitting the positive numbers again.
This week he suggested 32 tips, 11 of which were winning. The betting tips advised by PLT are with average odds of 2.70 which still makes me think he is value looking tipster. PLT weekly loss is £107.
Drazen posted only 5 tips this week. With only 1 won he generated a weekly loss of £8 with negative ROI of 31%. I am looking forward to Drazen picking up his activities and delivering some positive results.
KaluGuru had a good week and achieved a weekly profit of £60 with a positive ROI of 16%. The relatively high ROI is expected from KaluGuru as the tips he advice are low odds - average odds of 1.30. The tips he produces so far are profitable and he achieves a high hit rate. Nevertheless, the average low odds are a bit concerning as in my experience it is extremely difficult to find value in tips with such low odds.
However, I believe KaluGuru is a tipster that does not data focus approach to his betting but rather he relies on his personal expertise and knowledge about the team, players and so on. He is a great addition to my portfolio where 4 out of 5 tipsters are data-driven and always look for value when betting. KaluGuru advised 18 tips and won 15 of them which is a really good statistic. I will certainly be happier if he sends more than 18 tips next week and keeps the same hit rate!
TennisTipsUK posted 4 tips this week. He won 2 of them and brought a weekly profit of £8 with a positive ROI of 20%. 4 tips are really not that much considering that we are in high season for tennis betting. I really which if TennisTips is more active as I love his approach to betting and I am confident he can deliver some profitable results.
The last tipster in my portfolio is gerry5 . The tips he posted was only 2 for the amazing horse tournament Royal Ascot. Unfortunately, gerry5 lost both of them and generated a weekly loss of £12.
This week my overall betting portfolio performance is negative and I lost £59 with negative ROI of 5%. Currently, my portfolio is still at lost following 4 losing weeks and only 1 profitable. As of today, I am sitting at a very modest total loss of £386. I cannot wait for the major European football leagues to start which will increase the number of events for betting. I am confident I will get my betting portfolio to a positive by following the chosen tipster.
Stats Summary for week 5
Total bet amount: £1079
Profit/Loss: -£59
ROI: -5%
Bets Placed: 61
Won: 29
Lost: 30
Push: 1
Half won: 1
Winning: 49.2%
Average Odds: 2.20
Average Win odds: 1.78
Average Losing odds: 2.73
Average Bet size: £ 17
Bet outcome graph :