Against the backdrop of the recent negative news over the coronavirus, which hits various industries (especially betting), I managed to place some bets last week, which were provided by my tipsters. I know that the situation right now is complicated and most of the leagues are postponed, and the quality of the tips can't be very high.
I honestly advise everyone to keep discipline, #stayathome, and follow governments' rules nowadays. That's how we will save our families and ourselves from the virus that spreads all over the world at a rapid pace.
Meanwhile, if you are bored at home, I suggest you read some of the entertainment articles on Bettingmetrics university. Now is the perfect time for every one of us to enhance his/her betting knowledge, which will help to make more winnings in the near future. The university section is filled with many interesting articles for various sports, in addition, many betting strategies are explained in details, and there are many hints on how to follow a tipster, along with plenty of betting guides.
I have to admit that last week was difficult for betting, and I assumed that the tipsters were facing many challenging circumstances due to the limited choice. That's why I decided to bet all single tips, which I received last week with a flat stake of £50, regardless of the odds and sports. During the week, I placed 74 tips in total, which generated me a loss of £94. Bear in mind that 11 of the placed tips were postponed, so this is one of the reasons why I couldn't make any profit.
Week 43 Profit&Loss graph: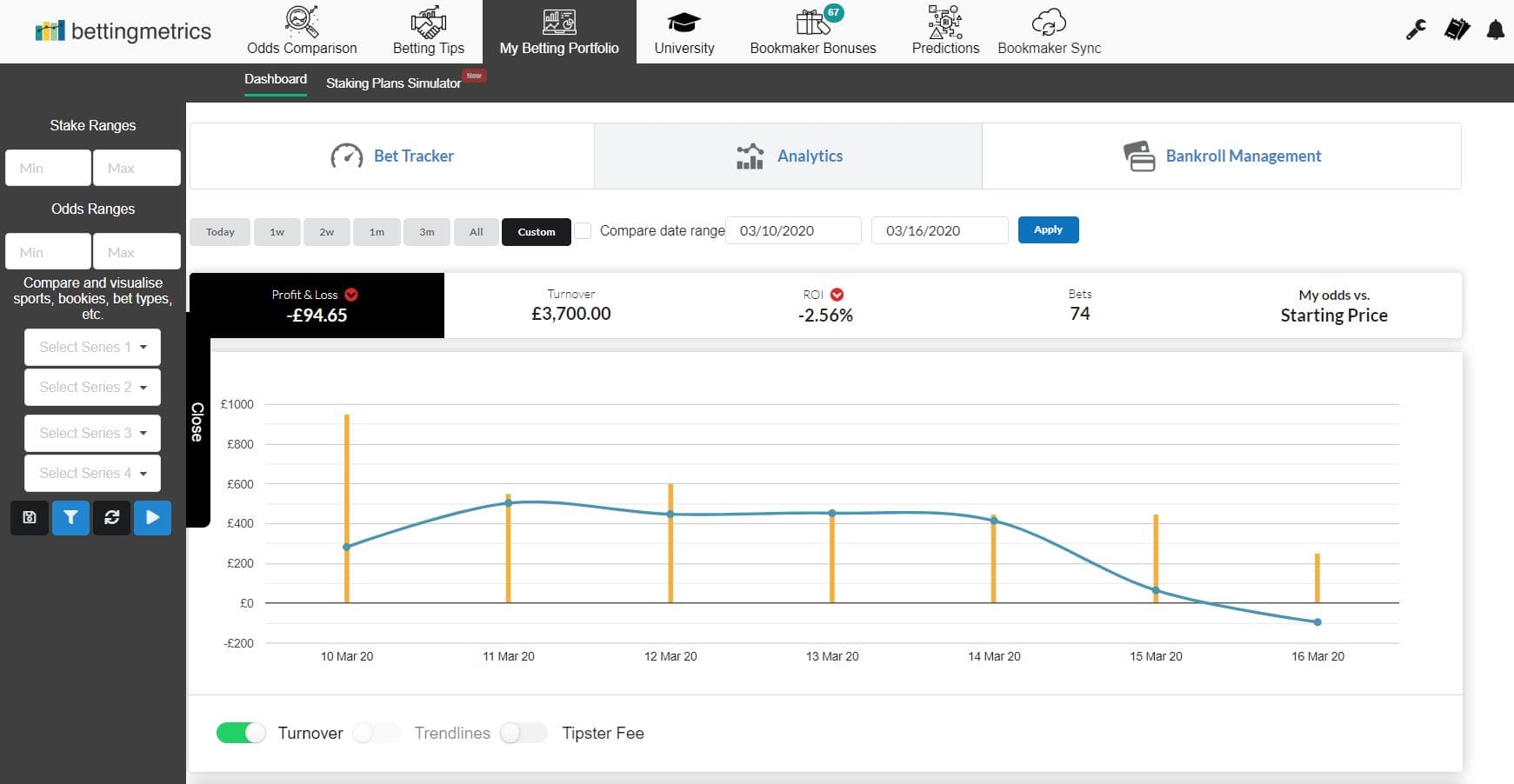 Below you can check the performance of my tipsters in week 43:
Rosso27 was again inactive, and I see the reason behind that. I hope that he won't stay away from his service after everything normalises.
scelam posted 25 hockey tips, only 11 of which won. His suggestions generated me a weekly loss of £83 with a negative ROI of 6%. The tipster had one of the longest losing streaks since I'm following him, with six lost games in a row. The hockey in Russia is one of the few sports that are still ongoing now, and I presume that next week Scelam will send tips for each game. Keep in mind that he is very successful in the Russian leagues, and if you manage to place his tips, at the end of the week, the results could be tremendous.
One of the winners of the last Bettingmetrics' tipster competition - Park-Life-Tips advised 21 tips, which generated me a weekly loss of £35. Most of his tips (8) were postponed, and that's why he couldn't create me any profits last week. However, I believe that Park-Life-Tips has a long-term view, and he will manage to create profits for my portfolio once when the situation goes back to usual.
The new addition for my portfolio - kezmann posted 10 tips, only 3 of which were winning. His football tips were with great average odds (2.50), and he showed that he has what to give to me and my portfolio. However, the limited choice of sports events hit his first week in my portfolio, and his suggestions generated me a weekly loss of £71 with a negative ROI of 14%. Despite that fact, I truly like what kezmann is suggesting, and I will place all his tips with confidence once the leagues are resumed.
carlosmo suggested 18 single tips last week. Recently, he started to post more singles, and I will place them instead of his multiples because I believe that the multiples are riskier and could cost me losses. However, carlosmo successfully managed to post winning tips despite the situation right now, and they generated me a weekly profit of £95 with a positive ROI of 10%. It is obvious that carlosmo possesses sports and betting knowledge, as he justifies each of his suggestions. In addition, the average odds of 1.90 and the high hit rate (61%) are other good reasons to follow him if you still hesitate to do it.
Week 43 of my journal was really difficult, but my tipsters tried to keep operating. During the week, I placed 74 tips, which generated me a loss of £94. Since the start of my journal, I placed 5987 bets in total provided by my tipsters, which generated me a profit of £5461 so far. Following the recent circumstances, I will continue placing single bets with £50, but I will extend the time for my journal until the end of June. I decided to do that due to the given circumstances, because of which I can't expect many great results right now. My next report will be at the end of April, and it will gather my betting from 17.03 to 30.04.
And one more time guys, please remember to stay safe. There is a lot of information circulating about the dangers of COVID-19, and there is a fine line between panic and caution. Just follow the rules of the government and enjoy spending time with your family.
All time stats: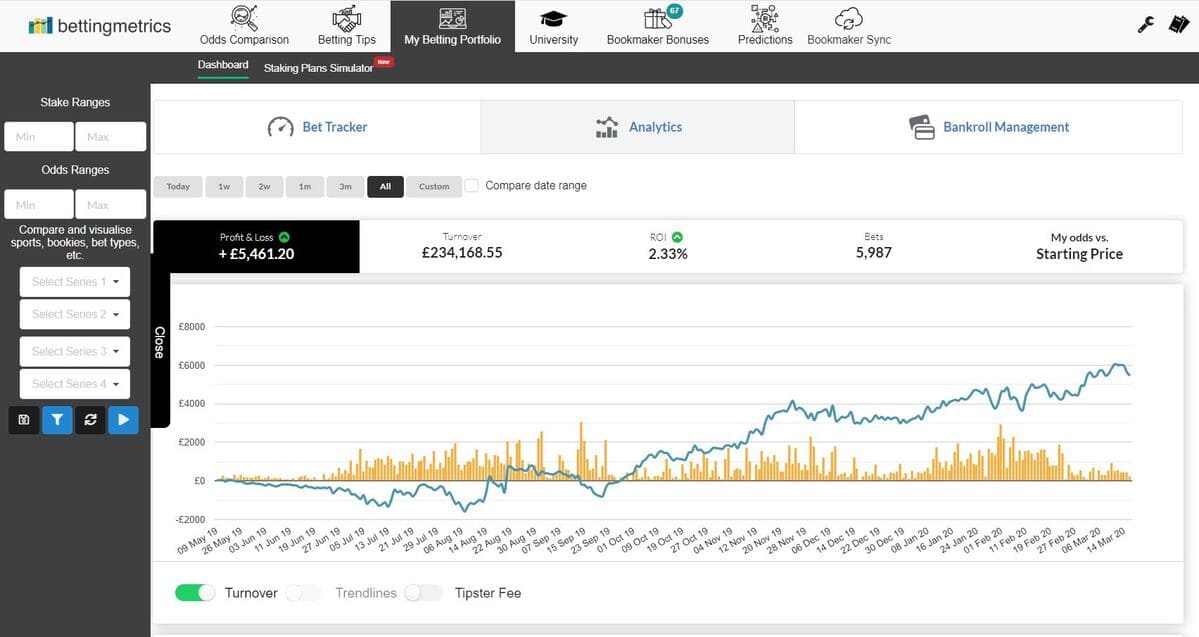 Stats Summary Week 43
Total bet amount: £3700
Profit/Loss: -£94
ROI: -2.56%
Bets Placed: 74
Won: 31
Lost: 32
Push: 11
Winning:41.9%
Average Odds: 2.20
Average Win odds: 1.97
Average Losing odds: 2.35
Average Bet size: £50