The weeks are moving one by one, and my portfolio continues to approach the results that I'm looking for. In week 42, I placed 62 tips, which generated a tiny profit of £103. You can read more about the results a bit later.
Here I would like to mention something fundamental for the betting success, which I wanted to share with you for a while. I'm placing my bets exclusively in a few bookmakers, which I'm considering to be giving the best odds, bonuses, and markets for betting. However, I have opened accounts in almost all available (only licensed) bookmakers in order not to miss a tip suggested by my tipsters. If you are following five tipsters and they suggest different sports, events, odds, etc. it isn't an easy task to find everything in one bookmaker. Not each sportsbook possesses everything, that's why if you want to make your portfolio professional and successful, my advice is to have active a big number of bookmaker accounts. Additionally, that's how you can take advantage of more special offers on a daily basis, which can help you to place more bets with bookmaker's money. More about this topic, you can read here - "Why having multiple bookmaker accounts is essential for your betting success.".
Let's begin with the report of week 42, which was strange for me. I had only three active tipsters - a fact which really disappointed me.
During the week, I placed 62 tips suggested by scelam, Park-Life-Tips, and the new tipster carlosmo. 28 (45.2%) of the suggestions were won, but the good average odds (2.60) made the week profitable.
Week 42 Profit&Loss graph: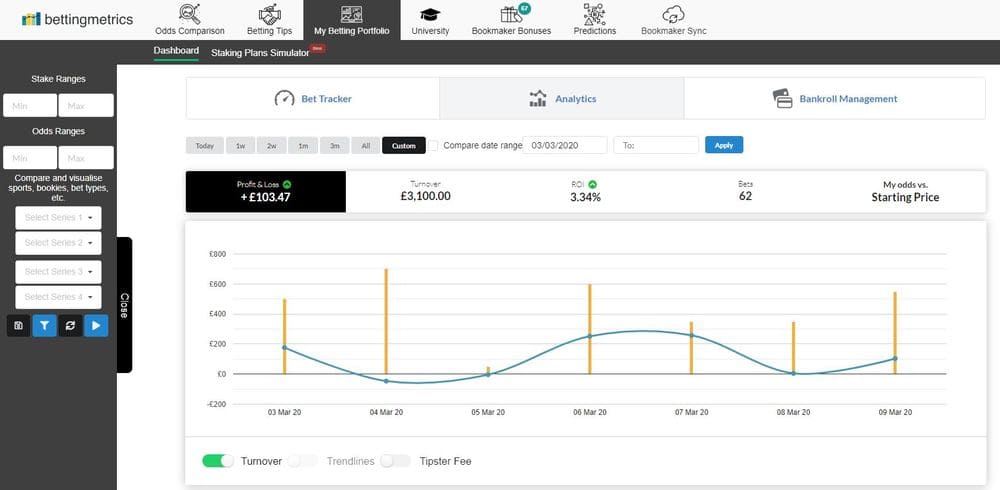 Below you can read a bit about the performance of each tipster:
I would like to start with the tipsters, who were inactive - Rosso27 and Ejizzymoi. Recently, Ejizzymoi showed that he could produce good results through his tips. Unfortunately, he also confirmed that he is very inconsistent and easily misses to post suggestions. This fact is the reason why I would like to change him with kezmann, who showed excellent and active performance, I have been watching him for a month, and I believe that he will give me the missing part to reach my initial goals.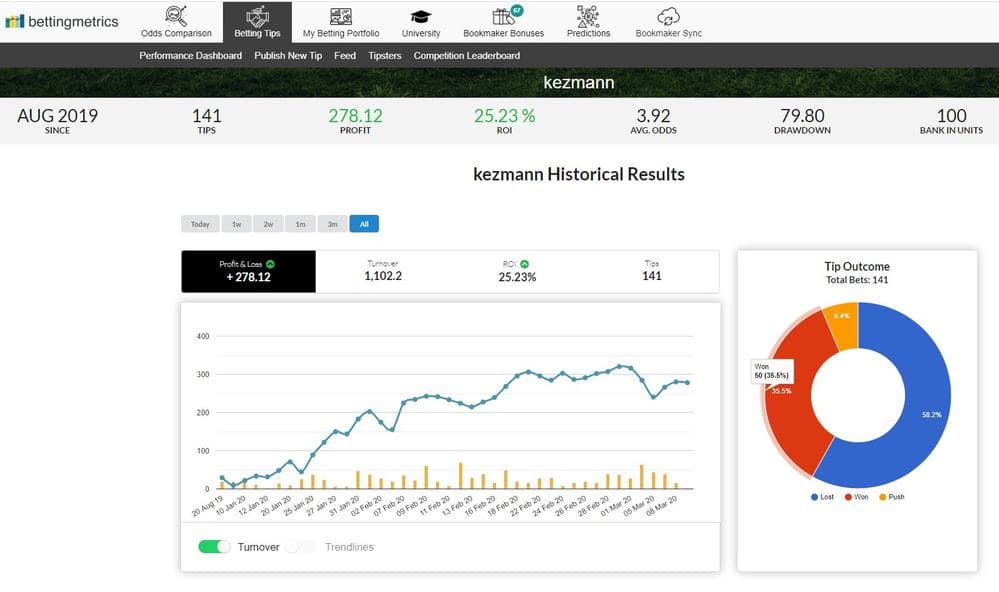 Rosso27, on the other hand, is a tipster who took a break of suggesting tips, and I think that he will be active again very soon. I will try to contact him in order to find out what are his plans.
I placed only 4 single bets suggested by scelam. 2 of the tips were won, and 2 were lost, which generated me a loss of £11. I'm sure that he posted more multiples in order to increase his profit at the last week of Bettingmetrics' tipster competition, and next week he will continue to post his successful singles. I need his suggestions because he is a proven tipster, who possesses excellent knowledge about hockey and generally about the betting, and I'm sure that scelam will help me to reach my target until the end of May.
Park-Life-Tips posted 28 tips last week. 14 of the tips (50%) were won and generated me a weekly profit of £100 with a positive ROI of 7%. It appears that PLT continuously keeps his excellent shape, and from the beginning of the journal, he created me a profit of £2374! The in-depth Bettingmetrics' analytics are showing that PLT has 45.6% hit rate, which in the long term period is something excellent. If you would like to follow him, keep an eye on the odds range 1.7-2.00, where he has a 50% hit rate. PLT takes well-informed decisions, and he could help you to enhance your betting.
Last week I decided to add carlosmo on my portfolio. I placed all of his multiple selections consisting only of 2 games. Besides, I placed his single tips in order to make his first week profitable. The week was successful even though I got a tiny profit of £14 through 30 suggested tips. However, I'm sure that carlosmo has plenty to offer for me and my portfolio, and I hope that it will happen in the near future.
Week 42 of my betting journal was successful as it generated me a small profit off £103 (still this is a profit), and I'm looking forward to the next week. In it, I intend to continue placing all single tips suggested by my tipsters (except Carlosmo's multiples) with £50. I will try this system at least one more week, and if there are no great results, I will revisit it.
From the beginning of my journal, I placed 5913 bets, which generated me a profit of £5555 with a positive ROI of 2.41%.
All time stats: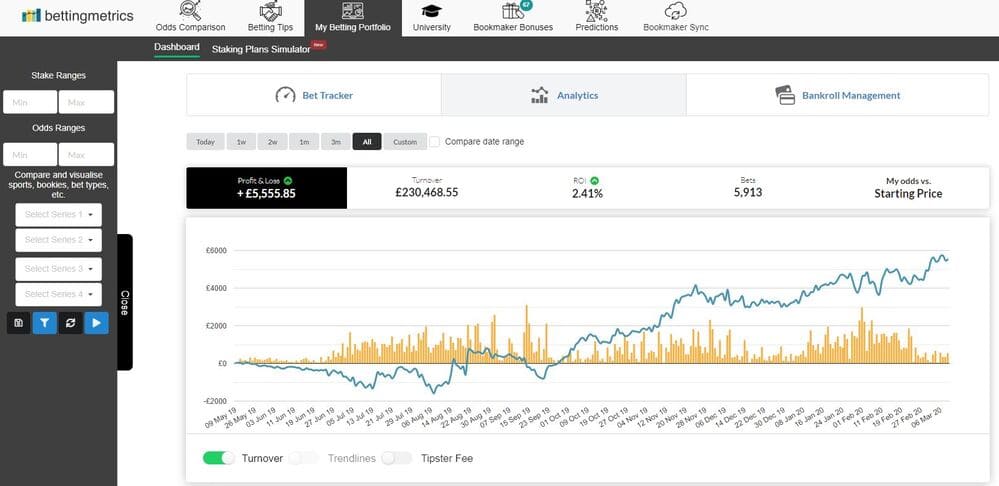 Stats Summary Week 42
Total bet amount: £3100
Profit/Loss: £103
ROI: 3.34%
Bets Placed: 62
Won: 28
Lost: 34
Push: 0
Winning:45.2%
Average Odds: 2.60
Average Win odds: 2.29
Average Losing odds: 2.84
Average Bet size: £50