February has finished, as it was a volatile period and brought some disappointing results that made me rethink some of the decisions taken. The month started with losses, then in the middle, the tipsters sent me excellent and profitable tips and erased the damage. At the end of the month, everything came in place as I managed to get out of the losing situations with patience, trust, and dedication to the betting process and the tipsters that I'm following. In February through the received tips, I had a profit of £871, an amount which will help me to reach my initial goal - to double the starting amount of 9k until May.
Week 41 of my betting journal brought both good and bad news. I want to start with the positive points, and through the single tips posted by my tipsters, all of which I placed with £50, I made a weekly profit of £793 with a positive ROI of 27%. The not so satisfying news came from some of my tipsters who disappointed me as they were inactive or sent unprofitable tips. I guess some of the tipsters tried to post many tips with the major aim to win the prizes of Bettingmetrics tipster competition, but my portfolio shouldn't depend on factors like this. Every high risk, which is not the fruit of a reasoned decision, isn't meant for my betting portfolio.
Week 41 Profit&Loss graph: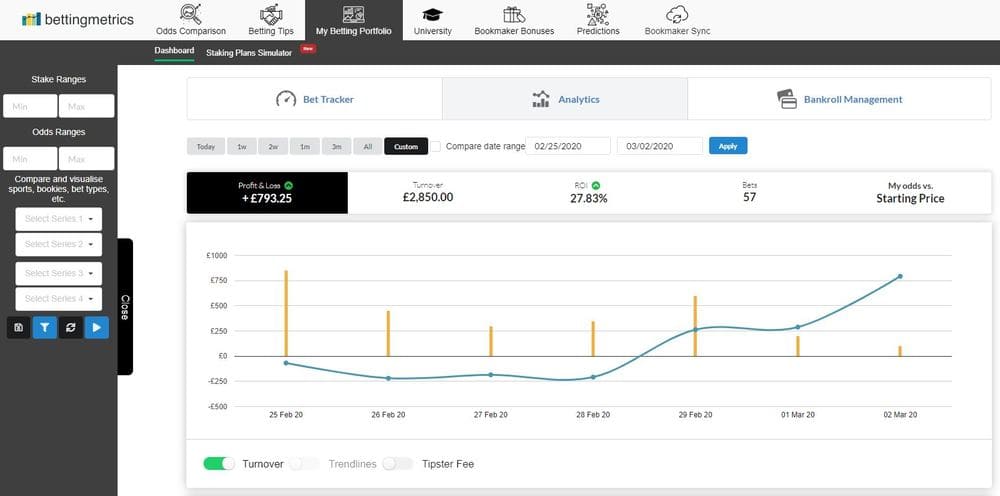 However, I decided to make some changes in the upcoming week, but you can read about it below:
scelam - this guy is a real hockey master! He could destroy the bookmakers with his tips which are profitable, well informed, and very suitable for my betting strategy. In week 41, he posted 33 tips, which generated me a weekly profit of £810 with a positive ROI of 49%. He is a real star on Bettingmetrics, and his followers rapidly increase thanks to his overall performance, which is to be expected. Through 1742 posted tips in total on the platform, he generated an ROI of 10.78%. If you follow him, you can place his tips with high confidence.
Park-Life-Tips had a very good week as he generated me a weekly profit of £426 with a positive ROI of 65%. He posted only 13 single tips, 9 of which were won, all with good average odds (2.50). He posted only football tips, and if you are a football punter, you could make great profits through PLT's tipster service. Keep in mind that he is a long-termer, and following him for a week or two, won't be enough.
danimall advised eight tips and lost all of them. I contacted danimall, and he explained to me that the previous weeks aren't profitable as he suggested tips only with the major goal to win the competition prizes. However, he will take some break from posting tips, and I respect that. I will replace him with carlosmo, as I want to be supported by five tipsters until May. The tipster showed excellent long term approach on Bettingmetrics, he is very active, and I will give him a chance to prove himself in my portfolio. He posts only multiples, something that is not suitable for my betting tactic, and I will place all his multiples with 2 selections only. However, danimall will text me once he is ready to start with his service again, and it is possible to include him again in my portfolio.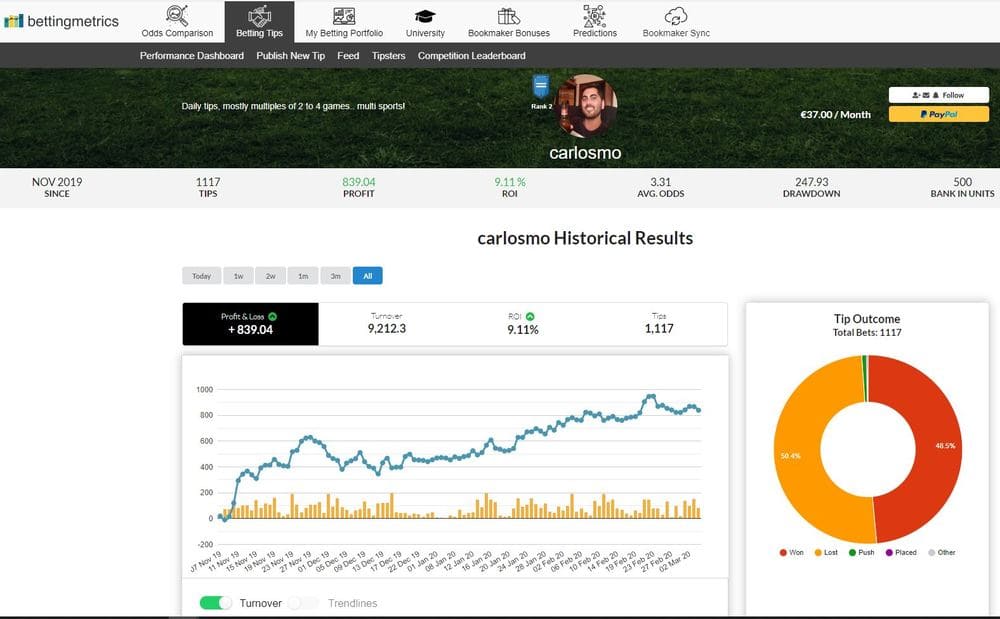 Rosso27 posted only 3 single tips, 1 of which were won. He generated me a weekly loss of £44 with a negative ROI of 29%. However, during his participation in my portfolio, he showed good sports knowledge more than once, and the deep analytics tools on Bettingmetrics show that he generated me a profit of £1284. I guess that he will be more active next week, and I will be happy to take advantage of his profitable suggestions.
Ejizzymoi wasn't active last week. Disappointing for me as I believe he is a tipster that can produce good profits. However, I will give him only one more week to improve his activity, or I will replace him.
Week 41 of my portfolio was good and brought me a profit of £793 with a positive ROI of 27%. Next week is crucial for all tipsters on Bettingmetrics competition, and I will place all suggested tips with extra attention. However, I won't make a change to the tactic to place all single tips with £50 each because I believe it can boost my portfolio profits. From the beginning of my journey, I placed 5851 tips, which generated me a profit of £5452. Still, I have three full months to fulfil my goal to double the starting amount of 9k, and I believe it to be highly possible.
Thank you!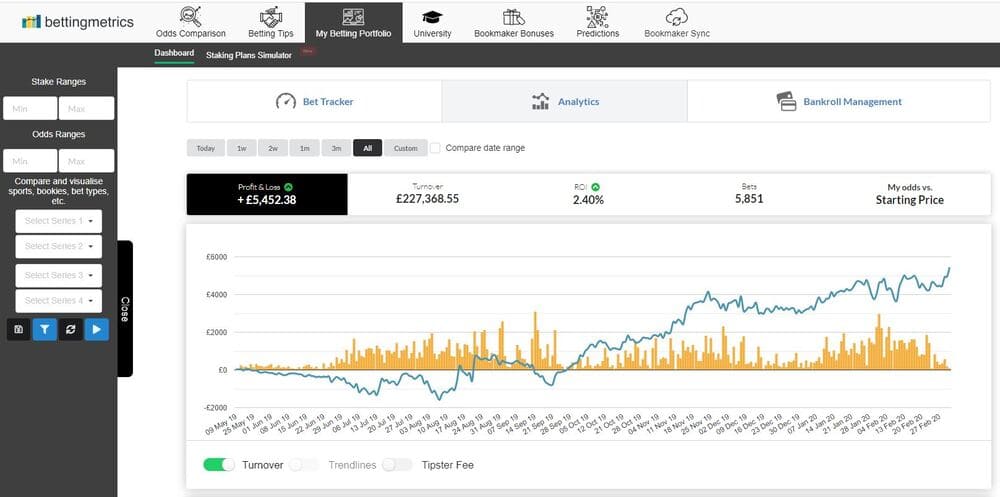 Stats Summary Week 41
Total bet amount: £2850
Profit/Loss: £793
ROI: 27%
Bets Placed: 57
Won: 28
Lost: 29
Push: 0
Winning:49.1%
Average Odds: 2.80
Average Win odds: 2.60
Average Losing odds: 2.91
Average Bet size: £50