Another week, another report for the followers of this betting journal. The report doesn't represent the results that I expected, but as many smart people are saying - "Never take anything for granted". This quote applies entirely to betting and in particular for betting through tips. If you think that you will always win from your bets, you should reevaluate your approach and start with another, or exit immediately because you risk being disappointed. The betting in all of its types should be taken like a long process, which includes many slow methods and different strategies, in order to be successful. I advise you to read this article, in which you will learn more about the psychological side of betting.
In week 40, I placed 134 bets, which generated me a weekly loss of £337 with a negative ROI of 4%. Definitely, the week wasn't successful, but still, my tipsters deserve respect for the entire work that they are doing. It isn't an easy task to be active, profitable, and responsive, day by day for months, and I understand that. I consider the impact that the tipster competition has on my tipsters because they strive to win the prizes announced by Bettingmetrics, and many of their decisions aren't so well thought. However, I believe that the five tipsters that I'm following will retain professionalism, and will return the losses from week 40, as they have done that many times.
Week 40 Profit&Loss graph: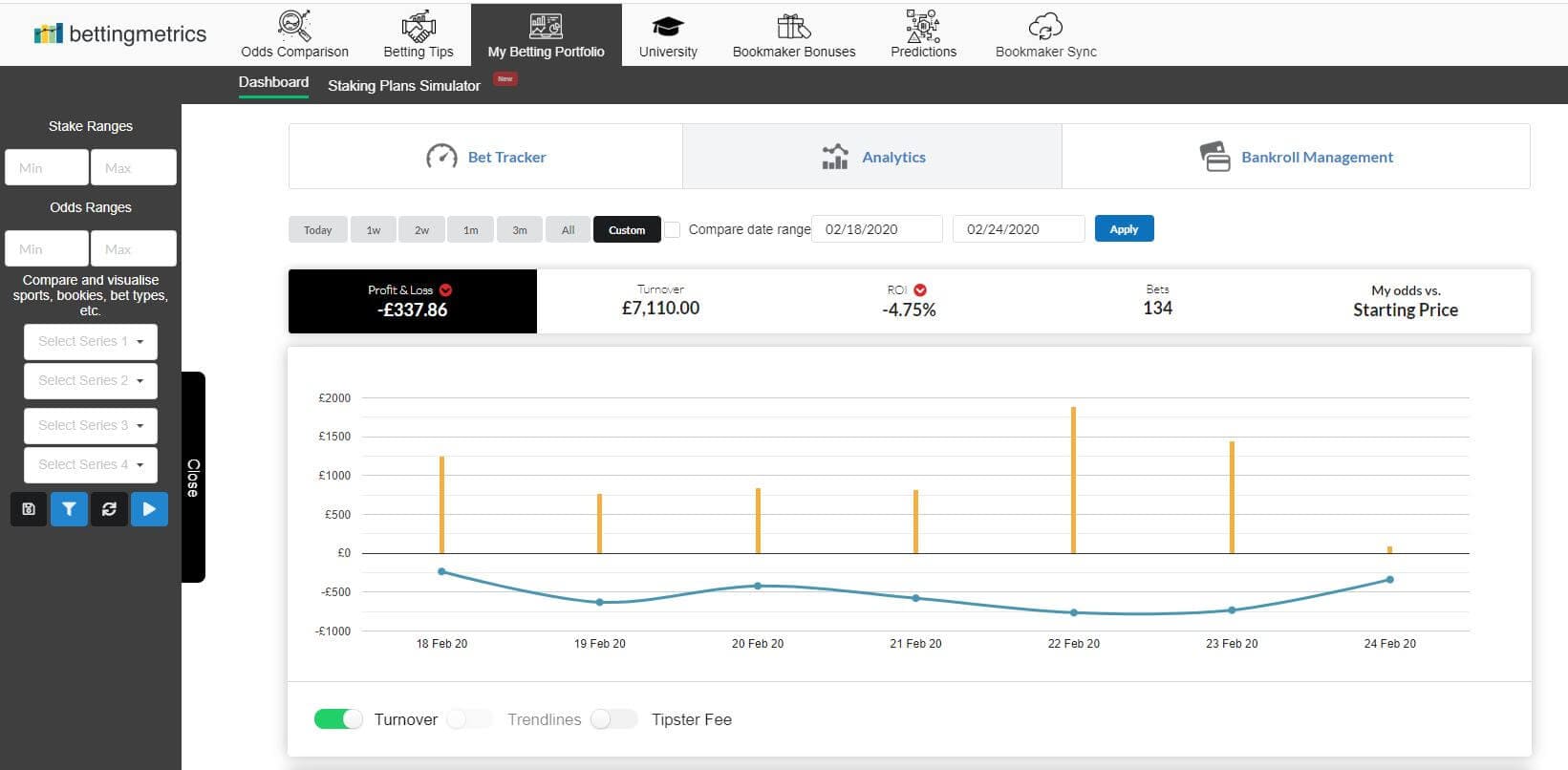 In the next lines, I am presenting a short review of what happened last week:
scelam posted only 17 single tips, 8 of which were won. The high average odds (3.00) created me a weekly profit of £602 with positive ROI of 64%. The hockey tips, which scelam is posting each week, deserve attention as they are fulfilled with value and information, and I place such tips with confidence. I'm happy with the fact that I added him in November, as he created me over £4000 through 567 tips. The in-depth tracking tools that I'm using show that with a hit rate of 48% he is clearly the best performing tipster on my portfolio.
danimall continues with his bad shape. He suggested 27 tips, which generated me a weekly loss of £637 with a negative ROI of 42%. I decided to follow him when he was on the top of his performance, and then he fell into drawdown. I honestly like what he is suggesting because he is always looking for good average odds and different markets. Maybe I will reconsider his participation in the near future, but for now, he has a credit of trust to show his abilities.
Ejizzymoi had a good week through his 11 suggested tips. I placed all of them with £45, and they generated me a weekly profit of £287 with a positive ROI of 58%. He showed great results on Europa League and the Champions League games, as he won 10 out of 11 games. Still, he has to improve his performance as he is generally still unprofitable for my portfolio.
Ejizzymoi tips: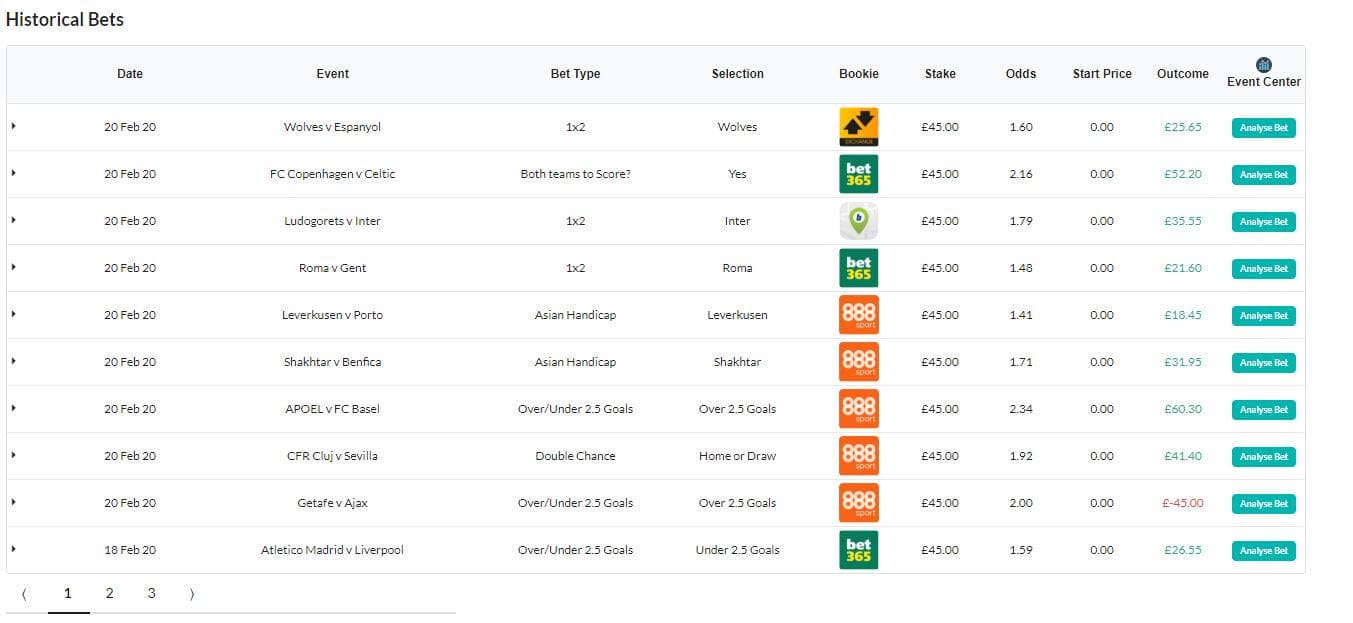 I placed all suggested tips by Rosso27 with £55. He won 17 out of 64 tips, and unfortunately couldn't make me any profits. The low hit rate combined with the high suggested odds (3.00) created me weekly loss of £533. 31 of the tips were for the market "The draw", which wasn't profitable last week. He recently started to post this type of bets, and if you follow him, keep in mind that if the week is successful, you will make excellent profits through Rosso27's tips.
Park-Life-Tips posted 15 tips last week, which generated me a weekly loss of £56 with a negative ROI of 8%. He sent suggestions with very low odds (1.50), which I honestly dislike. However, I'm confident that PLT knows what he is doing as he is a long-termer and often makes some changes in his approach. Hopefully, he will produce better results and higher quality on his tips.
One unlucky week is behind me, but it can't shake me. In week 40, I placed 134 bets, 52 of which were won, and they generated me a loss of £337. Next week, I will place all the single tips provided by all five tipsters with £50 each. The main rule is that the tips should include odds of 1.80 or higher. From the beginning of my journey, I placed 5794 tips which generated me a profit of £4659. Still, I have the target to double the initial amount of 9K until May 2020.
All time Profit&Loss graph: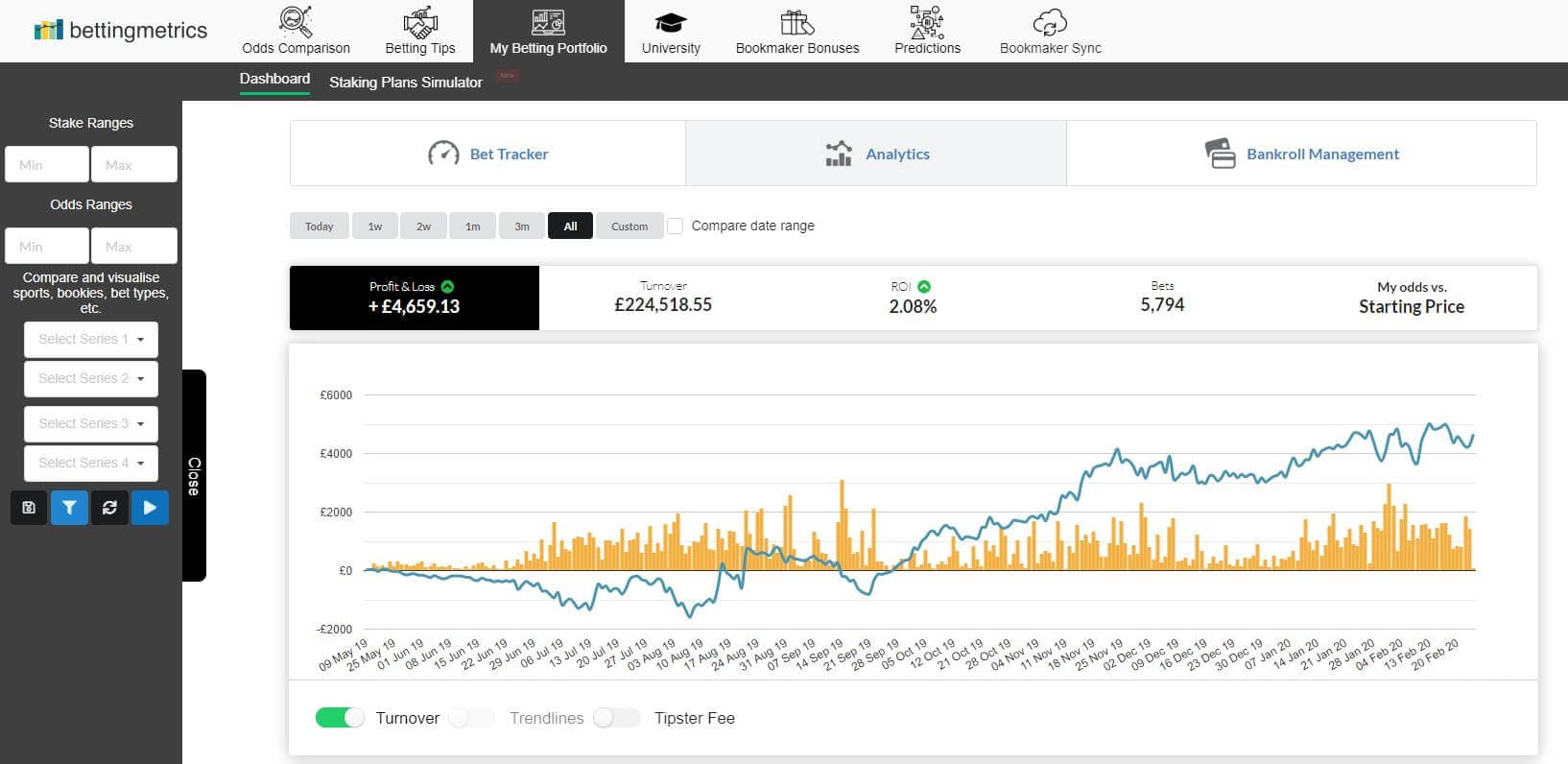 Stats Summary Week 40
Total bet amount: £7110
Profit/Loss: -£337
ROI: -4%
Bets Placed: 134
Won: 52
Lost: 77
Push: 5
Winning: 38.8%
Average Odds: 2.60
Average Win odds: 2.38
Average Losing odds: 2.80
Average Bet size: £53.1