I'm ready with my weekly betting report, my tipsters did well, and they erased the previous loses. I'm sure that my tipsters are among the most successful on Bettingmetrics, that's why I keep following them even if they are in a bad period. My experience in betting showed many times that the tipsters are humans, and sometimes they fall on a bad day/week. Of course, they need time to rebuild their strategy and most importantly, they need the trust of the followers.
Everyone who is involved in betting knows that in the long term, you should be ready to accept some losses, and when they happen, you have to know how to go out of this situation. I suggest you read this article, it will give you good guidance about how to follow a tipster.
Week 39 passed with 193 placed tips, which generated me a weekly profit of £1358 with a positive ROI of 13%. During the week, I tried to use various bookmakers for my betting in order to place a large number of bets with bookmakers money. Again I used Bettingmetrics, which helped me to find worthy offers. I'd recommend you to look at the Special offers page, where you can find many bookmakers' bonuses for existing customers. This is helpful for people like me, who have opened accounts on most of the bookmakers, used the welcome offers, and now are in need of extra bonuses.
Week 39 Profit&Loss graph: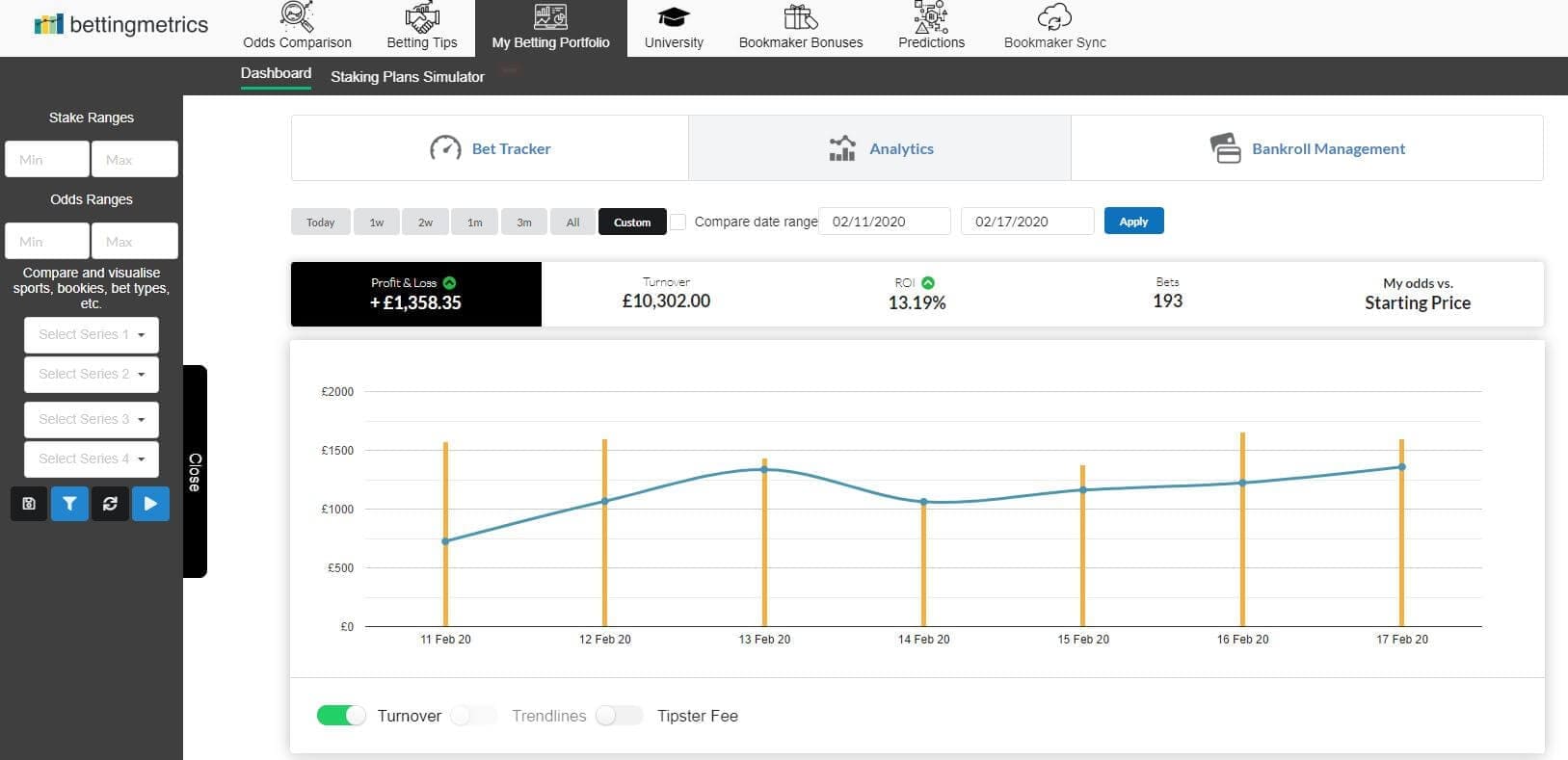 Below you can check the performance of each tipster:
I'm beginning with the hockey master - scelam , who posted 44 tips, which generated me a weekly profit of £604 with a positive ROI of 25%. The tipster had two weeks with unprofitable suggestions but managed to stay in control and provide his followers (like me) with excellent tips last week. I enjoyed the provided odds (average 2.40) because they allowed me to accumulate more profits with the stake that I used for scelam's singles - £55 for every tip.
One tipster is still a mystery for me - danimall. On the one hand, week by week he is providing me with very good suggestions, well informed, with good odds, but on the other hand - they are unprofitable for now. I will give him one or two weeks more to adjust his betting system, or I will make some changes to the applied strategy. In week 39 he advised 77 tips, which damaged my portfolio with £57. In my opinion, danimall possesses enough skills to become one of the successful tipsters in my portfolio, but the future will confirm that.
Park-Life-Tips suggested 26 tips from the major leagues (I placed each with £45). 16 of his tips were won and created a weekly profit of £254, with a positive ROI of 21%. His best performing market was Over 2.5 goals, in which he won 10 out of 15 suggestions (66.67%). If you follow him, you can place "Over 2.5'' with confidence because PLT is one of the specialists in that market.
Park-Life-Tips winning suggestions:

Rosso27 did great work during week 39! He posted 64 tips, only 27 of which were won, but they brought me a weekly profit of £675 with a positive ROI of 21%. However, he has suggested average odds of 2.70, which generated me some profit last week. When I've checked the analytic tools which are helping for my betting, I've noticed that with 43% hit rate the tipster brought me a profit of £1843 since he joined my portfolio. That's why I am placing all his single tips with £55.
The last tipster is Ejizzymoi. He posted only 2 tips from the major leagues, and he has won and lost one. The tips generated me a weekly loss of £17 so not many things to explain about his results. I believe that he will be more active and profitable for me in the near future.
The week has gone with a profit of £1358, and now I'm looking forward to making more from the upcoming events. I will add Champions League and League Europa to the system that I'm using for Park-Life-Tips and Ejizzymoi (all tips from the major leagues with a stake of £45). The other three tipsters are staying with the same tactic - £55 for each tip. From the start of my betting journey, I have made £4993 profit with a positive ROI of 2.30% through 5656 suggested tips. However, I'm still positive that I will reach my initial goal to double the amount of 9k until May 2020.
All time Profit&Loss graph: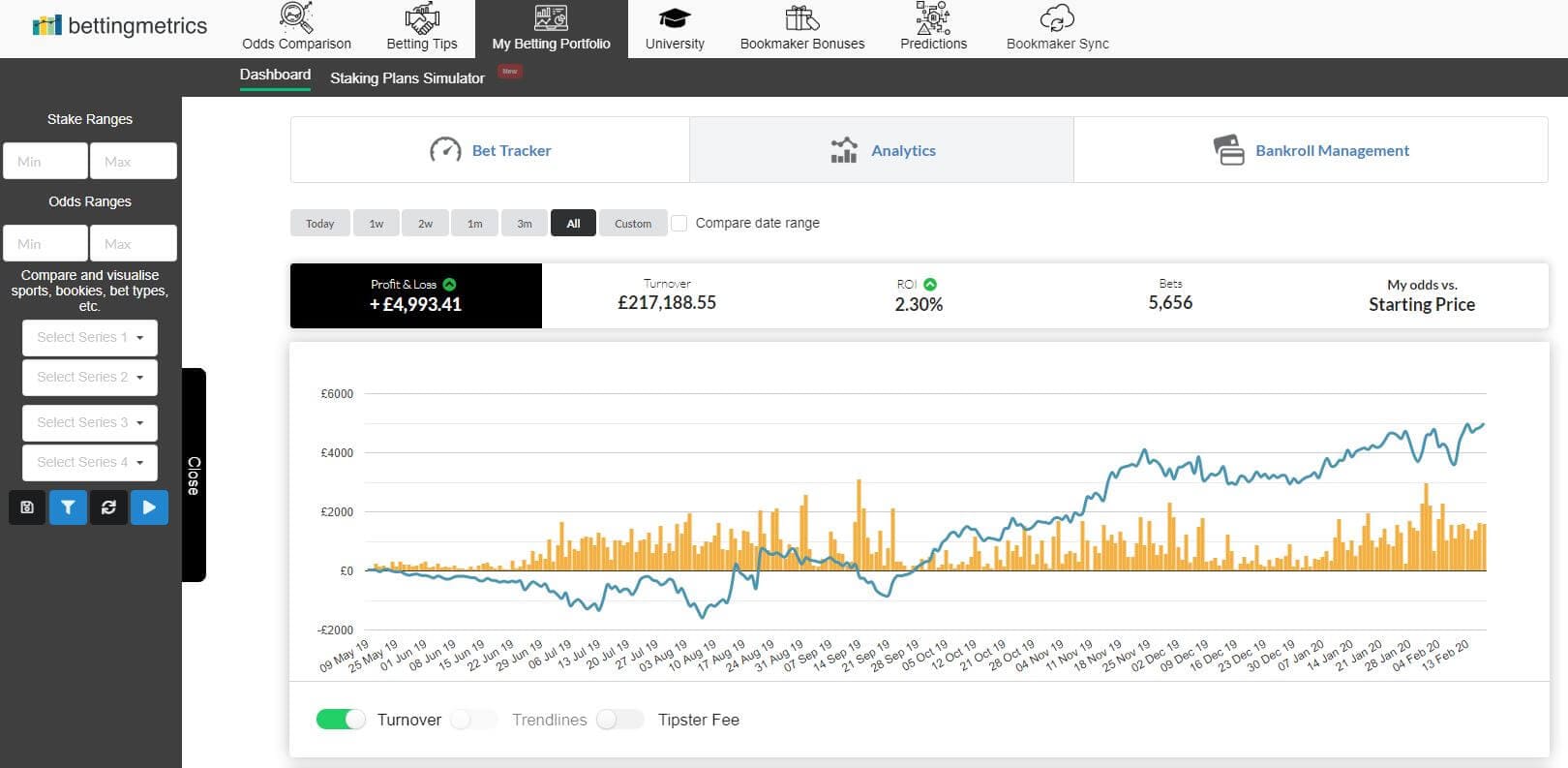 Stats Summary Week 39
Total bet amount: £10302
Profit/Loss: £1358
ROI: 13.19%
Bets Placed: 193
Won: 98
Lost: 93
Push: 1
Half Won: 1
Winning: 51.3%
Average Odds: 2.30
Average Win odds: 2.20
Average Losing odds: 2.39
Average Bet size: £53.4