When you follow a tipster service, you have to be ready to take both the positive and the negative results. Last week was one of those, which brought me the most serious damage since the beginning of my journey here at Bettingmetrics. However, the betting experience that I possess shown me that the losses are an integral part of the long term betting. However, if you are in a bad position (like mine last week), you have to calm down, eliminate the panic, and make your best to minimise the losses.
My previous report showed that my tipsters are in a bad period, and the start of the new betting week confirmed this trend. So during the week, I decided to place my bets only during the weekdays. I did that because I know how stressful is the betting during the weekend with thousands of events, odds, and opportunities for bets. However, my move couldn't make my week profitable, but at least it limited my losses. With the Bettingmetrics bet tracker feature that allows me to track each tipsters' suggestion, regardless of whether I placed them or not, I found that I saved around £300 only because I missed to place bets on Saturday and Sunday!
In week 38 of my betting journal, I placed 147 bets, which brought me a weekly loss of £1146 with a negative ROI of 14%.
Week 38 Profit&Loss graph: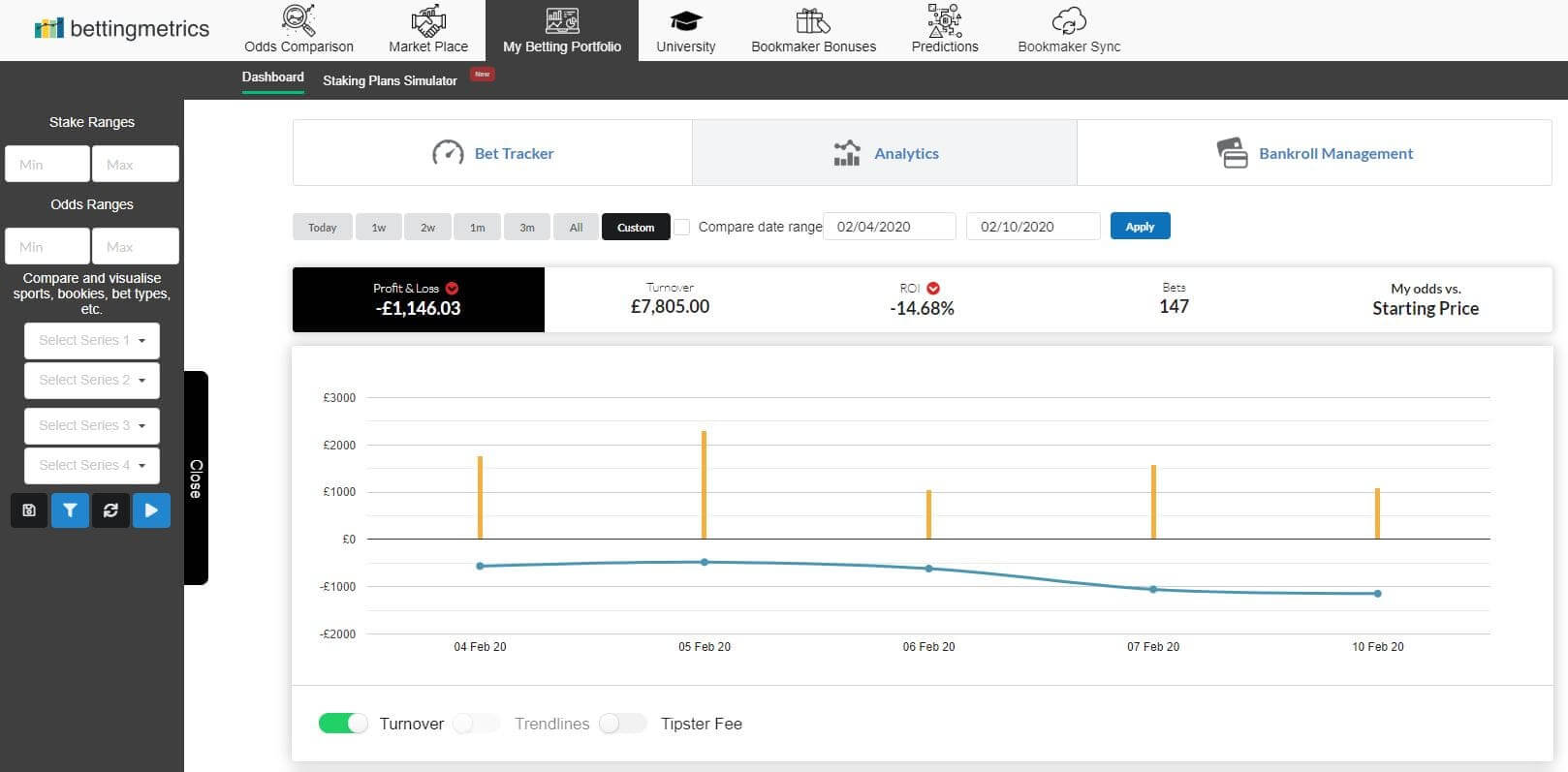 Below you can see the performance of each tipster during week 38:
I placed 60 tips with £55 each, which were posted by danimall last week. Unfortunately, his suggestions generated me a weekly loss of £100 with a negative ROI of 3%. Although he had 2 losing weeks and still he didn't make me any profit, I am pretty convinced that he will increase my betting profits in the near future. I make this conclusion because his tips contain excellent value, knowledge, and reasons to be placed. The hit rate of 54% can't be ignored, and I'm waiting for danimall's profitable tips next week.
It is the second negative week for scelam , but I'm not stressed about him. He posted 12 tips (each was placed with £55) last week, 8 of which were lost. This negative amount brought me a weekly loss of £194, with a negative ROI of 30%. However, scelam is one of those tipsters who can bring you over £700-£800 for only one week with his extra-knowledgeable hockey tips, and to successfully erase the previous losses.
Rosso27's also was in a bad run, and his tips created me a weekly loss of £421 with a negative ROI of 16%. He posted 47 tips(placed with £55 each), with high average odds of 3.20, which is an indication that if he has a successful week, he can produce you very good profits. However, I checked the in-depth analyses and realised that Rosso27 brought me a profit of £1186 from the moment that he has joined my portfolio
More loses are coming from Park-Life-Tips. One of my long-termers posted 13 tips from the major leagues last week, only 5 of which were won. His suggestions, which I placed with £45 each, generated me a weekly loss of £166 with a negative ROI of 28%. He increased his average odds (around 2.10), and I believe that he will manage to overcome the drawdowns for the next week.
The last performance update is coming from Ejizzymoi, and probably you know the result - it is negative like everyone else. The tipster posted 15 tips, which generated me a weekly loss of £263 with a negative ROI of 39%. Definitely, the advice provided by Ejizzymoi wasn't with high quality, and I'm expecting that he will increase his hit rate ASAP, as from the moment that he has joined my portfolio, I lost £669 from his tips.
Clearly, the week wasn't good for anybody, and I suffered some losses. The tips provided by my tipsters brought me a weekly loss of £1146 with a negative ROI of 14%. Still, I have the trust in my tipsters, and I know that everyone has his weak moments (unfortunately this week all of the tipsters had this weak moment). My total balance from the beginning of the journey is £3635, with a positive ROI of 1.79%. I believe that next week my tipsters will be more concentrated, dedicated, and profitable for me and my portfolio. I'm not going to change my tactic for placing bets next week - £55 each for scelam, danimall, Rosso27, and £45 each for the major leagues' tips provided by PLT, and Ejizzymoi.
All time Profit&Loss graph: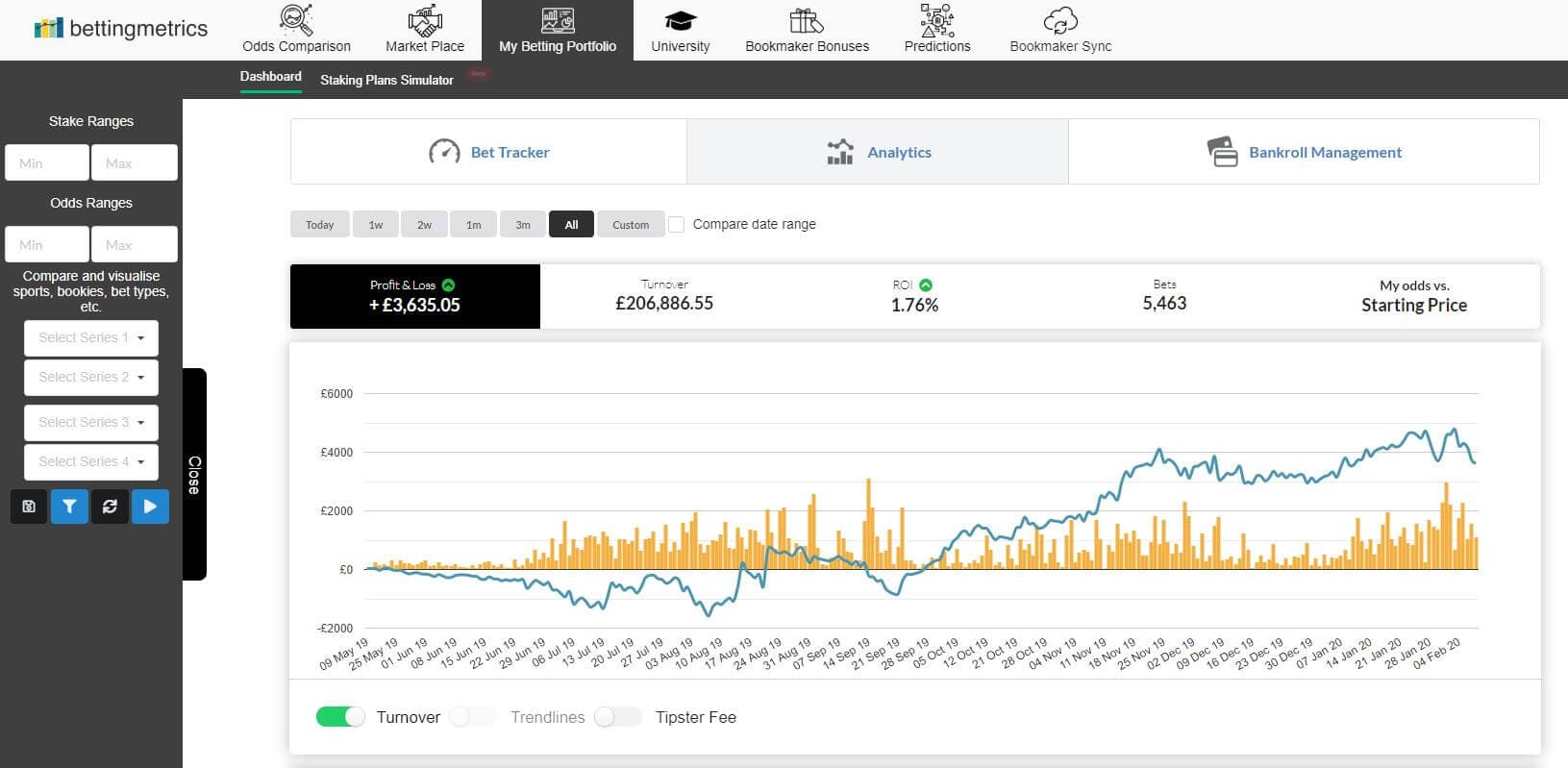 Stats Summary Week 38
Total bet amount: £7805
Profit/Loss: -£1146
ROI: -14%
Bets Placed: 147
Won: 58
Lost: 84
Push: 3
Half Lost: 2
Winning: 39.5%
Average Odds: 2.40
Average Win odds: 2.08
Average Losing odds: 2.59
Average Bet size: £53.1