One more betting week is behind me, and my plan to make money by following tipsters is going very well. I believe this happens because I'm very dedicated to my duty to follow tipsters, track their suggestions, and place bets with the highest available odds. Keep in mind that the first step to betting success is dedication. I know that many people are inspired to start with their own portfolio, and I want to confirm one more time the important rules for that. I advise you to read enough articles (you can find a big number in Bettingmetrics University - Betting Knowledge), prepare yourself with patience, use the best betting tools, and strictly follow the conditions indicated by your tipsters. If you are ready to keep those rules, you will raise your chances to make a profit from your tipsters.
In week 36, I placed 147 tips suggested by five active tipsters. The week passed successfully, and the suggestions generated me a weekly profit of £549 with a positive ROI of 7.33%. Generally speaking, I'm very happy with my portfolio's performance, and the tactic to place scelam's and Rosso27's single tips with £55 gave the expected long-term results. In addition, the rest three tipsters showed very good performance on the top 10 football leagues and helped me to make money with their suggestions.
Week 36 Profit&Loss graph: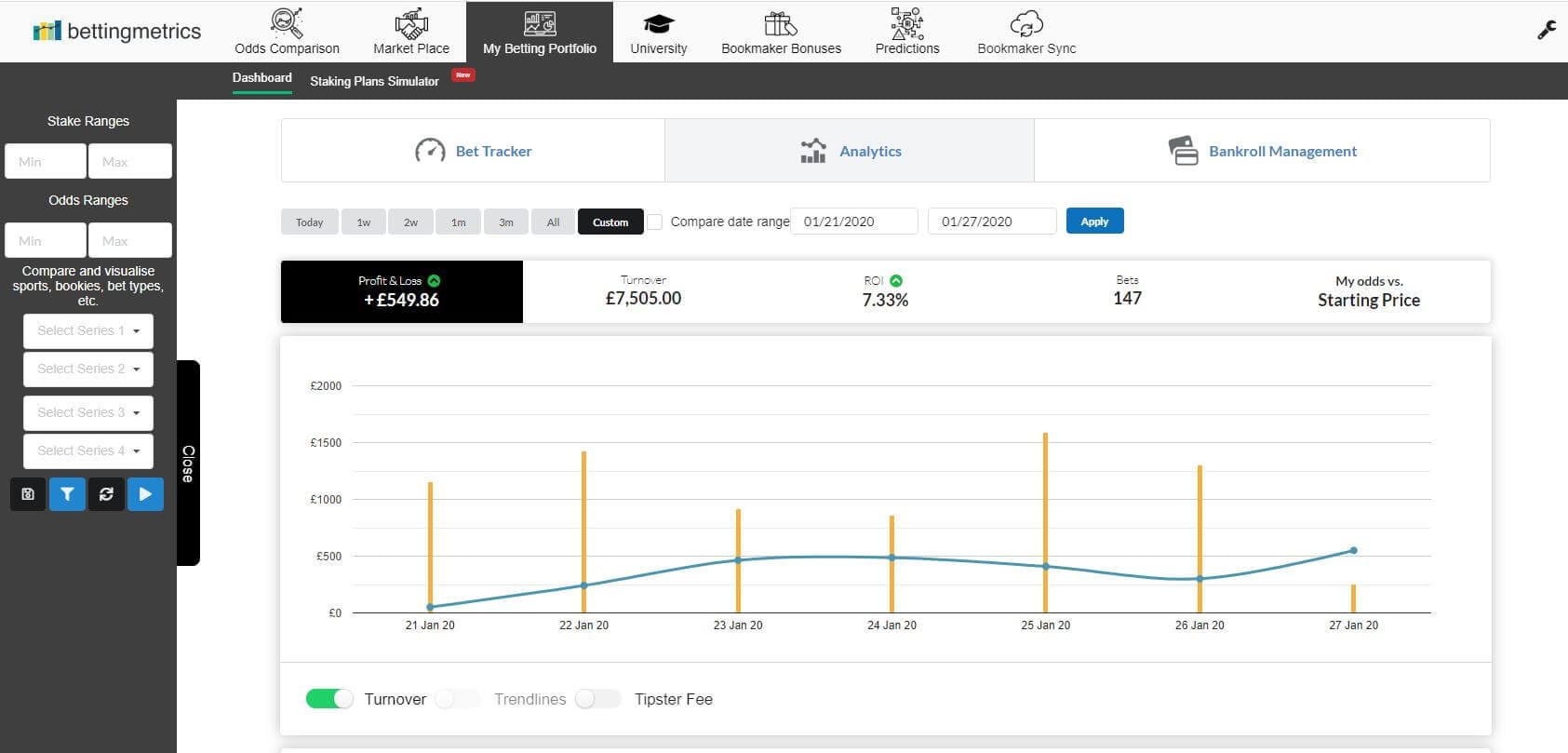 Below you can check the performance of each tipster during week 36:
Scelam suggested 35 single hockey tips last week and won 18 of them. The good average odds of 2.30 helped me to record one more profitable week. Scelam's tips generated me a weekly profit of £211 with a positive ROI of 11%. I'm happy with the fact that I have chosen him to join my portfolio. He showed an extraordinary knowledge about hockey, excellent active approach, and showed that he is ready to help others to make money. If you are thinking about whether to follow his tips, now is a perfect time because he fights for the prizes on Bettingmetrics tipster competitions, and I expect that he will increase the winning tips.
Park-Life-Tips suggested 31 tips during week 36. He showed his excellent knowledge of the markets - 1x2 and Over 2.5 goals and generated me a weekly profit of £115 with 17 winning tips. Following him brings long term positives because he is always active and prepared with useful suggestions. From the start of this journal, he suggested 1131 tips in total, which generated me a profit of £1807. His overall performance shows why the long term investment is better than the short small profits - just creates you a continuing income.
In week 36, I placed 54 tips suggested by Rosso27. He successfully posted more winning tips (27) and created me a weekly profit of £174 with a positive ROI of 5.89%. If you decide to follow him, keep an eye on the market "Double Chance'', where he won 7 out of 8 tips (87.5% hit rate) last week. In addition, Rosso27 is suggesting very good average odds (around 2.40), which is one more reason for me to place his tips with confidence.
As I said in my last report, I'm expecting much more profitable tips by Ejizzymoi, and he did well last week. The tipster suggested 13 tips, 7 of which were won. This generated me a weekly profit of £215 with a positive ROI of 36%. The high earnings generated by only 7 winners came out thanks to two games with high odds (the draw between Chelsea and Arsenal - 4.00, and Bournemouth v Arsenal - Arsenal to win and both teams to score - 3.85). I expect that he will continue with his winning streak and practical suggestions.
freguli posted 14 tips last week. Unfortunately, his suggestions weren't with good quality, and they cost me money lost. The tips suggested by the tipster brought me a weekly loss of £167 with a negative ROI of 26%. Here I will surprise you with the news that I will replace freguli with another tipster. My decision is based on having only a few months to fulfil my initial goal to double the investment of 9k, and I'm very confident I will do it. Recently, freguli stopped to be active, and he decreased the quality of his tips. However, I will keep an eye on his tips, and if he shows a good hit rate, I might bring him back to my portfolio.
The new addition in my portfolio is danimall, who showed excellent recent performance on Bettingmetrics tipster competition. I closely follow the race, and danimall have posted a big number of great tips with high hit rate (59.2%), in addition, he possesses knowledge on more than one sport. I believe that he will bring me high profits. That's why I decided to follow him, and I will place his single tips with £55.
danimall performance: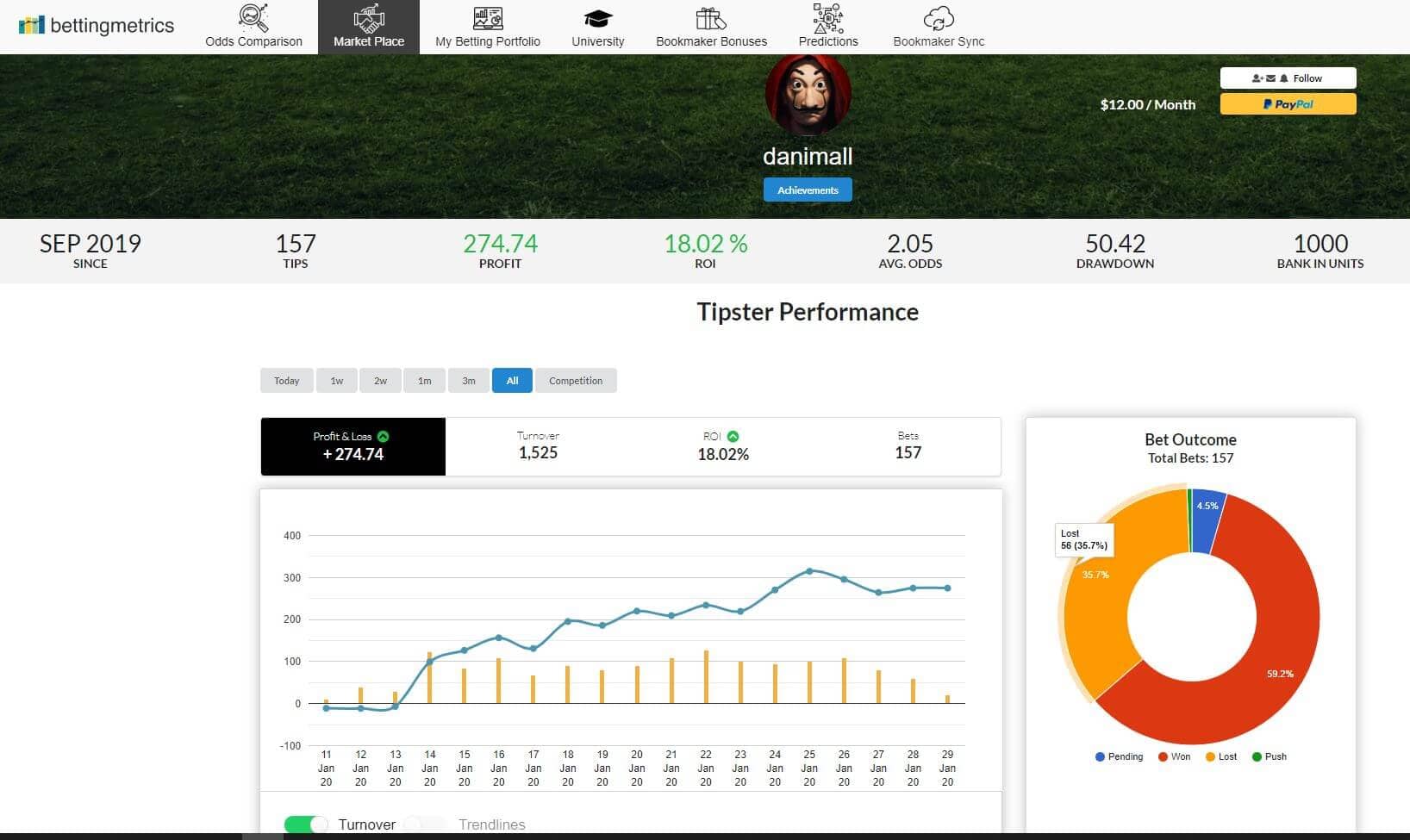 In short, week 36 passed and brought me a weekly profit of £549 with a positive ROI of 7.33%. The week was good, and I'm looking forward to more profitable reports like this. With the new tipster in my portfolio, I expect that I will significantly increase the winning amount. From the beginning of my journal, I posted 5076 tips, which brought me a profit of £4724.
Thank you. See you next week.
Stats Summary Week 36
Total bet amount: £7505
Profit/Loss: £549
ROI: 7.33%
Bets Placed: 147
Won: 74
Lost: 70
Push: 3
Winning: 50.3%
Average Odds: 2.30
Average Win odds: 2.09
Average Losing odds: 2.60
Average Bet size: £51.1
All time Profit&Loss graph: