If you follow my betting portfolio closely, you know that I missed writing my weekly report last week. That happened because of some personal reasons nevertheless I still managed to place all the suggested by my tipsters' bets. Although I was sick, the user-friendly Odds Comparison on Bettingmetrics, helped me to place my bets with the best bookmakers' odds. Today I will combine two weeks of betting in one report, and the results in it are definitely good. During the period I placed 270 bets, my tipsters were active, and the tips generated me a profit of £1027 with a positive ROI of 7.35%. Unquestionably, I managed to find the most efficient tactic for me to follow my tipsters, which I am pretty sure will lead me to success in future.I just want to take this opportunity to remind you that all tipsters I am following are from Bettingmetrics market place and my portfolio can easily be replicated.
I have been using Bettingmetrics' tipsters for eight months, and I can give you a little advice if you decide to have your own betting portfolio. You have to know that it can't be only on the positive side because betting is not a constant winning process. However, if you apply the right long-term approach, betting methods, and use the best betting tools, you can increase your betting bank significantly through betting tips.
Week 34 & 35 Profit&Loss graph: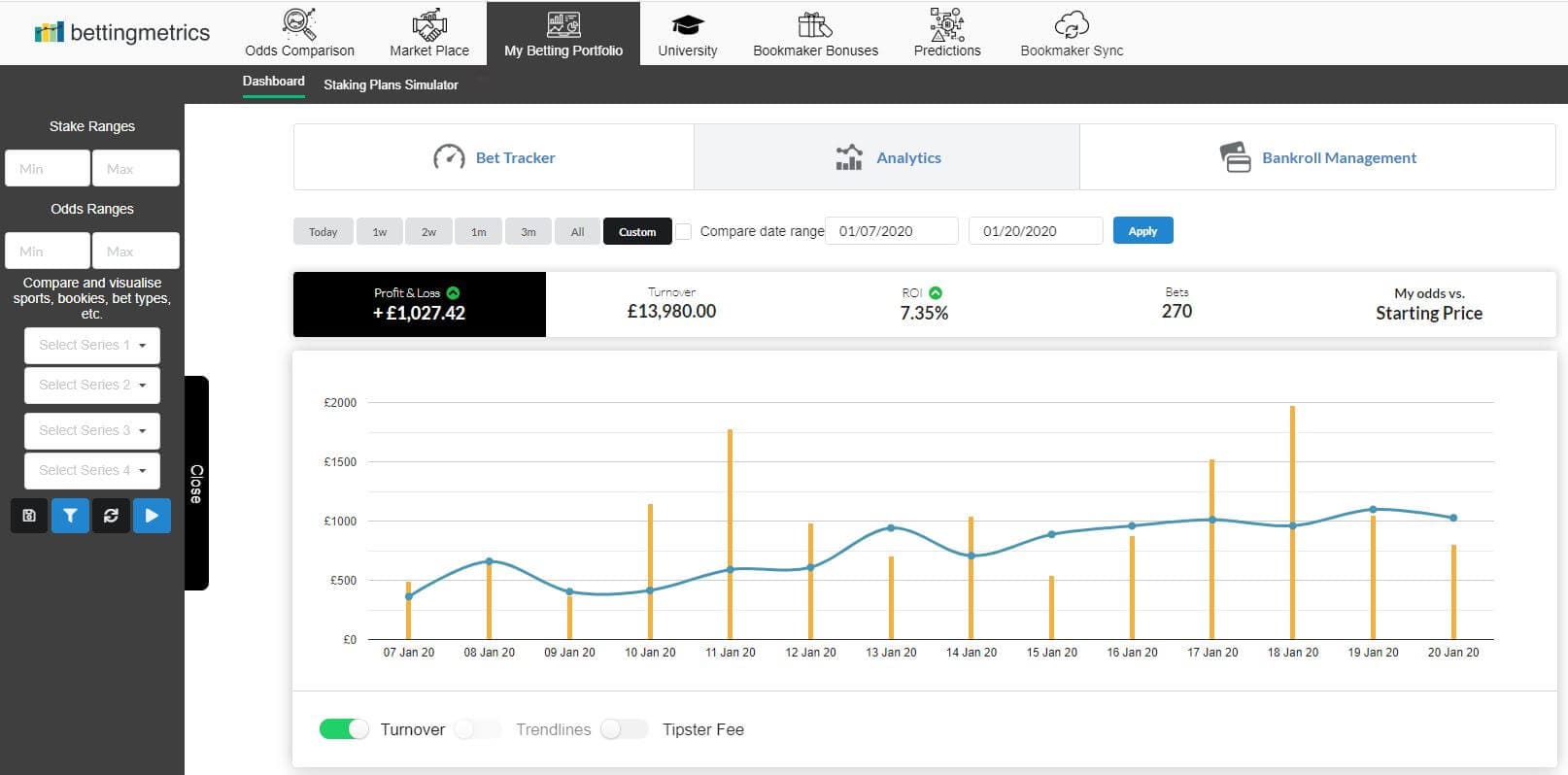 Below you can check the performance of each tipster during the period:
The master of the hockey games - Scelam , advised 82 tips, and honestly became my favourite tipster. He had 56% hit rate and did so well during those two weeks. His tips generated me £1295 with a positive ROI of 28%. The recently applied tactic to place all his single tips with £55, definitely works, and I don't' even think about change. I have been following scelam for three months, and his tips generated me £3094. Great performance! The average odds of 2.40 are one more reason to decide and follow him.
Scelam winnings tips: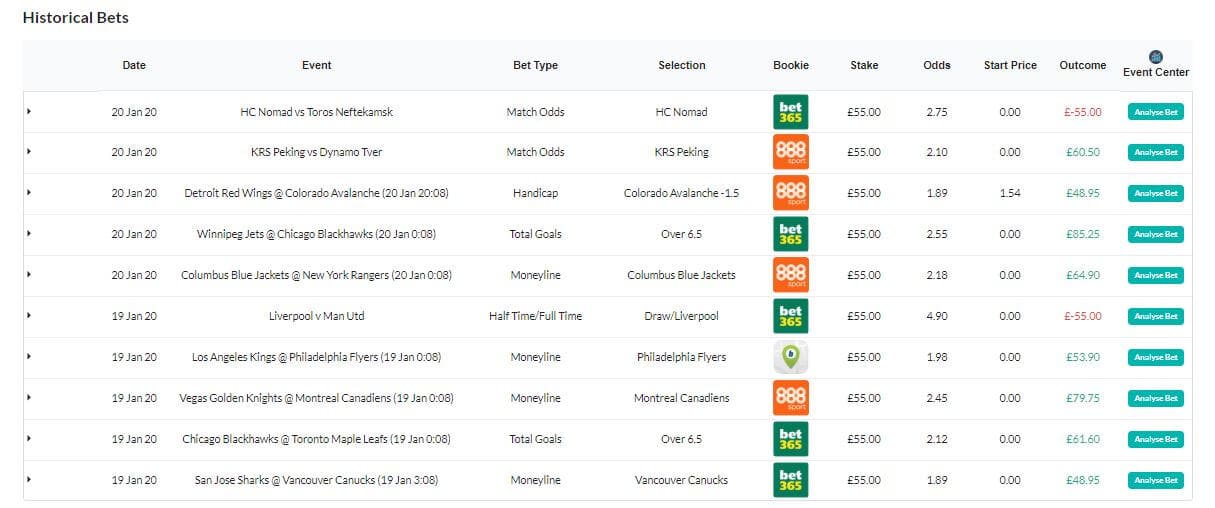 freguli was in good shape during the period. Although he suggested only 21 tips for two weeks, they were with a solid success rate (57%), and excellent winning odds of 2.70. His tips generated me a profit of £420 with the amazing positive ROI of 45%! As I said, in my last report I will place his Major Leagues' tips with £45, because he has an excellent performance on those leagues and those two weeks confirm that.
One of the oldest participants in my portfolio, Park-Life-Tips, had unfortunate times and suggested unprofitable tips during the two weeks. PLT advised 30 tips, 11 of which were won. The tips generated me a weekly loss of £335 with a negative ROI of 24%. However, PLT is a proven long-termer, and I am sure that he knows how to go out of a weak period.
Rosso27 had the same negative period as PLT. He advised 101 tips, but only 43 of them were won. Although Rosso27 started well, and he suggested tips with good average odds (2.70), he had few drawdowns, which sent all the profit away. His tips generated me a weekly loss of £138 with a negative ROI of 3%. However, I will keep my trust in him, and I will continue to place all his single tips with £55.
Ejizzymoi posted 36 tips during the period. Unfortunately, his bad shape continues during those two weeks, and his tips brought me a loss of £184 with a negative ROI of 11%. I checked the deep analytics, which I'm using, and sadly during his participation in my portfolio from October 2019, Ejizzymoi formed a loss of £726. I will give him a couple of weeks to improve his performance, but if he can't, I will be forced to change him.
I will mention the numbers one more time. During the period (07.01 - 20.01), I received 270 tips, which generated me a profit of £1027 with a positive ROI of 7.35. Two tipsters (scelam and freguli) performed really well and boosted my earnings, which I highly liked. However, the other three tipsters have to improve their performance in order to help me reach my initial goal to double the starting amount of 9k until May 2020. My total balance shows that since the start of the betting journal, the tipsters suggested 4928 tips, which generated me a profit of £4175 with a positive ROI of 2.5%
All-time graph: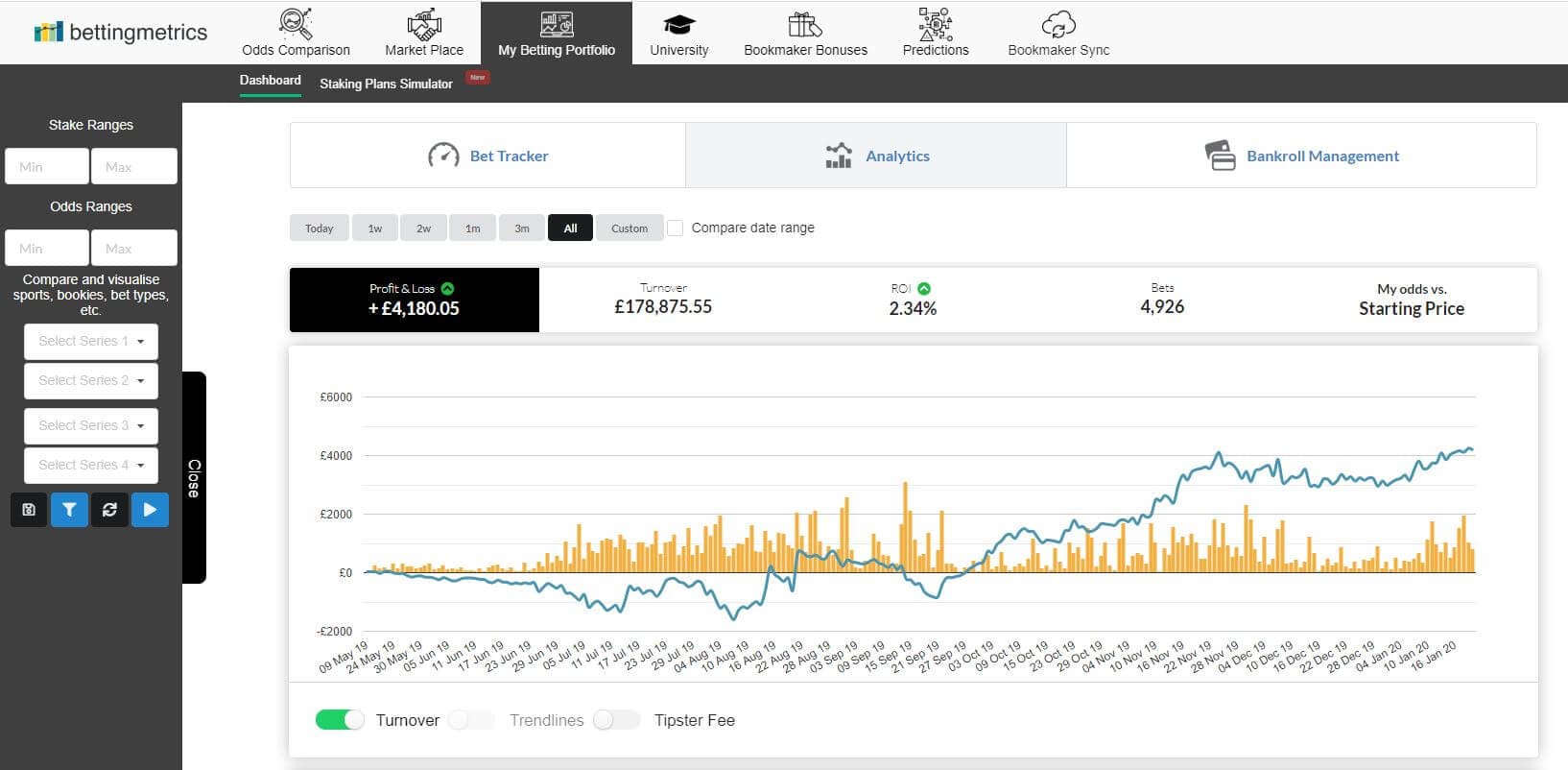 Stats Summary Week 34&35
Total bet amount: £13980
Profit/Loss: £1027
ROI: 7.35%
Bets Placed: 270
Won: 129
Lost: 138
Push: 3
Winning: 47.8%
Average Odds: 2.30
Average Win odds: 2.21
Average Losing odds: 2.43
Average Bet size: £51.8