We are already in 2020, and our betting journey is continuing with full steam! Happy New Year to all readers of my betting portfolio, and all Bettingmetrics' users! I hope 2020 will be an excellent year for us and during the year we will make money by following the best tipsters on the platform!
As I said in my last report, I will present today the results for a few weeks of betting during the holidays. Despite I missed writing a report during the festive period, I was placing the suggested tips by my tipsters' while I enjoyed the massive sports programme. Boxing Day's games were really emotional as the clubs were really motivated to make happy their fans for Christmas. Moreover, a total of four rounds of Premier League and all other professional English leagues were played and they were a real delight for the football fans.
Not all of my tipsters (like freguli and Rosso27) were active, but that is understandable as some people are just relaxing during the holidays and leave the betting aside. I hope this was a good rest for them, and they will return by posting the most profitable tips.
During the period 16.12.2019 - 06.01.2020 I placed 154 tips suggested by my tipsters, which generated me a profit of £216 with a positive ROI of 2.79%. Betting, while the holidays are taking place, is definitely not an easy task, so I'm happy about the fact that I made a good profit thanks to the betting tips.
Three-weeks Profit&Loss graph: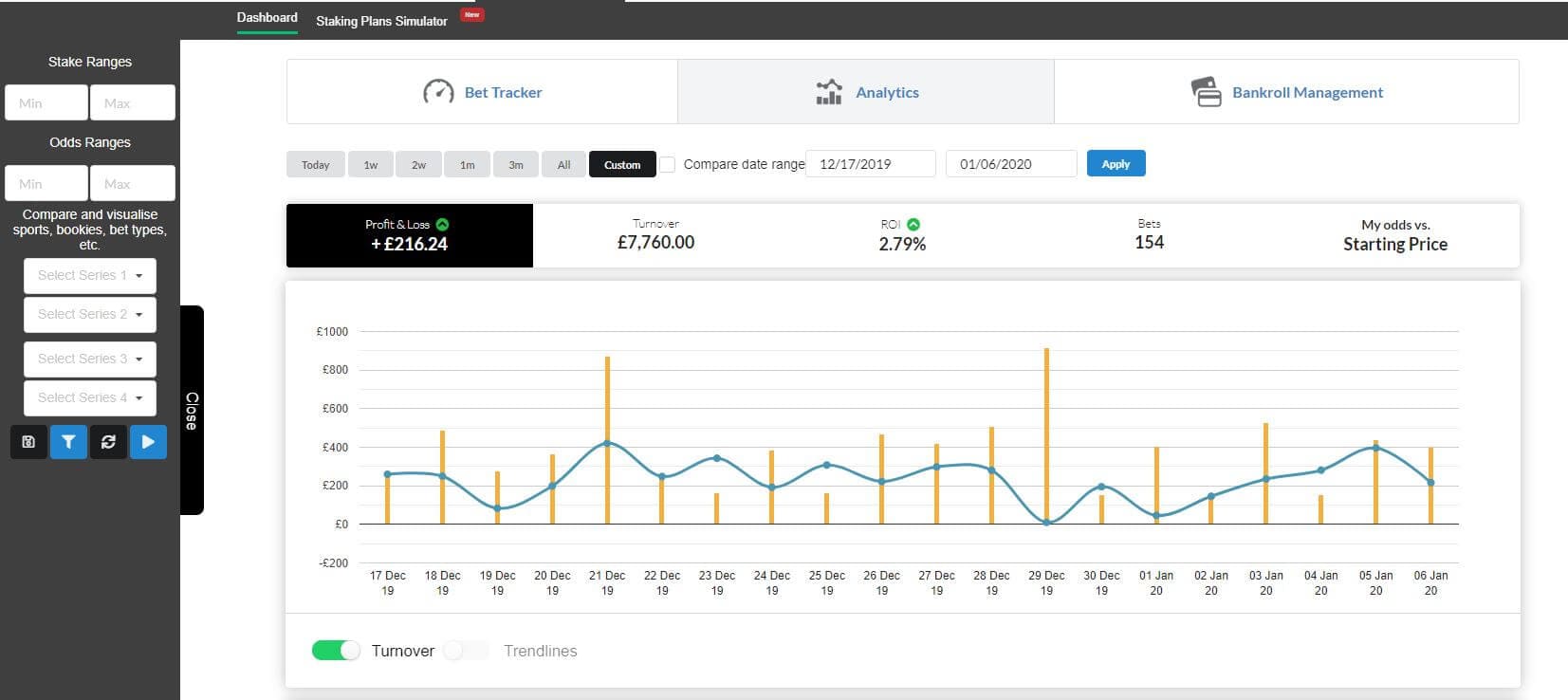 Below you can check the performance of each tipster:
As I said, not every one of the tipsters posted during the period. Freguli was really away from the betting and wasn't providing me with any tips. I hope he will return and will provide me with profitable suggestions as he is one of the established tipsters in my portfolio.
Rosso27 was the other one with low activity and posted only 6 tips, which I placed with £55 each. I kept the tactic to place only his single tips. Anyway, 4 out of 6 suggestions (66.7%) were profitable for me and brought me a profit of £88 with a positive ROI of 26%. I looked at the Bettingmetrics analytics, which I'm using, and from the time since Rosso27 joined my portfolio, his tips generated me a profit of £1394. This is a very positive fact for me and the tipster established himself as an important part of my portfolio, who can help me to accomplish my goals.
Park-Life-Tips posted 39 tips, I won 24 of them, and this generated me a profit of £142 with a positive ROI of 8%. As I recently mentioned on my reports, the most active market for PLT is Over/Under 2.5 goals, and it was again profitable. Another advantage was the good average odds of 2.00, so definitely the festive period was good for both the tipster and me.

scelam advised 77 single tips and won 36 (46.8%) of them. However, he posted tips with very high odds (average 2.30) and brought me a profit of £279 with a positive ROI of 6.59%. Now is the most active season for the hockey championships and there are plenty of games daily. As a hockey expert and plus the start of Bettingmetrics' competition, I expect that scelam will be more effective and profitable for my portfolio.
Ejizzymoi posted 32 tips during the period. Unfortunately, he had a bad strike and lost 17 tips (53%). That stats brought me a loss of £294 with a negative ROI of 20%. Definitely, this is not the result, which I'm expecting from him, and I really hope soon he will go out of the loosing situation.
The new year brought first profits, and I hope to continue to present to the readers of this journal more reports with positive results.
During the holidays I placed 154 tips, won 78 of them, and lost 75 (1 was pushed). That stats generated me a profit of £216 with a positive ROI of 2.79%. Since the start of the betting journal, the tipsters suggested 4658 tips, which generated me a profit of £3148 with a positive ROI of 2%. I'm moving forward to my initial goal to double the start amount of 9k until May 2020.
All-time graph: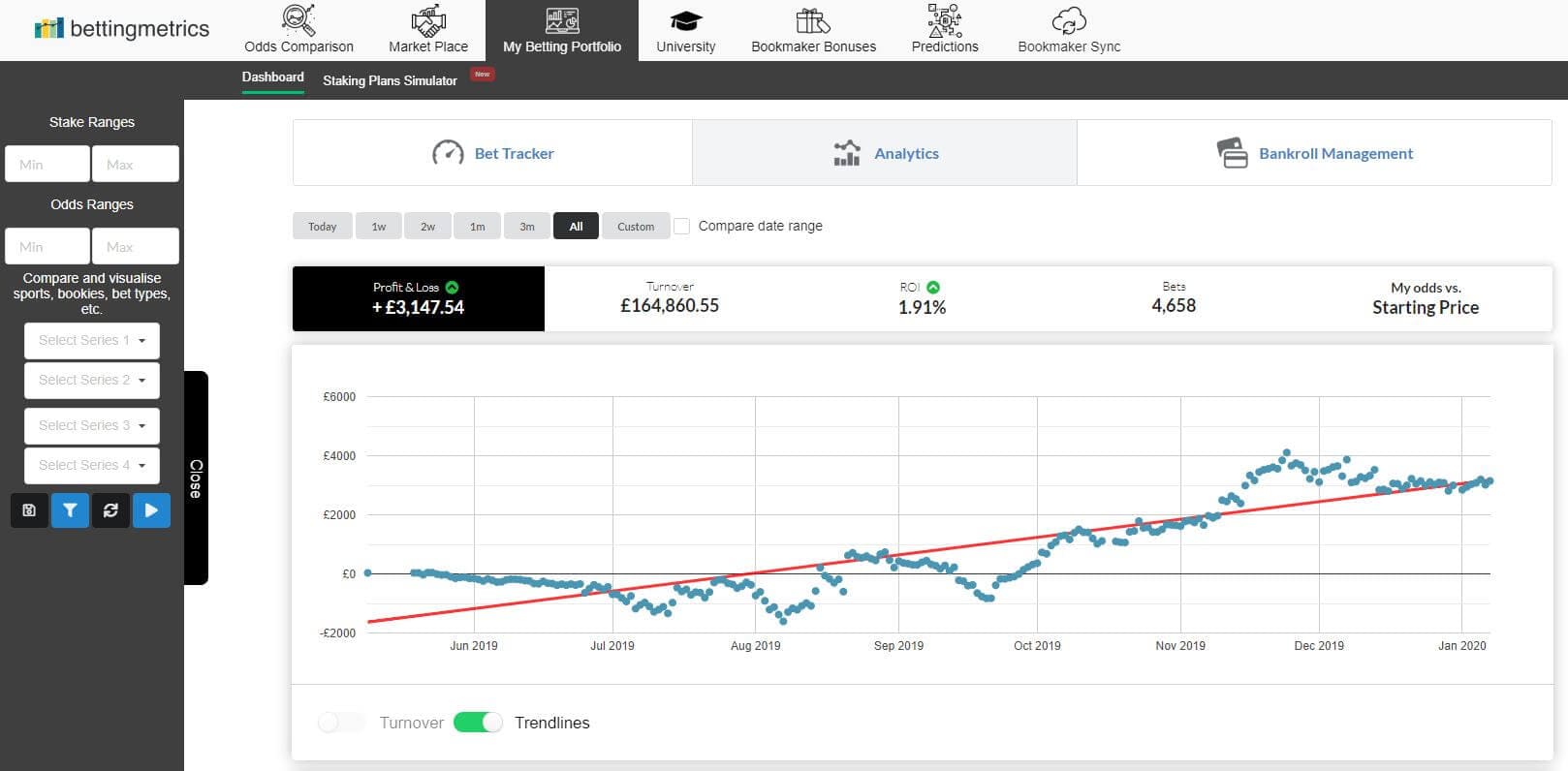 Next week I will keep my profitable tactic to place all single tips provided by scelam and Rosso27 (with £55 each), and all tips from the 10 major football leagues provided by the other tipsters (with £45 each).
Thank you.
Stats Summary Week 31, 32, 33
Total bet amount: £3180
Profit/Loss: £216
ROI: 2.79%
Bets Placed: 154
Won: 78
Lost: 75
Winning: 50.6%
Average Odds: 2.10
Average Win odds: 2.01
Average Losing odds: 2.26
Average Bet size: £50