I started before 30 weeks with the challenge to build a successful betting portfolio, to make money by tipsters' services, and to report my results at the popular platform Bettingmetrics . Although I had my rise and falls during the period, now I'm in a position where I know what I'm doing, how I can take the maximum out of the tipsters, and how to use perfectly the betting tools to report correctly all the data generated each week.
In week 30, I placed 66 tips suggested by my tipsters, which generated me a weekly loss of £327 with a negative ROI of 10%. Obviously, very disappointing week as it was my third week with loses. A few weeks ago, when I had 4-5 weeks in a row with positive balances, I mentioned the fact that in the betting, you can't only win or lose. So I accept the third losing week as a part of my betting experience, which showed me again - the betting works like that. However, if you lose money for more than five weeks, unquestionably, you have to make some changes.
As I said in my previous report I kept my tactic for week 30 to place all single tips suggested by scelam and Rosso27 with £55, while I placed the tips from the major leagues advised by Park-Life-Tips, Ejizzymoi, and freguli with £45 each.
Week 30 Profit & Loss graph: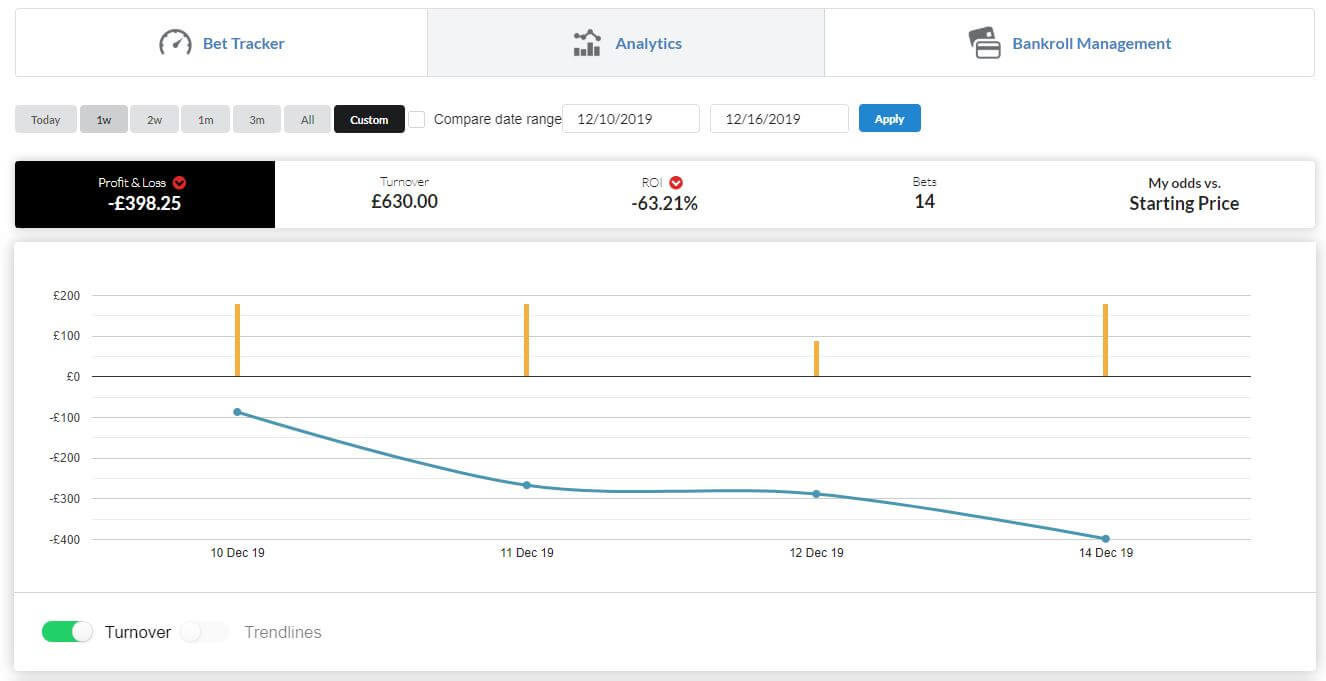 Below you can see the performance of each tipster in week 30:
Park-Life-Tips suggested only 10 tips last week. Unfortunately, I won only 3 of them, and they generated me a weekly loss of £174 with a negative ROI of 38%. The market which I mentioned as his well-performing - "Over 2.5 goals" was limited to one won out of four tips in week 30.
Ejizzymoi had a massive drawdown during the past week. He suggested 14 tips, only 3 of which were won. This generated me a weekly loss of £398 with a negative ROI of 63%. The losses came out of the fact that he advised tips mostly from the English Championship, which is considered as one of the most difficult leagues for predictions around the world. In it, just everyone can beat everyone. However, the tipster possesses enough abilities to get out of the losing situation, so I expect that will happen soon.
A ray of hope in week 30 was Scelam . He posted 18 single tips, 12 of which were won. This generated me a weekly profit of £482 with a positive ROI of 49%. Definitely, scelam is a guy with an excellent ice hockey knowledge, he knows a lot for the teams proposed for betting, and he is advising average odds of 2.30, facts which I absolutely like.
Scelam performance during week 3:

Rosso27 advised only 4 single tips last week. I lost two and won two bets, which generated me a weekly profit of just £5 with a positive ROI of 2%. However, Rosso27 is a tipster who can perform better than that, and I'm expecting that he will raise the single suggestions, and he will create me more betting profits. On the analysis, which I'm using, I noticed that his major power is the odds range 2.00-2.50, through it, he generated me £770 for around 3 months. So keep an eye on that odds range if you decide to follow him.
freguli started the week well, but it finished with loses. The tipster posted 20 tips, 7 of which were won. His tips during the week weren't with good quality and generated me a weekly loss of £242 with a negative ROI of 26%. Anyway, I hope he will come back to the profits soon.
Week 30 passed and generated losses for my betting bank. I placed 66 tips, only 27 of which were won, and the tips damaged my portfolio with £327 and a negative ROI of 10%. I will continue with the same betting tactic because I am considering it as more profitable based on the performance of my tipsters during the weeks. From the beginning of my journey, I placed 4500 bets, which generated me a profit of £2933 in total. Next week I won't post my report, but I will continue using the tipsters' services during the holidays.
My next report will be posted on the 7th of January, and it will combine all my betting until the 6th of January. I wish you happy holidays and happy New Year's Eve, and I hope next year will be healthier and more successful for everyone. Don't forget while you are celebrating there are so much sports events around the world such as Boxing Day, Ice hockey tournaments, Boxing games, and others. You can help yourself with the special article written by Bettingmetrics team - Everything you need to know about betting on football on Boxing Day, which observed the betting around Christmas Day.
Thank you.
All time stats: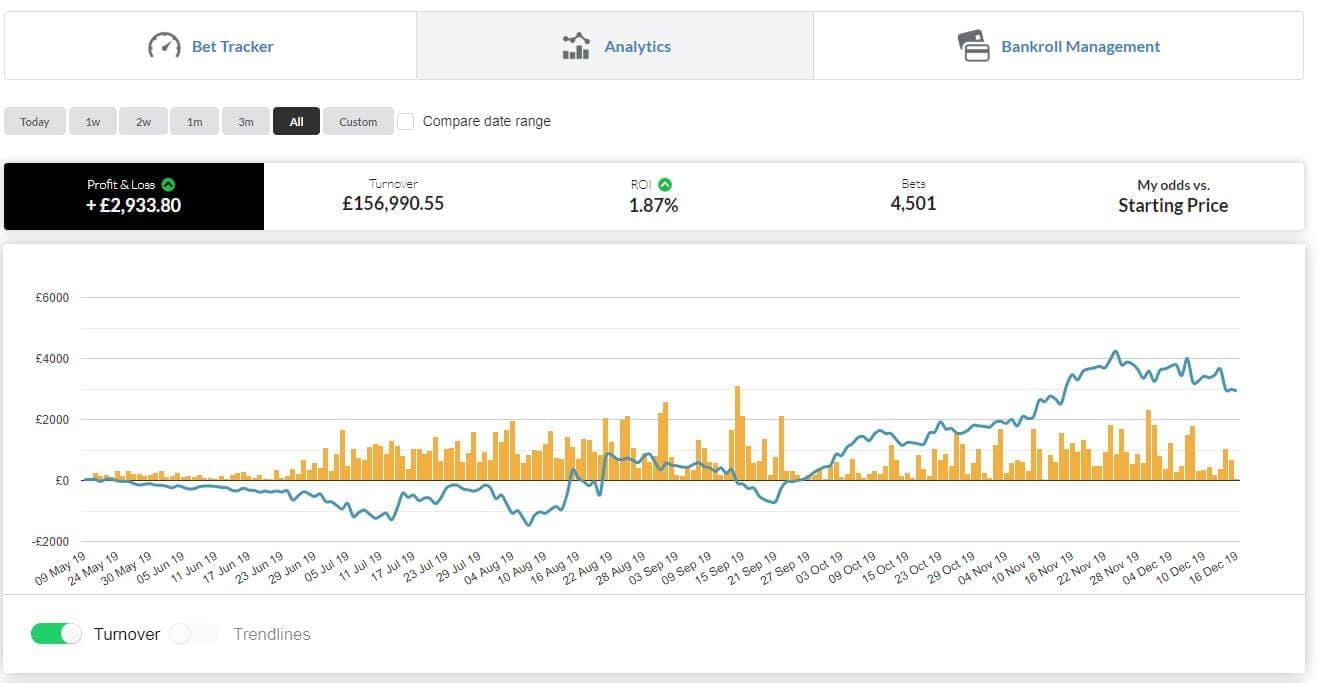 Stats Summary Week 30
Total bet amount: £3180
Profit/Loss: -£327
ROI: -10%
Bets Placed: 66
Won: 27
Lost: 39
Winning: 40.9%
Average Odds: 2.40
Average Win odds: 2.12
Average Losing odds: 2.60
Average Bet size: £48.2