Today is Tuesday, and if you follow my reports closely, you probably know that it is time for my weekly update. The football season is in full swing, and the fans like me are enjoying daily the best games and players. Along with that, I use five tipster services in order to make money from betting. After 28 weeks, I'm still very excited to place bets every day because I have the best tipsters in my portfolio. Whenever I'm receiving a notification on my email, I am trying to place the bet immediately. That's why I have opened a big number of bookmaker accounts in order to take immediate advantage of the best odds. I strongly recommend to every punter to read the special educational article created by Bettingmetrics, which will help you to understand why having multiple bookmaker accounts is essential for your betting success.
The previous week wasn't the best for me and my portfolio, because the tips which I received brought me betting losses. In total, I placed 171 bets, which includes all scelam single tips plus all tips from the ten major football leagues suggested by the other four tipsters. In week 28, my portfolio lost £180, and it reached a negative ROI of 2%. Don't forget one of the significant rules when betting is consistency. So don't panic if you enter a short negative period, and your tipsters don't generate the expected profit in a week or two. No one is secured from mistakes, and the tipsters have their drawdowns.
Week 28 Bet Outcome:

Below you can review the performance of each tipster in week 28.
Scelam posted 78 tips last week and won 35 of them. The losing tips led me to a weekly loss of £70 with a negative ROI of 2%. However, I pretty like the approach, which scelam applies to his tipster service. He posts daily between 10-15 single tips, with average odds of 2.20. Furthermore, he has strong ice hockey knowledge, and if you follow him, keep an eye on KHL and NHL, where he shows excellent performance.
Park-Life-Tips also wasn't in his best shape and generated me a weekly loss of £133 with a negative ROI of 19%. He posted 15 tips with average odds of 2.30, but his suggestions weren't of the best quality. However, he is one of my favourite tipsters, and my betting bankroll account is positive since the beginning of this journey because he made me a £1900 profit, which I believe will expand shortly.
freguli had a good week and generated me a tiny profit of £77. His little but constant profits made him an important part of my tipster portfolio. With average odds of 2.50, he can be beneficial if you choose his service.
freguli performance in week 28

Ejizzymoi advised 32 tips, 18 of which were won. However, his tips generated me a weekly loss of £47 with a negative ROI of 3%. I used the betting tools provided by Bettingmetrics to analyze his performance, and I have noticed that he is very successful on the market ''Both teams to score''. Of course, this market doesn't offer high odds, but Ejizzymoi is very accurate on it and can create positive balances.
I placed all tips suggested by Rosso27 with £55 in order to reach high profits, but I couldn't do it. The tipster posted 30 tips, which generated a weekly loss of £6 with a negative ROI of 0.3%. I want to mention the fact that recently Rosso27 started posting plenty of multiple bets. Yes, sometimes this can be a profitable strategy because you can place bets with higher odds, but it also has its risks because you depend on a few games at a time. That's why you can take advantage of an offer, which is provided by many bookmakers, and it covers you when one of your games fail in a multiple bet. You can find that type of offer when you visit the page for Special offers on each bookmaker review on Bettingmetrics.
In week 28, I placed 171 tips, 78 of which were won. This generated me a weekly loss of £180 with a negative ROI of 2%. Next week is the final week of Bettingmetrics tipster competition , and the tipsters will provide their best skills to qualify for the prizes. However, I will think twice before placing any tips because I don't want any wrong decisions based on the battle for prizes. The strategy to place all scelam singles plus all tips from the ten major leagues suggested by the other four tipsters is still active.
Hopefully, I will come back next week with better results and profits. Regardless of the negative week, I'm very confident I will reach my initial goal to double the starting amount of 9k until May 2020.
From the beginning of my betting journey, I placed 4320 tips, which brought me a profit of £3614.
All time graph: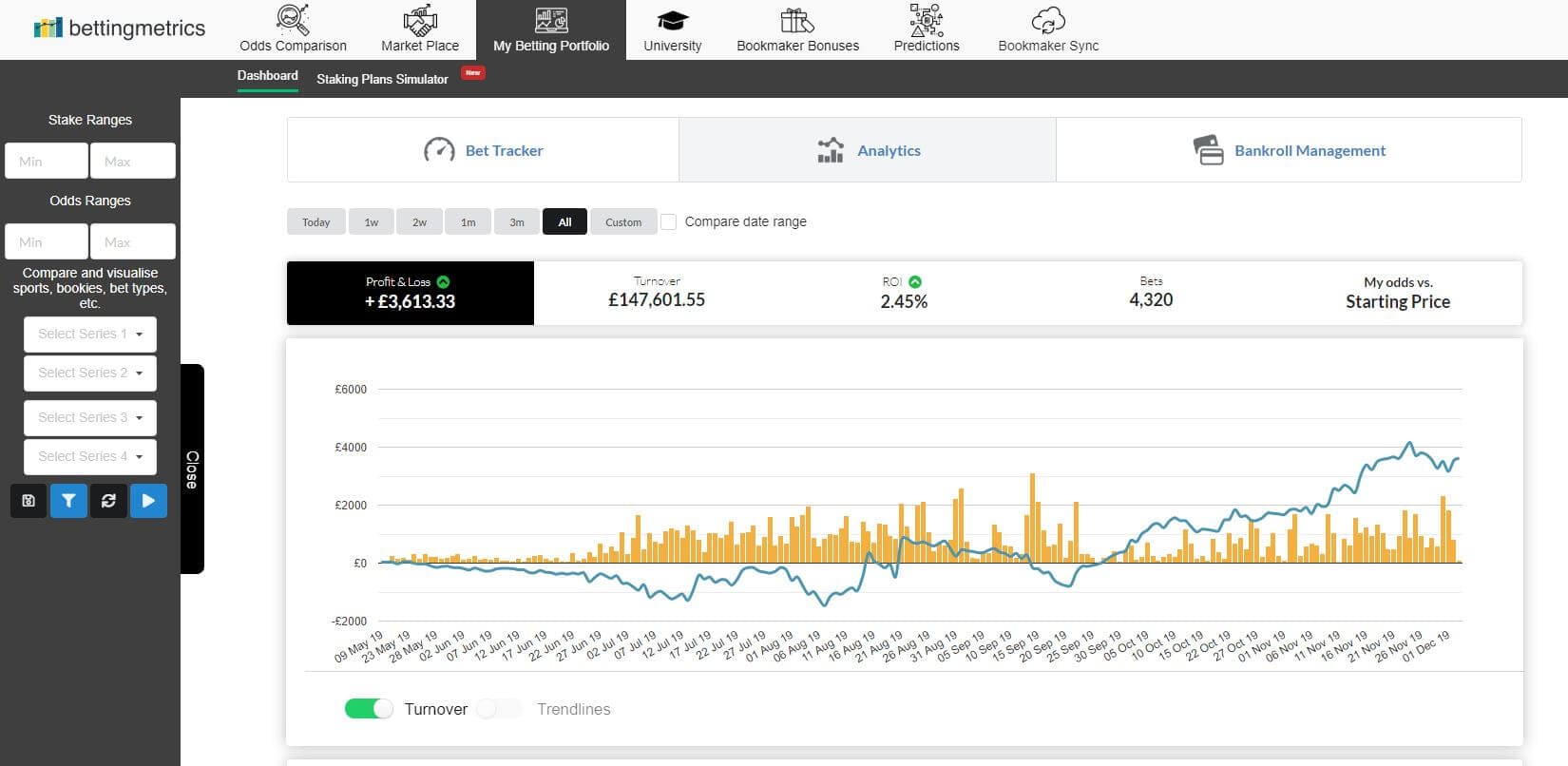 Stats Summary Week 28
Total bet amount: £7960
Profit/Loss: -£180
ROI: -2%
Bets Placed: 171
Won: 92
Lost: 79
Winning: 46.2%
Average Odds: 2.40
Average Win odds: 2.10
Average Losing odds: 2.69
Average Bet size: £47