Twenty-seven weeks since the beginning of my betting journal, I am happy to come back every Tuesday with my weekly summary. Yes, it is a real challenge, because I have to present my reports to you - the members of Bettingmetrics and I have to be consistent with everything I do. I have also to ensure I am making the best betting decisions because I have to accomplish my initial goal to double the invested money in this betting portfolio. Another reason why I am so dedicated to my betting portfolio is that I love helping people achieving better results with their betting. I believe many punters are taking advantage of my reports as I am effectively showing them how to build a profitable betting portfolio.
I remember the beginning of this journal when I had weeks with negative balances, and I had challenges to find the right tipsters to follow and figure out the correct portfolio strategy, these were tough times. Of course, most of the newbies would have given up in the early days and say that it is impossible to make money from sports betting while following tipsters. Nevertheless, it is extremely important that everyone who is into betting to know that the key to profitable sports betting is to have a long terms orientated strategy, stay focused when you are losing, and keep on following your initial strategy. If you have losing weeks, adjust your money management, stay grounded, read more about how you can perform better and find proven tipsters to follow.
I am glad to say that the past week was again profitable, my tipsters performed very well, and this effected positively to my betting bank. I placed 163 tips from the major football leagues plus all tips suggested by the hockey pro tipster - scelam. All this created me a weekly profit of £303 with a positive ROI of 4%. Like always, I helped myself with the right betting tools , which are giving me a proper view of what is happening every minute with my betting portfolio.
Week 27 Profit&Loss Graph: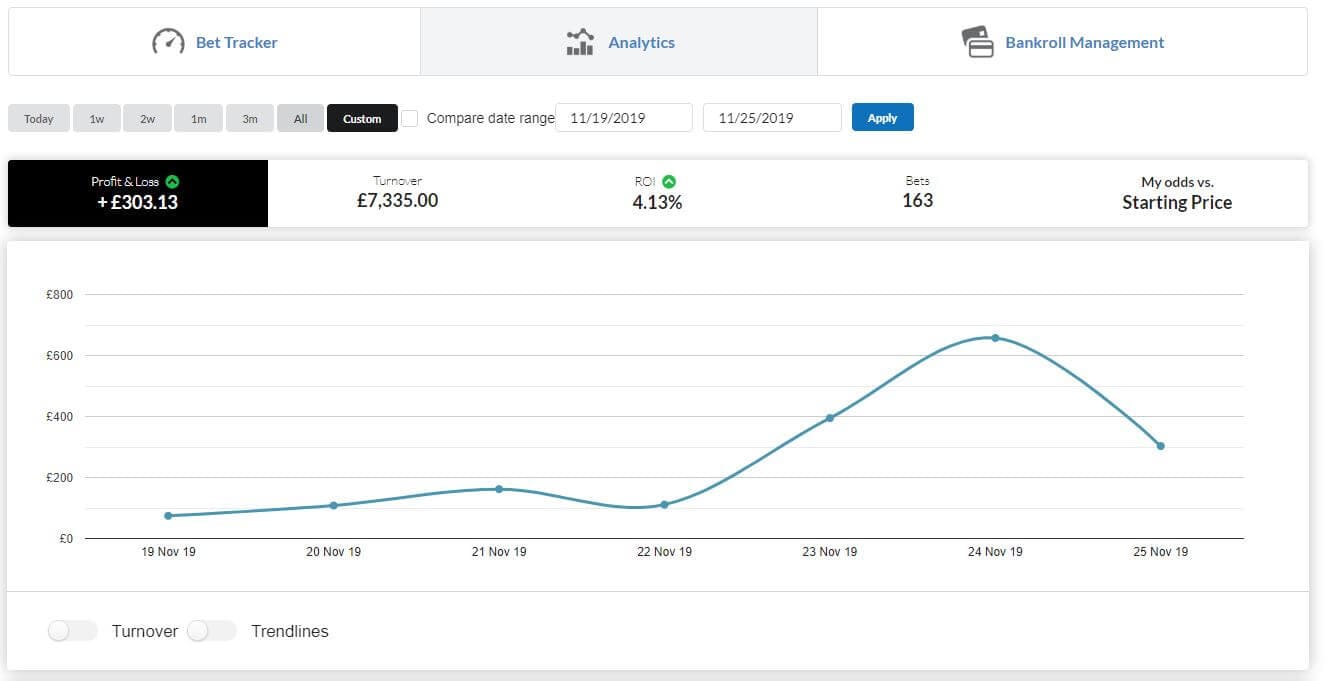 From the beginning of my journey, I'm standing on a betting profit of £3794.
Below you can check the performance of each tipster in week 27:
Park-Life-Tips had a second week with negative benefits to my portfolio. He posted 10 tips and won only 2 of them. The suggested tips brought me a weekly loss of £228, with a negative ROI of 50%. Definitely, PLT is a tipster who deserves trust because his worthy tips and high suggested odds can produce significant profits. After his fantastic performance, which brought me high profits, a few weeks with no success is something acceptable, and I expect next week, he will start again with the valuable suggestions.
Rosso27 posted 19 tips last week, 10 of which were won. His average odds of 2.80 are very successful, and I am considering to increase the stake for his suggestions to £55. In week 27, the suggested tips brought me a profit of £333 with a positive ROI of 39%. If you follow him, make sure you keep an eye on the odds range 2.00 - 2.50.
Rosso27 performance in week 27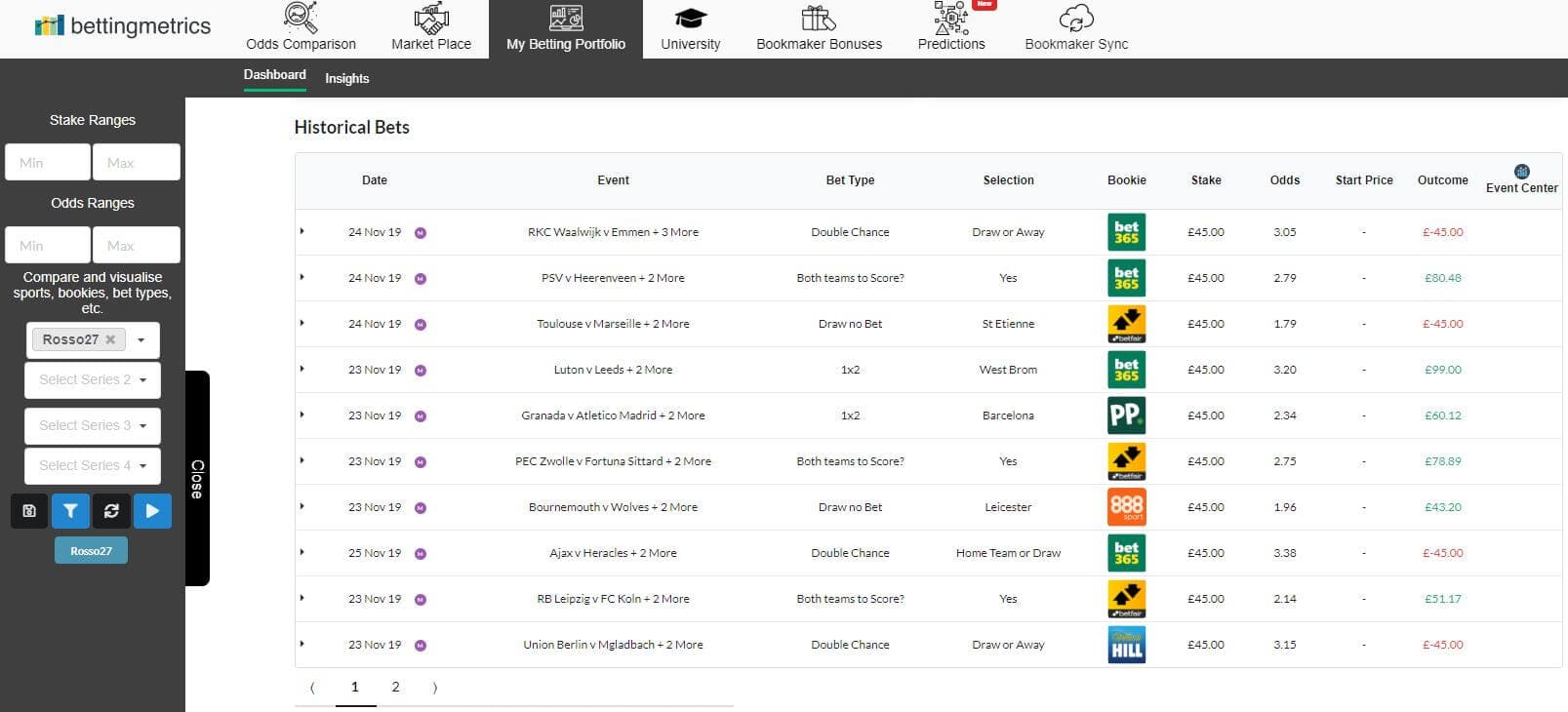 Ejizzymoi suggested 17 tips, 12 of which were won, and his tips generated me a weekly profit of £221 with a positive ROI of 28%. His tips are with lower than the other participants in this portfolio, but he has a high hit rate of 71%, which is commendable fact. I consider Ejizzmoi as a very important part of my portfolio.
I placed all the tips which I received by scelam last week. He posted 99 bets and won 38 of them, which damaged my portfolio with £159 and a negative ROI of 3%. Although the week was unsuccessful for him, I like his active approach and very well informed betting tips. I will make a little change for next week, and I will place all singles suggested by scelam.
freguli had a successful week and brought me a profit of £135 with a positive ROI of 16%. He posted 18 tips and won 10 of them. His average odds of 3.20 can boost your betting profits significantly if you follow him.
TennisTipsUK is excluded from my portfolio because the tennis season ends, and he is not active. I will wait until the start of the new tennis season in January, in order to take advantage of his valuable and profitable tips. I hope he will take a good vacation and he will come back with his tips full of value.
Week 27 was profitable for me, and I am moving forward to my initial goal - to double the amount of 9K until May 2020 by following tipsters. I placed all the advised 163 tips directly through Bettingmetrics odds comparison and the tips generated me a weekly profit of £303, with a positive ROI of 4%. By placing the tips via the odds comparison, I am automatically adding them to my bet tracker, which saves me a tone of time.
My plans for next weeks are to continue to place bets on only major football leagues, and all scelam singles.
From the beginning of this journey, I placed 4145 tips, which brought me a profit of £3794. I am sure that I am moving in the right direction, and I will accomplish my fundamental goal in the end in May.
Thank you.
All-time graph: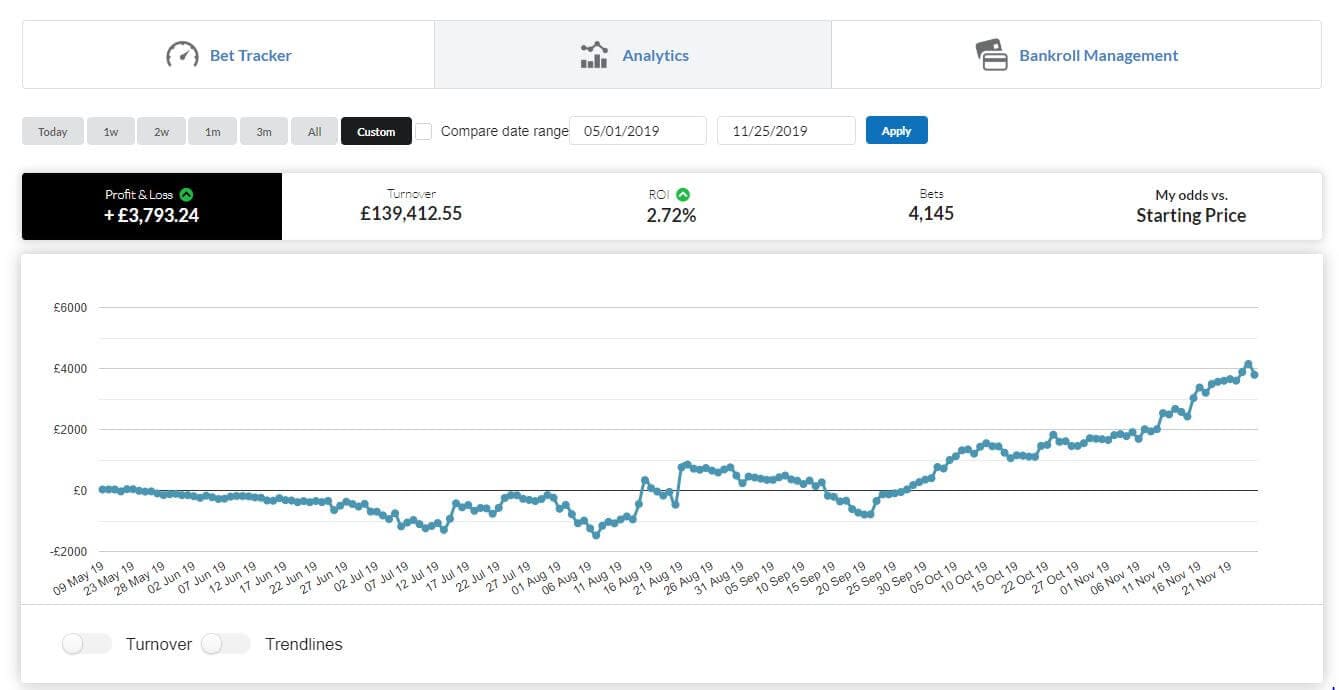 Stats Summary Week 27
Total bet amount: £7335
Profit/Loss: £303
ROI: 4.03%
Bets Placed: 163
Won: 72
Lost: 91
Winning: 44.2%
Average Odds: 2.80
Average Win odds: 2.36
Average Losing odds: 3,15
Average Bet size: £45