We are 26 weeks after the beginning of this betting journal. That means we are in the middle of this journey to the primary aim, and we have a long way to go together. If you follow my portfolio closely, you probably know that I'm focused on the long term goals and weeks with negative balances are of no significant matter to me. Of course, I'm not a billionaire, and I don't like to lose money from betting. That's why I strictly try to keep my portfolio with the best tipsters, I use the most useful betting tools available at the market, and I follow my tactics with confidence.
Week 26 was very successful, and I'm happy to update you with my weekly report. Enjoying profitable tipsters service, and inform the followers of this betting portfolio makes me feel satisfied.
Last week wasn't fulfilled with football from the major leagues, and I placed all received tips by my tipsters with odds over 2.00. The lack of popular games and the changed approach led me to success, and the tips generated me a weekly profit of £997 with a positive ROI of 13%. From the start of the journey, the tipsters made me a profit of £3492 with a positive ROI of 2.64%.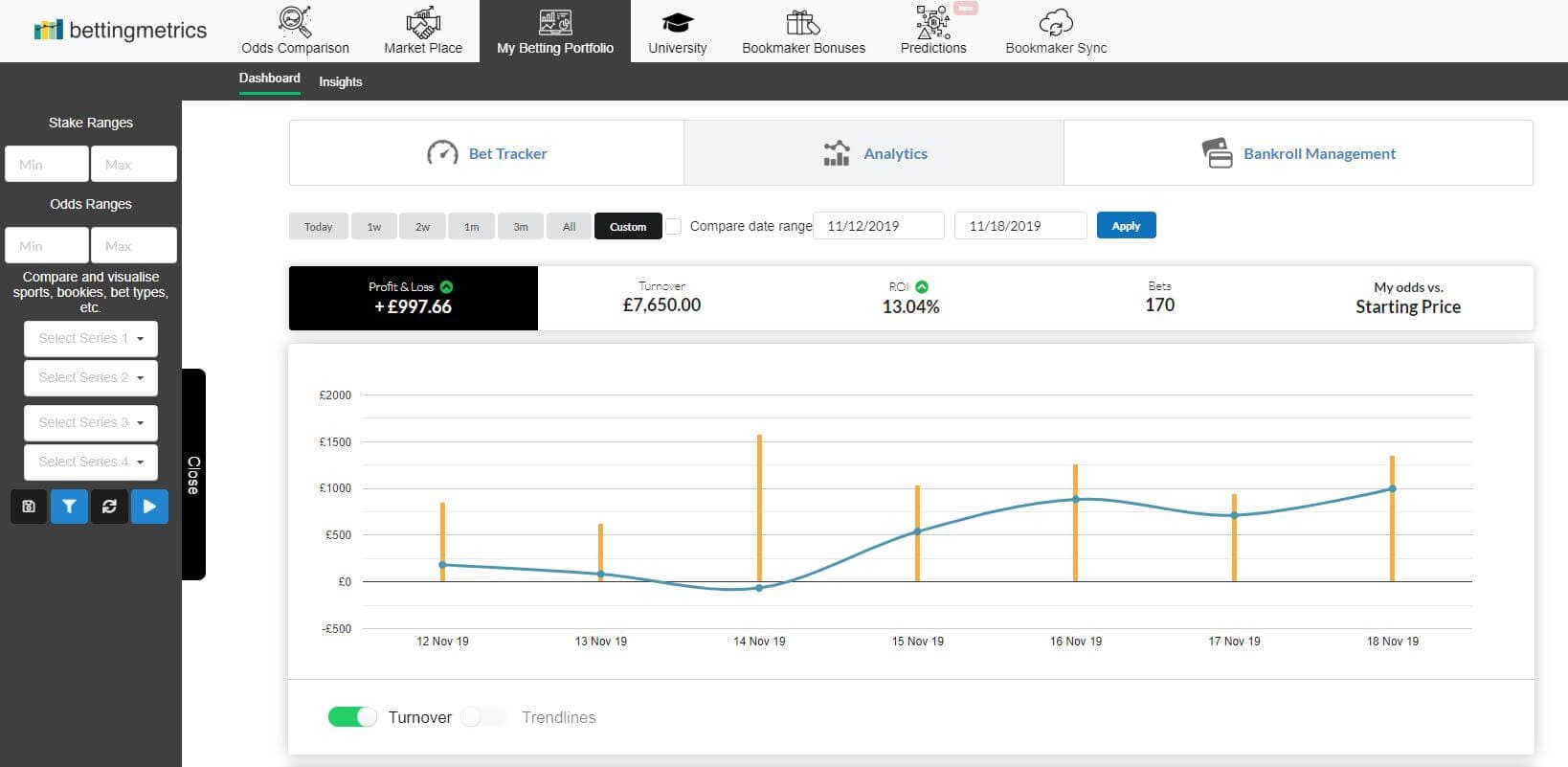 Overall, the changed tactic brought me much more tips than usual. I placed 170 tips, 77 of which were won. Each tip was placed with a set stake of £45. Every week I use various bookmakers to place my bets in order to get the highest odds on the market for all of my bets.
I place my bets directly after receiving a tip via Bettingmetrics odds comparison , and this is perfect for me because it saves me time and it is an excellent opportunity for me to take advantage of the highest odds.
Below you can check the performance of each tipster in week 26:
The new tipster in my portfolio scelam had a wonderful week and generated me high winnings. He posted 66 tips and brought me a profit of £1116 with a positive ROI of 37%. I've been using his tips just over a week now, but his ice-hockey suggestions, high odds, and professional approach are just what I was looking for. Daily, he posts both singles and multiples, and if you follow him, keep an eye on the Russian hockey leagues, where he performs very well. It is looking like he is familiar in details when it comes to those leagues.
scelam performance:

Park-Life-Tips posted 21 tips and won only 5 of them. Unfortunately, his great consecutive winnings were over last week, and he brought me a weekly loss of £435 with a negative ROI of 46%. Probably, the lack of major events is one of the facts why the week was negative for PLT because he is very effective on them, so we are waiting for the next week when he can show his profitable tips.
Rosso27 suggested 34 tips, 17 of which were won, and his tips generated me a weekly profit of £587 with a positive ROI of 38%. He was powerful on the odds range between 3.20 - 4.20, where his tips brought me a good amount of money. The analyses, which I'm using for tracking the tips of my tipsters and their history, shows that from September, when Rosso27 joined my portfolio, he generated me a profit of £1285. He turned out to be a great addition.
freguli posted 20 tips with odds over 2.00 last week. I placed all of them, and they brought me a small weekly profit of £32 with a positive ROI of 3%. I'm confident that, next week when I place only major leagues tips, he will bring me a higher amount of profit.
Ejizzymoi had an unsuccessful week and damaged my portfolio with £303. He advised 29 tips, and won only 10 of them. The tips were not with high quality, and he has to be more concentrated in order to generate a profit for my portfolio.
TennisTipsUK was inactive again.
In week 26 of this betting journal, I placed 170 tips and won 77 of them. This stat generated me a weekly profit of £997 with a positive ROI of 13%. In order to reach more betting profits, in week 27 I will place all tips suggested by one of my tipsters - scelam. For all others, I will apply the rule for the ten major leagues. Their suggestions have to be from the following leagues: EURO 2020, English Premier League and Championship, Italian Seria A, Germany Bundesliga, Spanish La Liga, France League 1, Netherlands Eredivisie, Scotland Premier League, and the Portugal Primeira Liga.
From the beginning, I'm standing on a profit of £3492 after placing a total of 3987 bets. I'm happy from the tipsters' performance and I'm very confident that I will be able to reach my initial goal – to double the starting amount of 9k until May.
Thank you.
All-time Profit & Loss graph: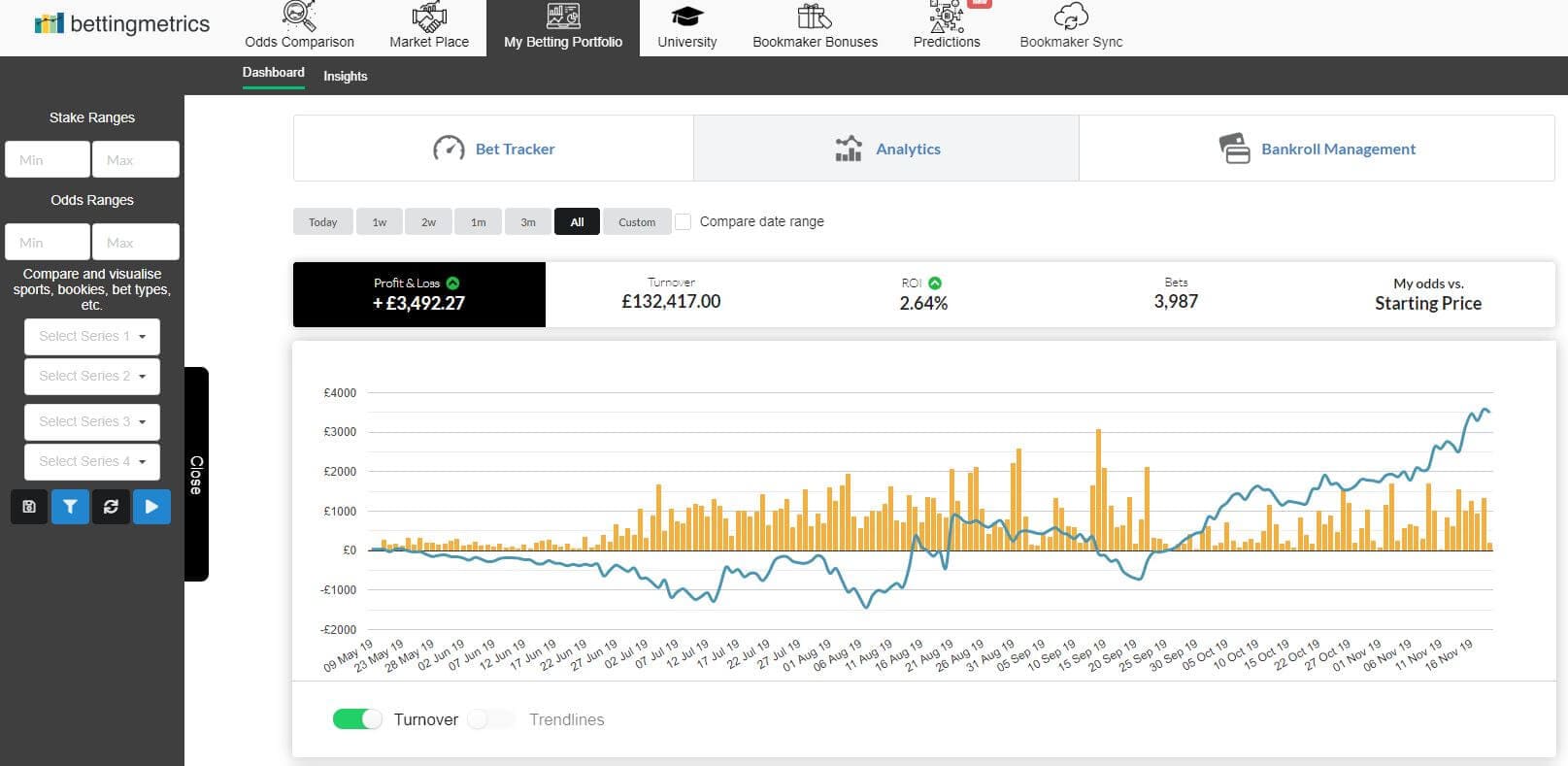 Stats Summary Week 26
Total bet amount: £7650
Profit/Loss: £997
ROI: 13.04%
Bets Placed: 170
Won: 77
Lost: 92
Push: 1
Winning: 45.3%
Average Odds: 2.60
Average Win odds: 2.48
Average Losing odds: 2.72
Average Bet size: £45