Step by step I am moving my portfolio to the initially set goal – to double the starting amount of 9k through the tips suggested by 5 tipsters exclusively available on Bettingmetrics Market Place. The week was again busy and I received a big number of worthwhile tips.
I want to point out something very important when you have your own portfolio, you should always have the right expectation about the return on capital. Simply, you can't expect to invest 10K and after a couple of months to have 40K using the suggested tips. Following tipsters is no easy task and is definitely a long term investment. In some occasions, you need to follow a good tipster for 2-3 seasons to double your initial capital, however, comparing that with other investments I think this is an excellent return for that period.
Another important advice, which I mentioned many times in my reports is not to give up if you have a tipster with a few consecutive losing weeks. Sports betting is a high-risk activity and is hard to manage it, that's why once you decided to give your betting into the tipster's hands (after you choose him with detailed research) – have trust in his skills, and follow him regardless of whether he has some losing tips or poor times.
And so here is the information that's everyone expects, in week 24 I received 114 tips, and I won 52 of them. This led me to success and generated me a weekly profit of £230 with a positive ROI of 4.49%. In September, I adopted a tactic, based on the tipsters' performance, to sort all received tips, and to place only those on major leagues. I placed all tips with a set stake of £45.
Week 24 Profit&Loss graph: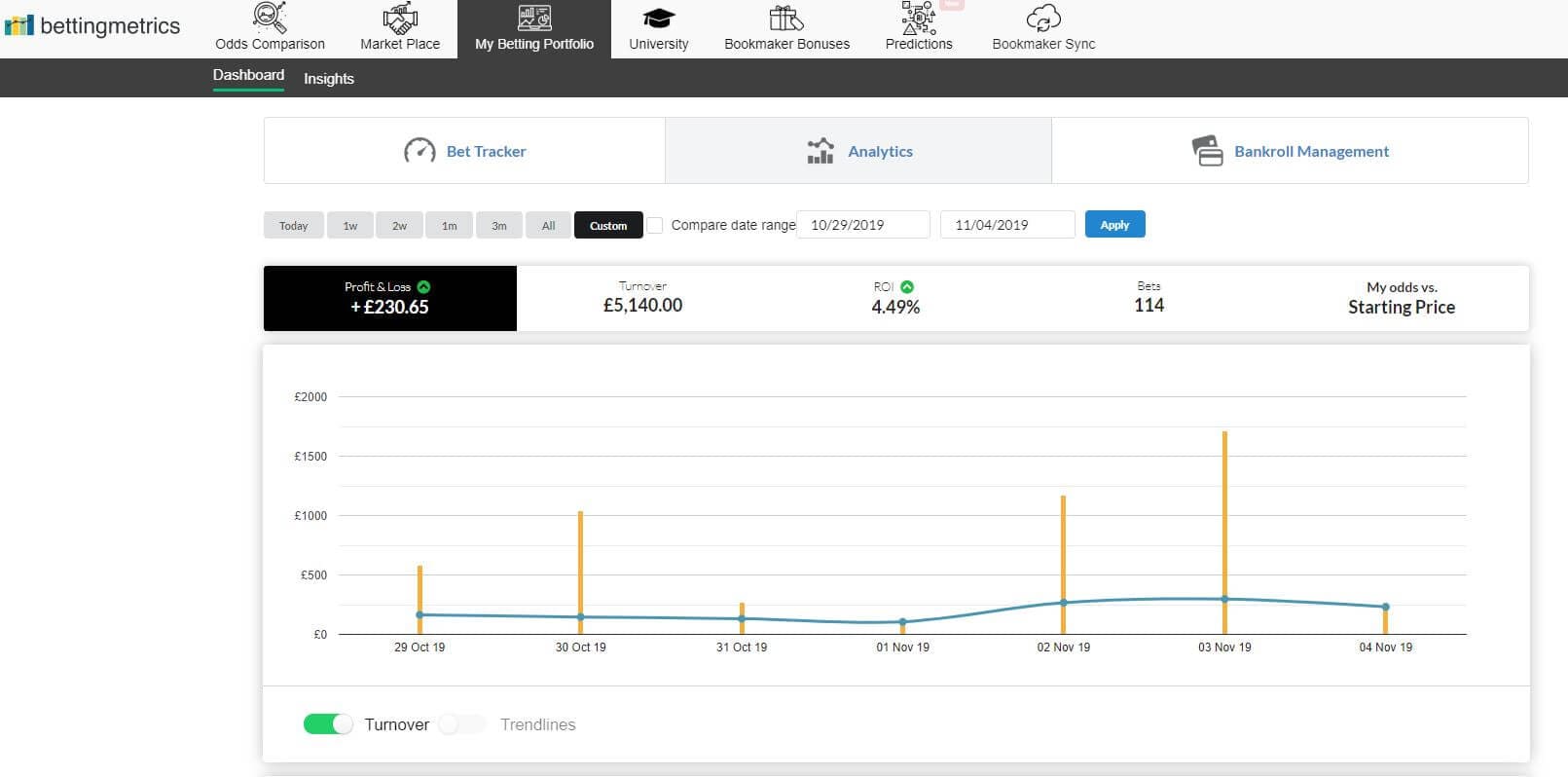 Since the beginning of my efforts to make money by following tipsters, I am standing on a profit of £1868 with a positive ROI of 1.56%.
Below you can check the performance of each tipster in week 24.
The fresh substitution in my portfolio Ejizzymoi had one more successful week. He suggested 33 tips, 20 of which were winning. The tips generated me a weekly profit of £266 with a positive ROI of 17.96%. He posted tips with different odds ranges, however, if you follow him you can keep an eye on the odds range 2.00-2.50, where he shows good results.
freguli posted 15 tips last week, he won only 6 of them, but the high suggested odds brought me a profit of £52 with a positive ROI of 7.80%. I like his tips because I can always make a profit with only a few winners. His average odds of 3.30 predispose to that.
TennisTipsUK posted only one tip last week and lost it. I placed his tip with a stake of £55. For a few weeks the tennis master is not concentrated on tipping, but I have a 100% trust in his skills, and I hope to see him back as soon as possible in the top-performing tipsters.
Park-Life-Tips had a poor performance in week 24. He suggested 22 tips, lost 13 of them and generated me a weekly loss of £258 with a negative ROI of 26%. Unfortunately, he couldn't bring me any profits last week, but when I checked my analyses on Bettingmetrics, I noticed that he produced me a profit of £2871 just for 6 months, and made himself a constant in my tipster portfolio. PLT is a long-termer, so if you follow him with confidence and long-term attitude, you can be on good profits at the end.
Rosso27 had a successful week and generated me a weekly profit of £224 with a positive ROI of 11%. He posted 43 tips and won 19 of them. One thing I like a lot in his service is his activity. He posts at least 10-15 tips a day from which I can take advantage. The odds ranges are also one of his strong sides, and tips with odds between 2-3.20, can always make you good profits.
One more week is behind me, my portfolio keeps growing and I'm happy with that fact. In week 24 I placed 114 tips, won 52 of them, lost 59, and 3 were a push. The tips generated a weekly profit of £230 with a positive ROI of 4.49%. From the beginning of this portfolio, I placed 3701 tips, and currently, I am standing on a profit of £1868 with a positive ROI of 1.56%.
All-time Profit&Loss Graph: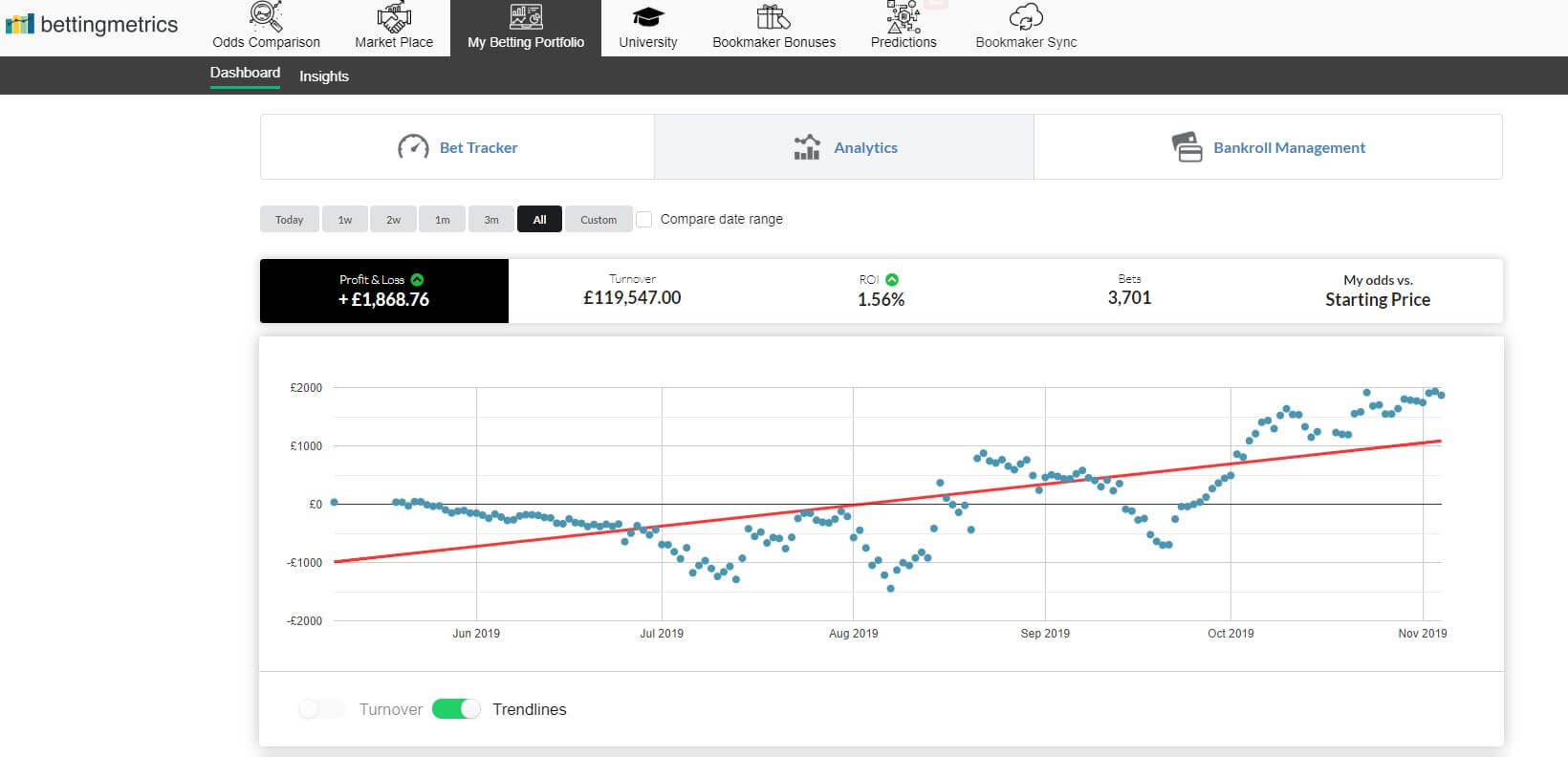 Next week I plan to place again only tips from the major leagues, and I will add Champions League and League Europa in order to place a higher number of bets. The total leagues, which I will use for my betting in week 25 is 11.
Thank you. See you next week.
Stats Summary Week 24
Total bet amount: £5140
Profit/Loss: £230
ROI: 4.49%
Bets Placed: 114
Won: 52
Lost: 59
Push: 3
Winning: 45.6%
Average Odds: 2.40
Average Win odds: 2.24
Average Losing odds: 2.65
Average Bet size: £45