One more betting week is behind us, fulfilled with plenty of opportunities for profits. The previous week was busy with dozens of events, and the tipsters in my portfolio posted actively.
As I have already mentioned a few times, I adopted a rule to place my bets on tips which include only events from 10 major football leagues (Champions League, Europa League, English Premier League and Championship, Italian Seria A, Germany Bundesliga, Spanish La Liga, France League 1, Netherlands Eredivisie and the Portugal Primeira Liga). That rule was implemented after a few weeks of poor betting results, which damaged my portfolio, and made me think about change. To make possible this tactic, which turned out to be very successful, I assist myself with the betting tools provided by Bettingmetrics, which help me to deeply analyze the long term performance of each tipster, their weaknesses, strengths, etc.
In week 23 I received 135 tips from my tipsters. Each tip I placed with a set stake of £45. I won 66 tips, lost the same amount, 2 tips were a push, and 1 finishes as half lost. The week was successful and the tips generated me a small profit of £86 with a positive ROI of 1.43%.
From the beginning of the journey in May, I'm standing at a profit of £1638.
In the brief below, you can see how each of my tipsters performed during week 23:
I will start with TennisTipsUK. This was the second week without receiving any tips from him. He is an important tipster for my portfolio and his value tips are profitable for me, so I will contact him in order to get more information on when he will return.
Park-Life-Tips posted 27 tips last week. His tips generated me a weekly profit of £46 with a positive ROI of 3.80%. PLT had good and profitable tips in the odds range 3.20-4.20, so if you follow him, keep an eye on that odds range. PLT is a very significant part of my portfolio, as from the start of it he brought me a betting profit of £3129 with a positive ROI of 12%.
Rosso27 advised for 48 tips last week. He had good average odds of 2.30, and his suggestions generated me a weekly profit of £88 with a positive ROI of 4%. I'm happy to have him in my portfolio and to place his tips, because he shows good sports knowledge and posts profitable tips.
The new tipster in my portfolio Ejizzymoi suggested 40 tips last week. His first week was successful and he brought me a weekly profit of £146 with a positive ROI of 8%. His average odds of 1.80 are lower than my favourite but he had good success rate of 58%. However, keep in mind that he is standing on 3rd position in the free tipster competition organized by Bettingmetrics, so I expect he will continue to suggest profitable tips.
Ejizzymoi bet outcome week 23:

was the tipster who advised me with unprofitable tips in week 23. He posted 19 tips and won only 8 of them, which generated me a weekly loss of £149 with a negative ROI of 17%. Although the week was negative for freguli this is something typical for the long-term betting, so I believe next week will be successful for him and I will place his tips with confidence.
In week 23 I placed 135 bets with a set stake of £45. The received tips generated me a weekly profit of £86 with a positive ROI of 1.43%. As for now, I'm not planning to change my idea to bet only on major leagues. For the next week, I will replace Champions League and League Europa with Scotland Premier League and English football league cup.
Generally, my portfolio is on a profit of £1638 with a positive ROI of 1.40%. I'm very confident the numbers will raise shortly thanks to the received tips.
All-time Profit&Loss stats: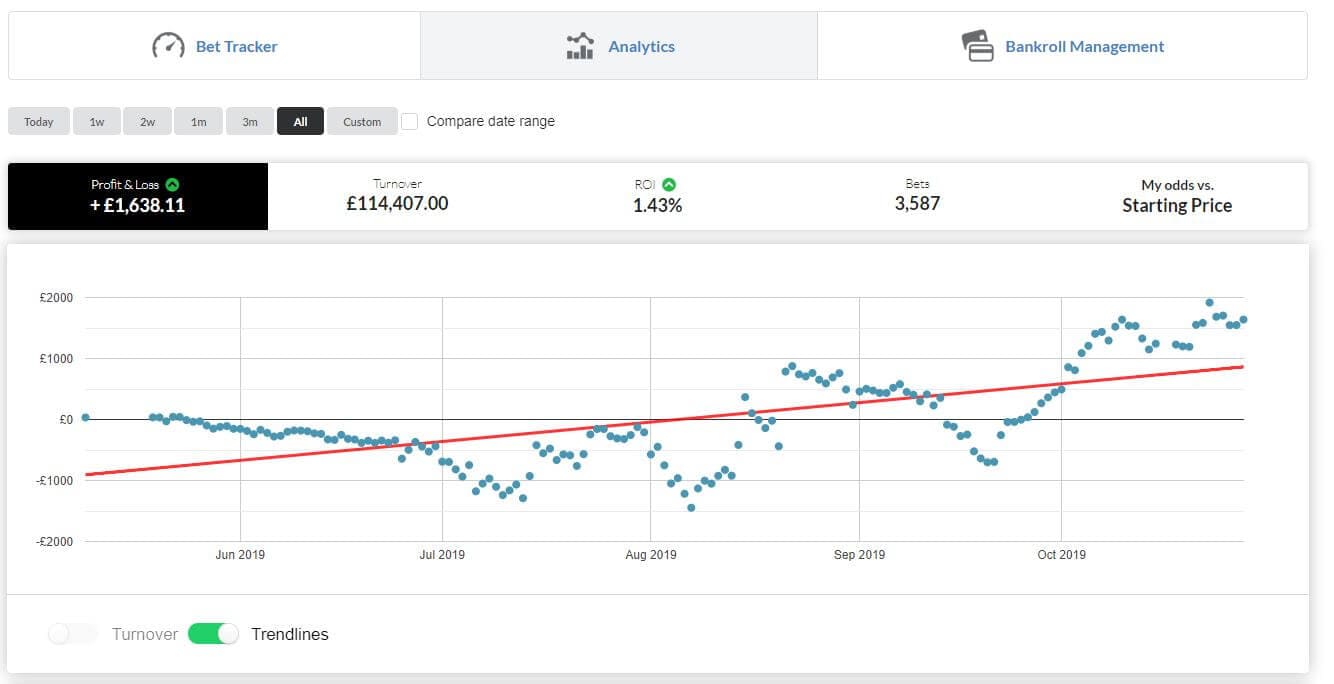 Thank you. See you next week.
Stats Summary Week 23
Total bet amount: £6075
Profit/Loss: £86
ROI: 1.43%
Bets Placed: 135
Won: 66
Lost: 66
Push: 2
Half lost: 1
Winning: 48%
Average Odds: 2.10
Average Win odds: 2.04
Average Losing odds: 2.21
Average Bet size: £45