After a few weeks of success, profits and happy news, today's report will be unfortunately on the negative side. Unhappily, many times I mentioned in my reports the fact that even the best tipsters have their losing runs, and if you do sports betting by following tipsters, you have to concentrate on the long term approach as one of the most important facts of success.
Last week I was advised all in total 73 tips with odds over 2.00, each of them I placed with a flat stake of £45. I lost 49 of them and that brought me a weekly loss of £287 with a negative ROI of 8%. I have started my journey with an initial bank size of 9k after this week my total balance now is £10153. I am currently standing at ROC (return on capital) of 12.8%.
I, to be frank, this is not my first sports betting portfolio but however, it is indeed the easiest one to manage and report. I surprised how helpful Bettingmetrics software is and the amount of time which saves. It is really easy to follow tipsters, track, analyse and report my results.
Here is a brief report if how the tipsters I am following have been doing in week 21 from betting journey,
Bobbie2006 was for a second week in a row away from the betting. His tips are a very important part of my portfolio, so if he continues to be aside I should replace him with another tipster. I will try to reach him and see what his plans are.
TennisTipsUK disappointed last week. He posted only 2 tips and lost both of them. I placed the tips with £55 and this generated me a weekly loss of £110. I recommend him as one of the tipsters who suggests value tips with long-term focusing. One week of losing tips is usual for a tipster of his rank. From the beginning of my betting journal, with only 92 tips TennisTipsUK generated me a profit of £687 with a positive ROI of 20%.
TennisTipsUK performance: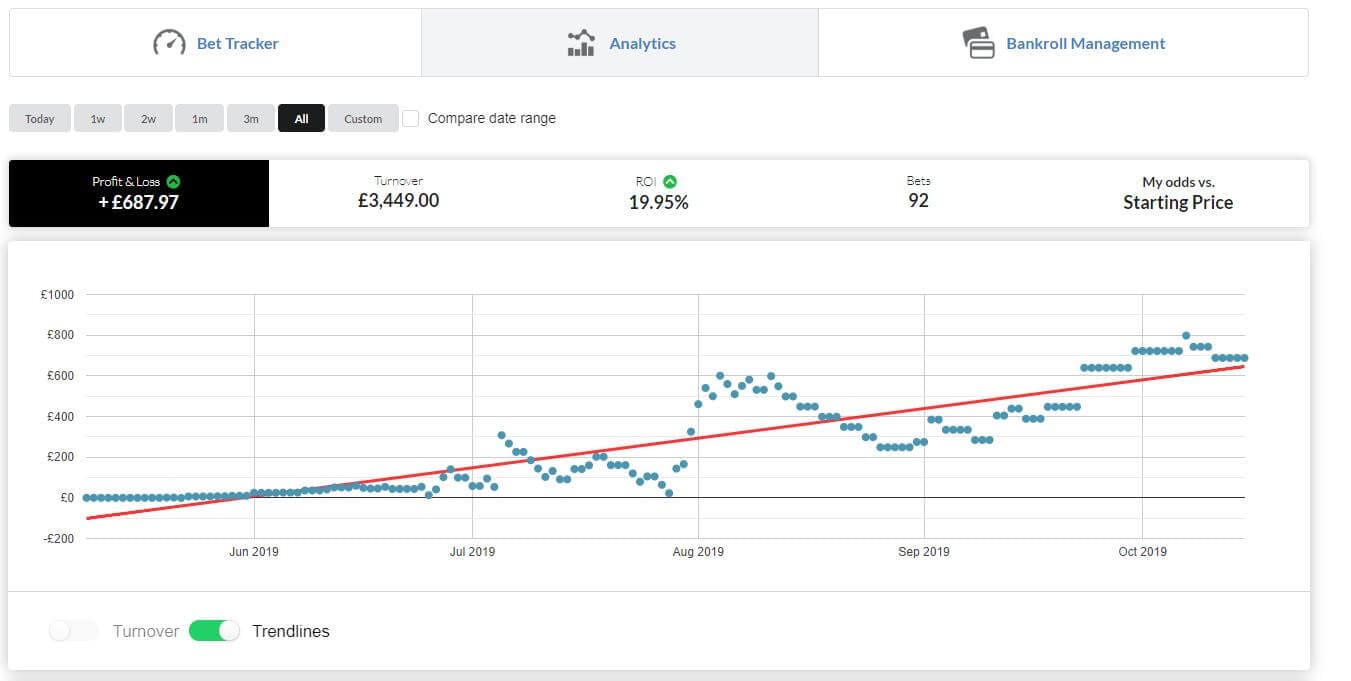 Rosso27 suggested 16 tips last week and won 7 of them. He had good basketball winners like 7.50 Kouvot to beat UU-Korihait, and generated me a weekly profit of £271 with a positive ROI of 37%. A very important part of the betting is to place your bets on time. I often had this problem in the past, but now I use Bettingmetrics odds comparison, which gives me the chance to place bets straight from the platform so I do not lose and additional time by checking various bookmakers. I successfully placed the high priced tip just a minute after I received it.
Park-Life-Tips had an unsuccessful week. He posted 33 tips with odds over 2.00 but lost 23 of them. After a few profitable weeks, this one weakened my portfolio and his tips generated me a weekly loss of £190 with a negative ROI of 12%. Anyway, after 6 months of using his services, I have a profit of £2776 with a positive ROI of 12%! Definitely, he has proven himself like a long-termer, and a tipster which you can benefit from.
In week 21 freguli suggested 22 tips. He won only 6 of them, and this generated me a weekly loss of £258 with a negative ROI of 26%. He is one of the underperforming tipsters, but he has demonstrated a good betting knowledge and I'm very confident that soon he will increase significantly my betting profits.
In week 21 I placed a total of 73 tips, I won only 23 of them, and this generated me a weekly loss of £287 with a negative ROI of 8%.
Reflecting on the analysis I have made on my past results I have decided that for the next week, I will place bets only on the following leagues: Euro2020 Qualifications, English Premier League and Championship, Italian Seria A, Germany Bundesliga, Spanish La Liga, France League 1, Netherlands Eredivisie and the Portugal Primeira Liga.
From the beginning, I placed 3415 bets, and I won 1875 of them. For now, my tipsters generated me e profit of £1153 with a positive ROI of 1%, but I expecting more profits to be reaching soon.
Profit & loss all-time graph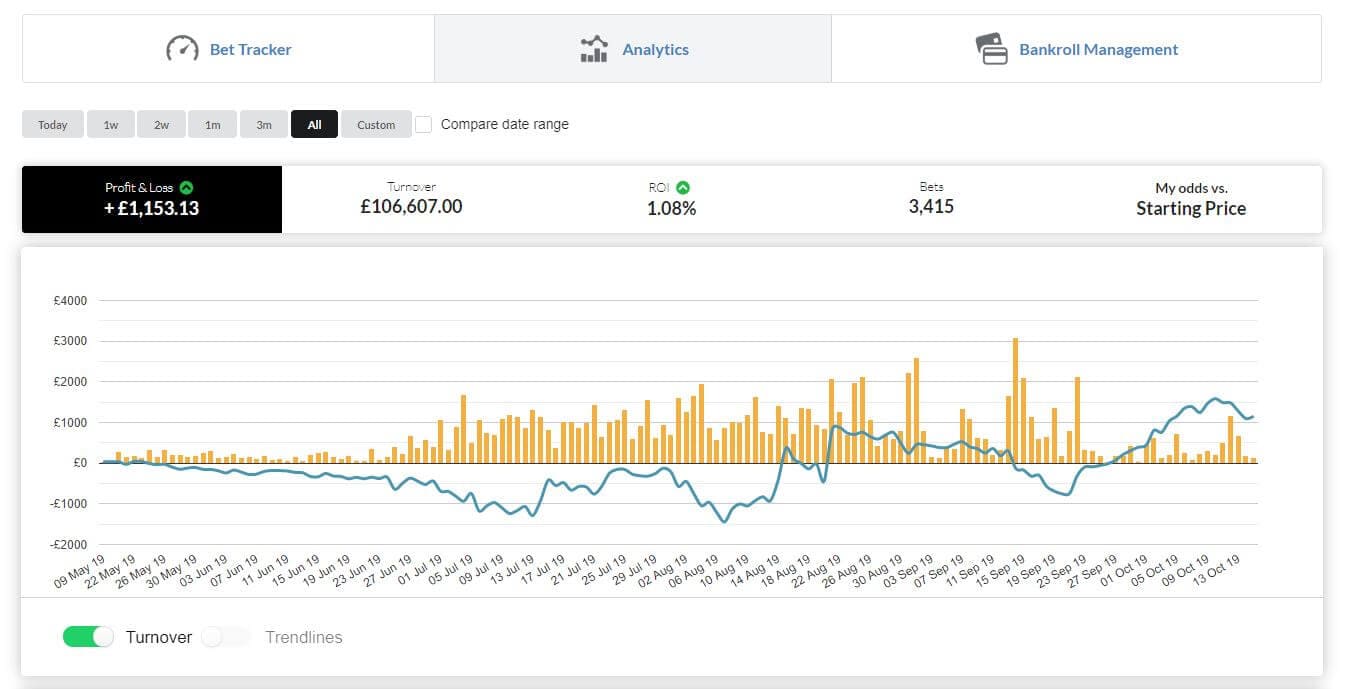 Thank you. See you next week.
Stats Summary Week 21
Total bet amount: £3305
Profit/Loss: -£287
ROI: -8%
Bets Placed: 73
Won: 23
Lost: 49
Push: 1
Winning: 31.5%
Average Odds: 3.00
Average Win odds: 2.87
Average Losing odds: 3.04
Average Bet size: £45