The first week of October brought some great betting news. The tipsters, which I follow showed why they are part of my journey. I received a lot of profitable tips, worthy suggestions, and value signals.
All of the tipsters are long-termers and few losing or winning weeks do not matter in the betting world. The important part of the long-term betting is to have fulfilled your targets at the end.
In week 20 of my betting journal, I placed 56 tips, which generated me a weekly profit of £1035 with a positive ROI of 40%. I received over email much more than 56 tips but I strictly followed my strategy to bet only on the major leagues including all of TennisTipsUK suggestions. My total balance now is £10440.
Week 20 Profit&loss graph: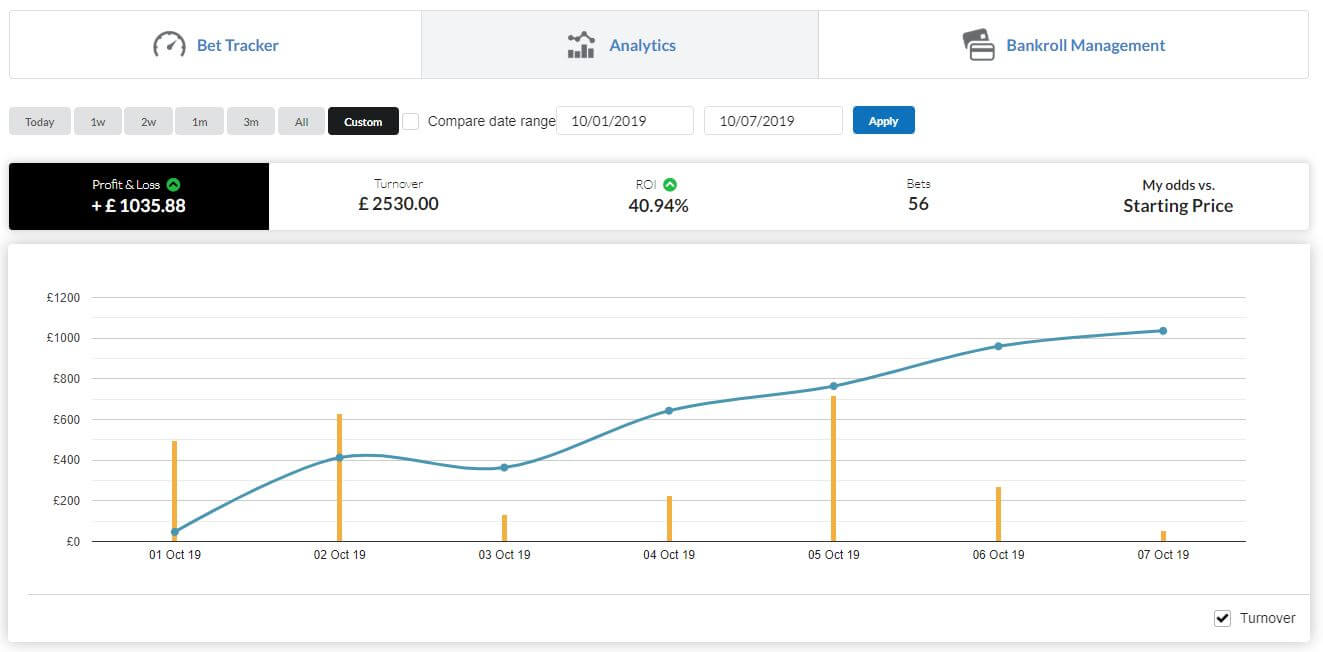 The stats from last week confirm my position that the solid profits are coming out only if you have patience, strategy, and the right tipsters around you. One more way to increase your betting profits is to use the precise betting tools such as analyses, bet tracker, and bankroll management which Bettingmetrics provides.
In the brief bellow you can check the performance of each tipster:
Bobbie2006 finished this week with 0 tips. He was inactive and probably he is away from the betting for a while. However, he showed good signs of betting knowledge in his tips, so I hope that he will return as soon as possible.
Rosso27 posted 13 tips last week, 8 of which were winning and brought me a weekly profit of £140. He already built a strong reputation as he was second on Bettingmetrics' last tipster competition. If you follow him, keep in mind that he posts tips with average odds of 2.10, which can bring you very good profits.
Another positive week full with great tips by Park-Life-Tips. He suggested 31 tips and won 15 of them. PLT generated me a weekly profit of £320 with a positive ROI of 23%. As I mentioned many times, I like the odds ranges, which PLT follows. Last week he had some great strikes on the odds range between 3.20-4.20, where I won most of my profits.
One more week with low activity by TennisTipsUK . He posted only 1 tip and won it once again. The tip made me a profit of £75 and increased my betting bank. I will take even 1 tip from TennisTipsUK because I know the value of it. If you follow him prepare yourself for few tips but with high value.
freguli was inactive for 2 weeks. I'm guessing he takes a break from betting, but this week he came back with amazing results. He posted 11 tips and won 6 of them. The tips generated me a weekly profit of £498 with a positive ROI of 100%! He hit the target with the game between Fortuna and Feyenoord, where he suggested a win for the home team. The surprising victory with odds of 8.50, which I placed with £45 brought me an outcome of 337 only from 1 bet.
freguli performance:

The numbers talk enough. In week 20 I placed 56 tips, which generated me a weekly profit of £1035. The total balance of my betting bank now has increased to £10440.
Next week is the time for football qualifications, and I can't bet on the major football leagues. Because of that, I will place bets on all tips, which I am going to receive but all of them should be with minimum odds of 2.00, with hopes for a high potential ROI. I guess the tipsters, which I follow will start to suggest more tips because of the start of the new Bettingmetrics tipster competition.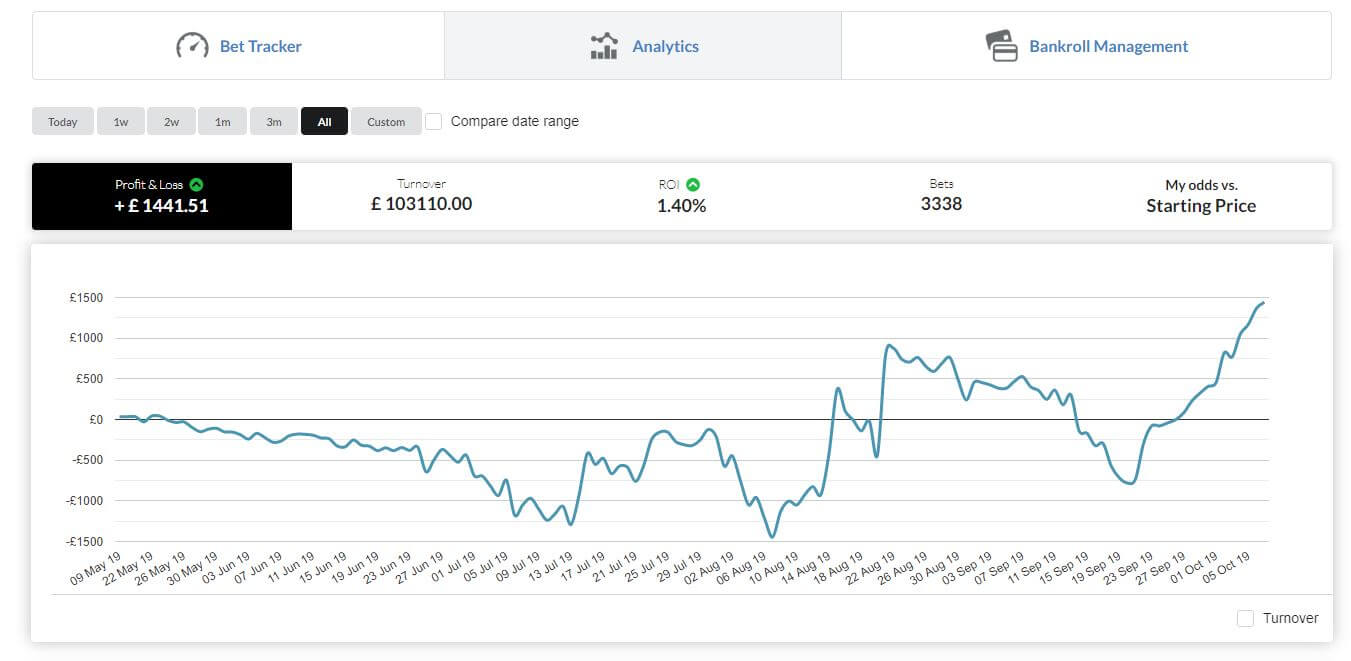 See you next week.
Stats Summary Week 20
Total bet amount: £2530
Profit/Loss: £1035
ROI: 40%
Bets Placed: 56
Won: 30
Lost: 24
Push: 2
Winning: 66%
Average Odds: 2.50
Average Win odds: 2.56
Average Losing odds: 2.31
Average Bet size: £45