What a second week it started quite well and then a few loosing bets towards the end of the week resulting in a negative week.
I am Anthony an iGaming professional who wants to help other betting enthusiasts to make money from sports betting. My betting portfolio is worth £10k and my ultimate goal is to double the amount within 12 months. I will use Bettingmetrisc platform to choose tipsters to add to my portfolio, track, analyse and report my results.
I have started 2 weeks ago and it is about time for my weekly portfolio updates.
As of now my betting portfolio consist of 5 tipsters. The first week of following this set of tipsters was not positive and I lost £192.
Currently, I'm still in a negative position after week 2. This week I generate a weekly loss of £100. In week 2 I placed 146 bets on 3 sports: tennis, football and cricket, I generated a turnover of £1362 with a negative ROI of 7%. My current betting portfolio balance is £9784 effectively meaning that lost 2.16% of my entire betting bank.
Now, I will briefly observe the performance of each tipster individually.
As we all know most of the European football is off for the summer break so some of the tipster I am following will most likely take a little break. Alcuni did not post any tips this week. I presume he will be quite during the summer so if he remains under the radar for one or two more weeks I will most likely replace him from my betting portfolio. I am a fan of diversification so I would not like to have a portfolio with less than 5 active tipsters.
KaluGuru was again extremely active during week 2. He advised me for 68 tips last week. I won 50 of them. He made a profit of £39 with a positive ROI of 5.8%. With average guided odds of 1.40. As of now, it seems that he is not that much into value betting. It seems that KaluGuru has good knowledge about the sports and I added him as I want to test whether we can actually make money from placing bets that in my opinion are not value bets.
KaluGuru ROI performance: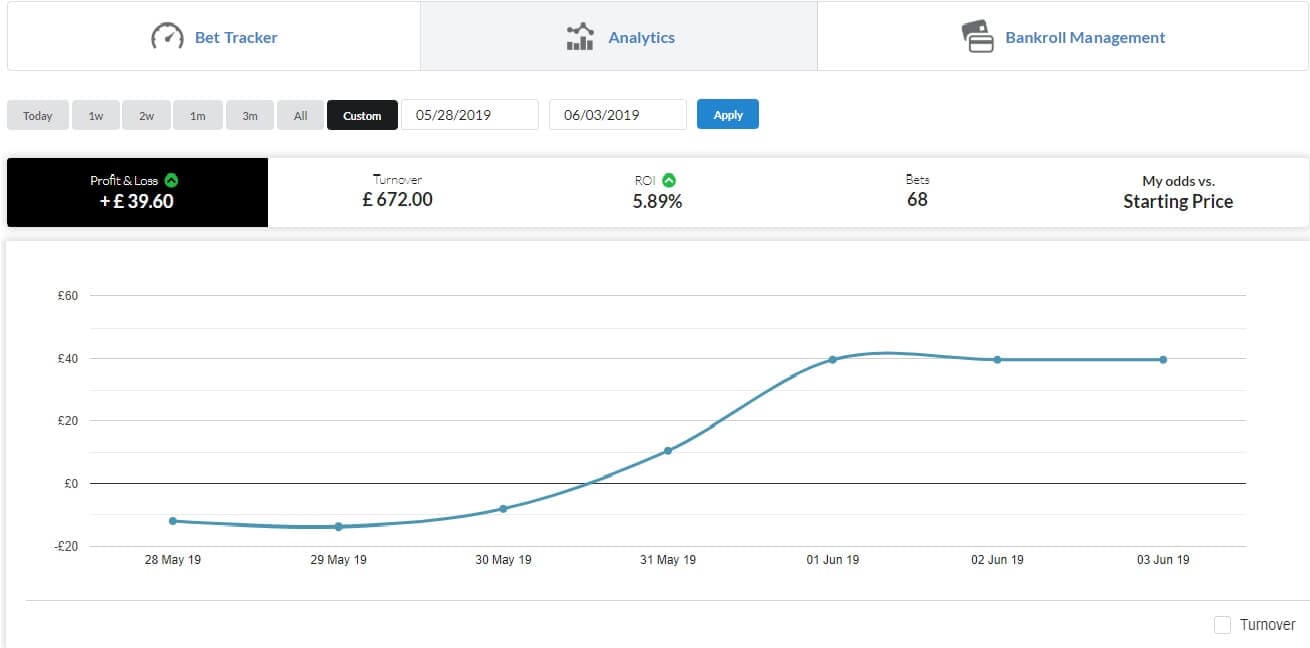 Park-Life-Tips advised 66 tips. His negative series continued with 41 lost bets, £140 weekly loss and negative ROI of 23%. His average odds around 2.30 generally are good for profit. You can check his performance from the graph below.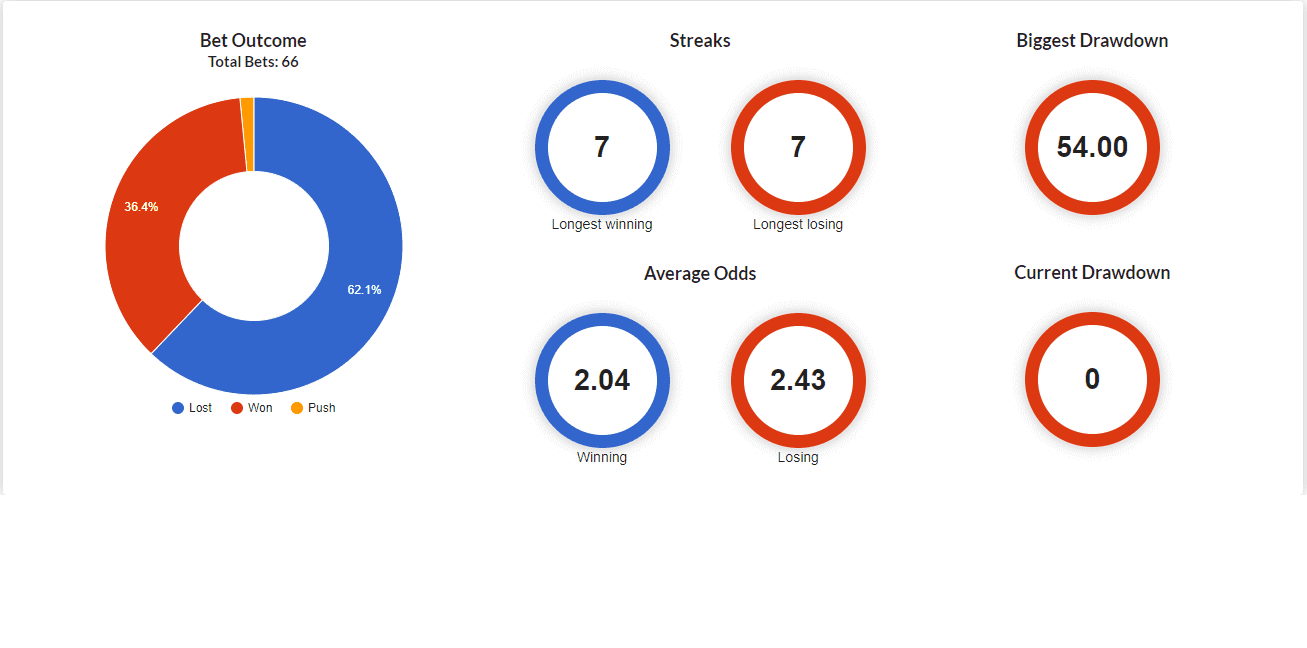 TennisTipsUK advised only 3 tips this week which is below what he usually tend to post per week. He is suggestion only tips that are strong value bets (something I really like about him) and this week he made a profit of £16 with a positive ROI of 105%.
The last tipster from my betting portfolio this week is Drazen . He has suggested 9 tips and lost 6 and generated a tiny weekly loss of £9 with negative ROI of 14%.
This week my overall betting portfolio performance stands at loss of £100 with negative ROI of 7%. As already said I am into betting for at least 12 months. This is the investment scope of my betting portfolio and this experiment. Of course I like winning and hope week 3 and the tipsters I am following change the trend and make profit.
The summer is generally speaking quite period in terms of football events (this the sport I like betting the most) so I will be considering options to add more tennis and horse racing tipsters to my betting portfolio.
Profit & Loss Graph :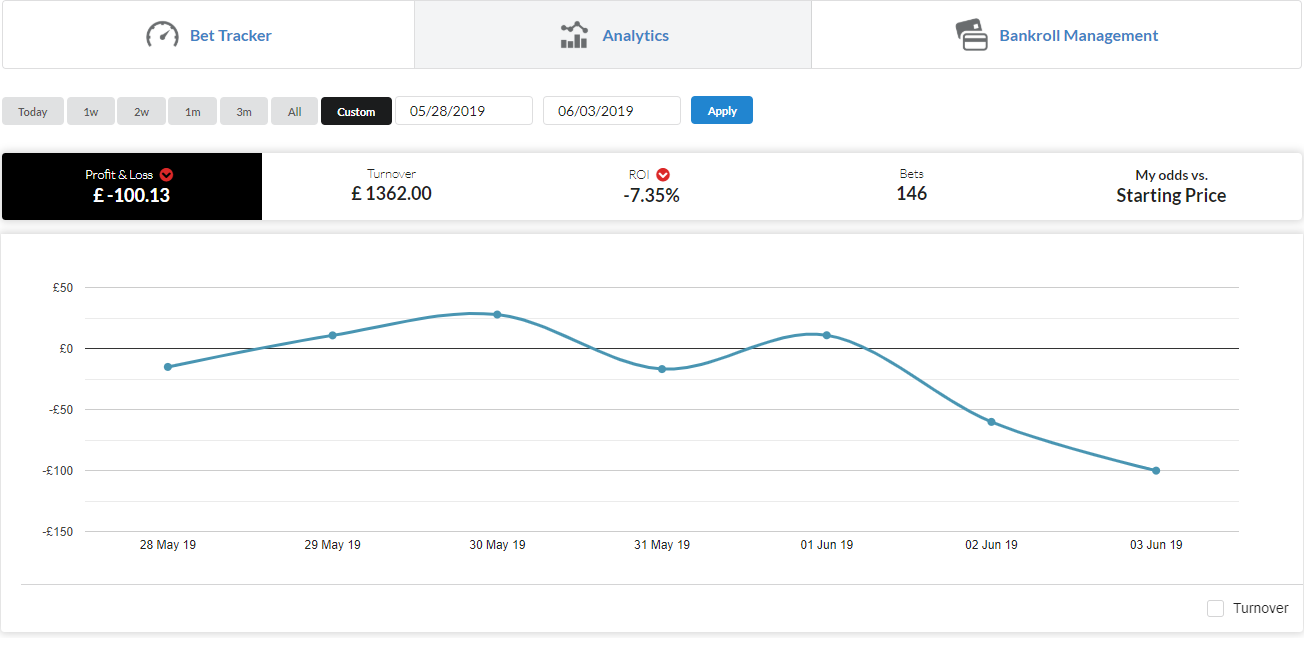 Stats Summary for week 2
Total bet amount: £1362
Profit/Loss: -£100
ROI: -7%
Bets Placed:146
Won: 80
Lost: 62
Push: 5
Winning: 54.8%
Average Odds: 1.90
Average Win odds: 1.63
Average Losing odds: 2.31
Average Bet size: £ 9