The week was interesting and full of tips that were worthy. I bet on the major leagues because I explored in details the betting history of each of my tipsters, and I noticed that they are much more confident when they post tips from them. The week is over with only 36 placed tips but that is the way I want to go - quality over quantity. I tracked all of my tips easily just for a few minutes, and thanks to Bettingmetrics bankroll management I received the results for the week – I'm on a weekly profit of £485 with a positive ROI of 33%. My total balance after week 19 is £9405.
Bet outcome week 19:

Now my profits are rising but remember, betting is a marathon, not a sprint. This means the long term approach, correctly applied strategies, and the right tipsters are more important than one week of profits/losses.
Check my short brief and see how each of my tipsters performed last week:
Rosso27 posted 19 tips last week. 13 of his tips were winning and this generated me a weekly profit of £216 with a positive ROI of 28%. I'm confident to bet on his tips because he always suggests odds over 1.70, something I like and I can see good potential ROI if I increase the money, which I invest in his tips.
Park-Life-Tips hit the target with multiples last week. Obviously he changed his strategy to advice more accumulator bets, probably because he uses the new Bettingmetrics feature named Bet accumulator generator. Anyway, this led to success and I received 12 tips from PLT. 8 of his tips were winning, and brought me a weekly profit of £220 with a positive ROI of 45%. The average odds of 2.30 are always a good reason to bet on PLT tips if you choose to follow him.
Bobbie2006 had an unsuccessful week. He posted only 4 tips. He won only 1 of them, and half-won another, this generated me a weekly loss of £34 with a negative ROI of 21%. Probably, he takes some time away from suggesting tips because I noticed he wasn't active for a few days. I know how hard it is to be in his position every single day or week so I believe 1 week away from tipping/betting is positive for everyone.
I can't say the same for freguli, he disappointed me for the second consecutive week with his inaction. I am thinking to replace him with another tipster if he continues to stay away, I need one more tipster in my portfolio to help me reach my ultimate goal.
TennisTipsUK posted only 1 tip and won it. The tip brought me a profit of £82. I'm always happy to receive Bettingmetrics notifications on my phone/email that tells me when TennisTipsUK posts a tip. I know for a fact that I'm receiving a value bet and a chance to make money, details that I really like. From the beginning of this journey, TennisTipsUK is one constant part and his tips generated me a profit of £722.
In week 19 I received 36 tips, and I won 23 of them. This generated me a weekly profit of £485 and I'm very happy with that fact.
Week 19 Profit&Loss graph: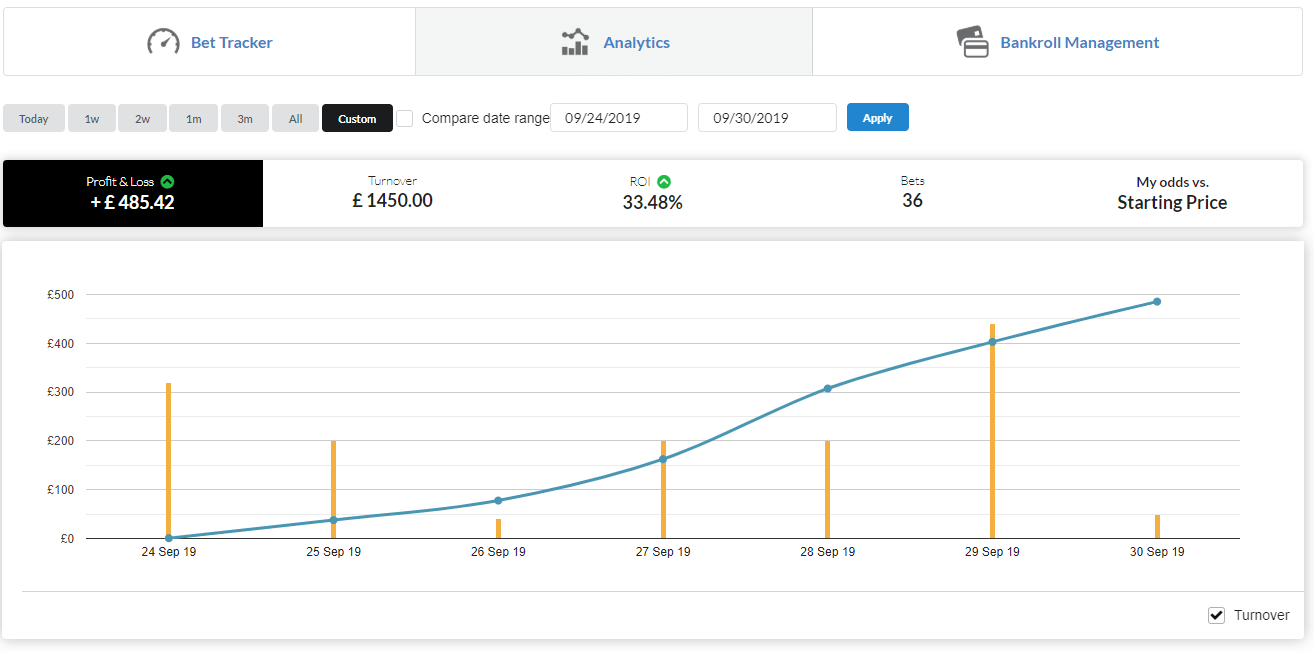 I'm not planning to change my strategy to place bets on major leagues, I will just add Champions League and Europa League for next week. The total leagues, which I will bet on is 10 and I'm confident this will lead me to good profits. I will increase a bit more the stakes, and I will bet each tip with £45, except TennisTipsUK tips, which I will bet with £55.
Since the beginning, I have made a profit of £405 with a positive ROI of 0.40%.
All-time Profit&Loss graph: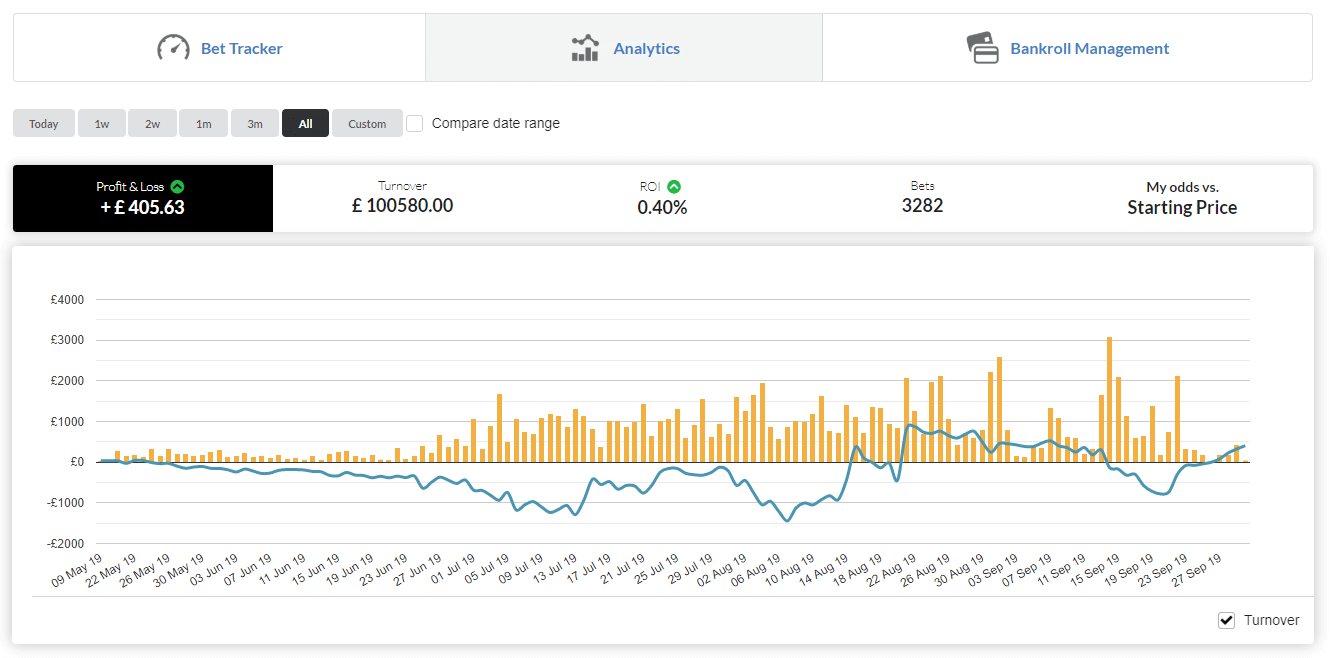 Thank you. See you next week.
Stats Summary Week 19
Total bet amount: £1450
Profit/Loss: £4785
ROI: 33%
Bets Placed: 36
Won: 23
Lost: 11
Push: 1
Half Won: 1
Winning: 66%
Average Odds: 2.00
Average Win odds: 1.96
Average Losing odds: 2.09