The world is full of plenty of opportunities for profit. One of the most used is sports betting. If you leave on the side that you can make a lot of money, the thrill when your single or accumulator bet is successful is unique.
That's why I created this bet journal with the support of Bettingmetrics, to help others feel this winning feeling and of course to show how the long-term approach and following tipsters can make you good betting profits.
Last week I decided to place bets only on 8 major football leagues plus all TennisTipsUK tips. The week started with Champions League and League Europa losses but at the end, I took the control and successfully increased the stakes from £40 to £100 and £200 for some of the tips I received for the last two days. I did that at the end of the week because I know how the tipsters focus on the Sunday and Monday games and try to provide better services if they do not perform well during the week.
In week 18 I placed 107 bets and I won 52 of them. The tips which I received generated me a weekly profit of £242 with a positive ROI of 4%. My total balance is £8921
Week 18 Profit&Loss graph: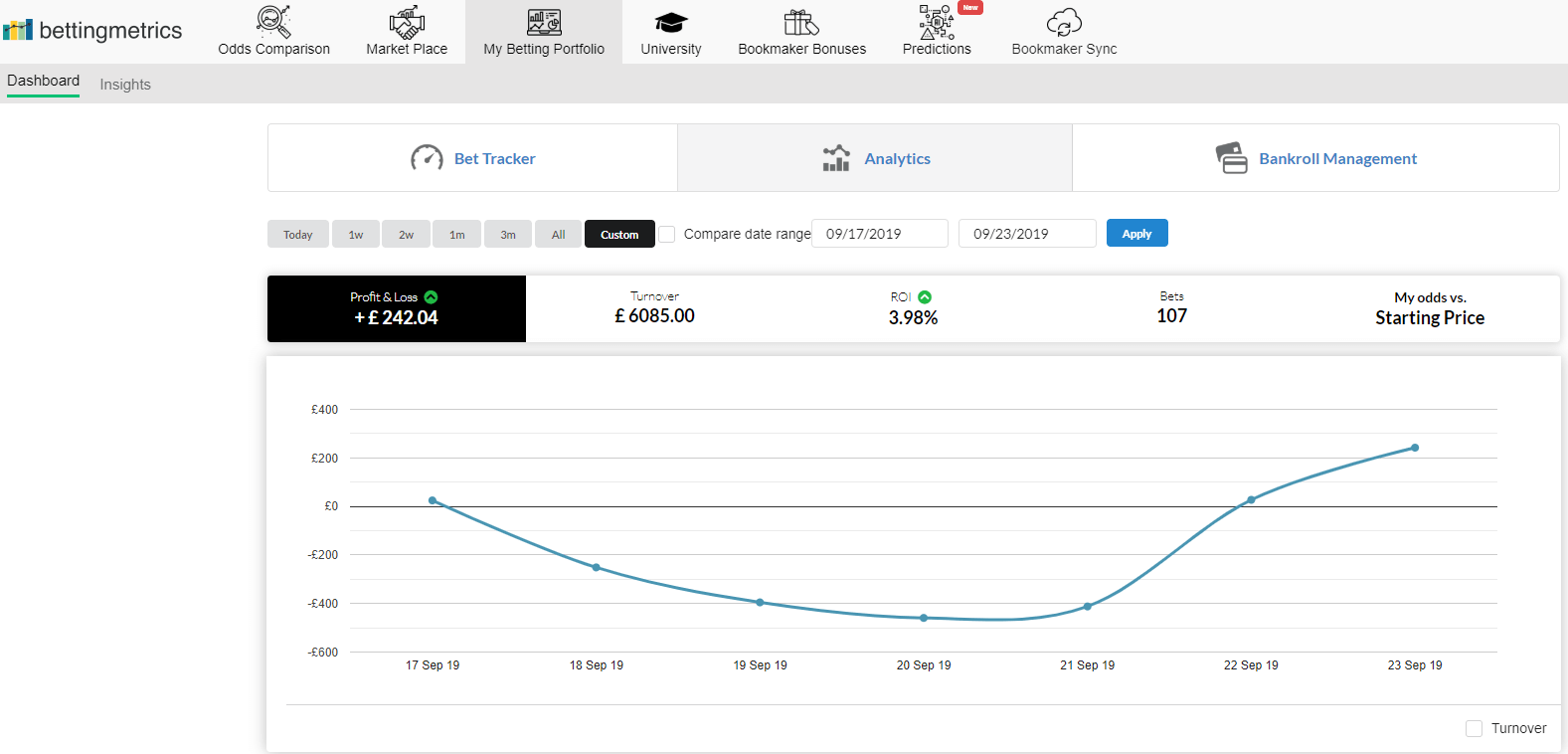 In the brief below you can see how the tipsters performed last week:
freguli was inactive and unfortunately, I did not receive any tips from him. I hope he will show why he is part of my portfolio next week because he possesses good football knowledge and even though he is in a drawdown can make me profits.
TennisTipsUK </a posted only 2 tips last week.... and won them! His betting discipline to post only value and well-informed tips generated me a weekly profit of £251 . As I mentioned many times, people like him are wealth for everybody who likes to follow tipsters, and I congratulate Bettingmetrics because they manage to attract more and more tipsters with sports knowledge, various betting strategies, and value-oriented approaches.
Bobbie2006 suggested 65 tips last week and won 39 of them. Unfortunately, his tips damaged my portfolio with £111 and a negative ROI of 3%. When I analysed his performance I noticed the fact that his winning tips are in the low odds range and that's why I couldn't make a profit from him last week.
Rosso27 had a successful week and his tips generated me a weekly profit of £78 with a positive ROI of 4%. Hi posted 32 tips, 12 of which were winnings. Thanks to my fast reaction at the end of the week, I placed some of his tips with increased stakes and this move led me to success. The analyses showed me his good performance in the odds range 1.70-2.00 and I took advantage of that. I can compare, analyse, and use all historical odds and data for my tipsters, that's how I manage my portfolio - with data and deep analysis, which helps me to make more informed decisions in order to become profitable in the long run.
I bet on only 8 tips suggested by Park-Life-Tips last week. They generated me a small profit of £24 with a positive ROI of 3%. I know he prefers low divisions, and not very popular for betting football leagues, but my strategy for last and next weeks is to place bets only on major leagues, so hopefully, he will increase the tips for them.
I will continue to bet on only 8 leagues next week. Champions League and League Europa games are in break next week so I will replace them with the Netherlands Eredivisie and the Portugal Primeira Liga.
In week 18 I placed 107 bets and won 56 of them. This generated me a weekly profit of £242 with a positive ROI of 4%. Since the beginning of my bet journal, I placed 3246 bets and now I'm standing on the loss of £79.
All times Profit&loss graph: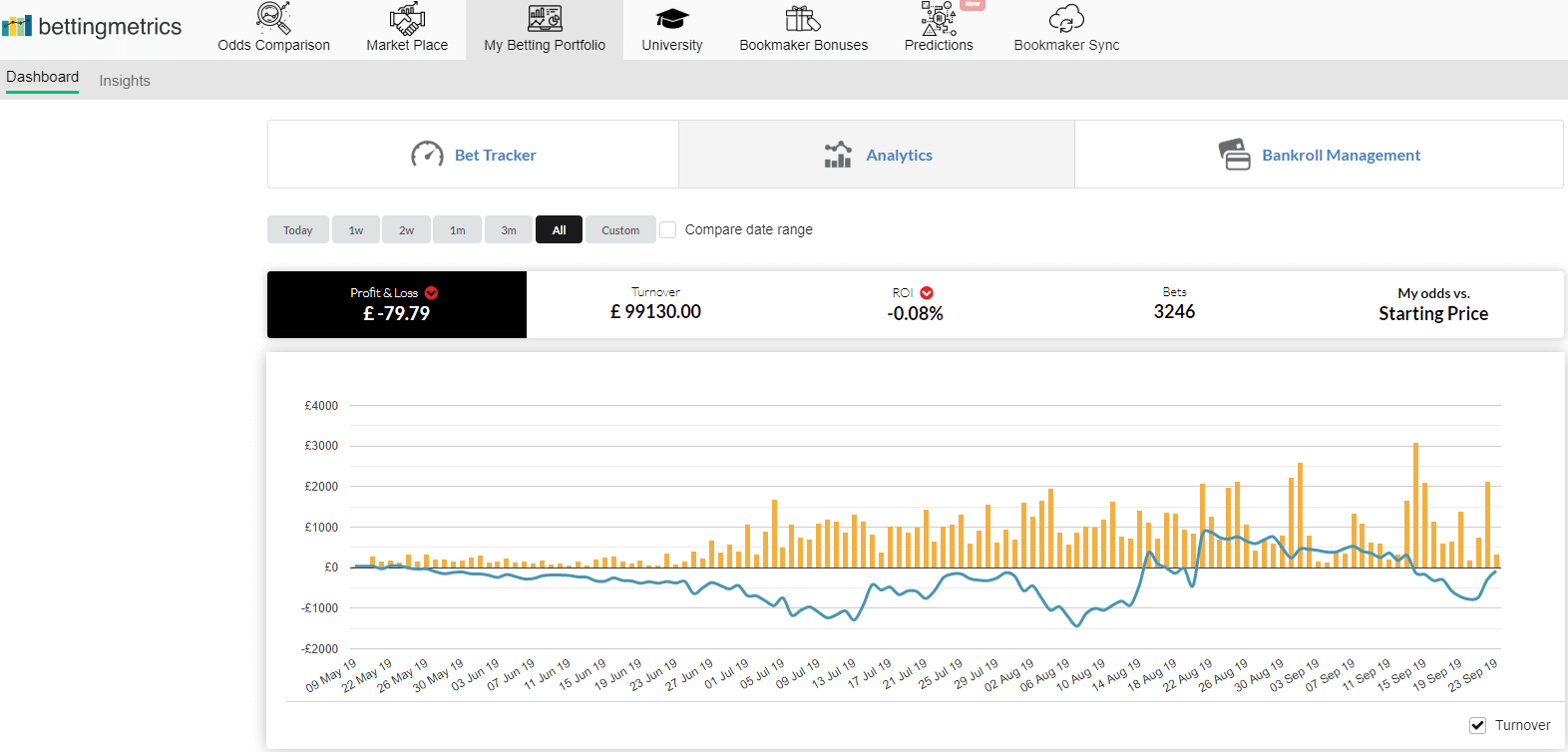 Only one week left to the end of Bettingmetrics tipster competition, so I believe my tipsters will show the best of themselves in the next days, in an attempt to win the lucrative prizes.
Thanks for your time. See you next week.
Stats Summary Week 18
Total bet amount: £6085
Profit/Loss: £242
ROI: 4%
Bets Placed: 107
Won: 56
Lost: 49
Push: 1
Half Lost: 2
Winning: 52%
Average Odds: 1.70
Average Win odds: 1.65
Average Losing odds: 1.84
Average Bet size: £56