Another interesting week is behind us, one filled with various tips and sports betting. My portfolio continues to fluctuate towards the goal, namely long-term profit. Any sports investor in the betting environment knows that the long term approach is the key.
I started poorly this week and I had few losing days, probably because of the long pause of international football matches, which made my tipsters limit their suggestions. Unfortunately, when the major leagues started again on the weekend, the things got worse.
The losing tips came one after another and damaged my portfolio with £676 and a negative ROI of 7%. My total balance now is £8726.
Overall, I' am pretty confident this is temporary, and my tipsters will fully recoup my losses soon.
Week 17 Profit & Loss graph: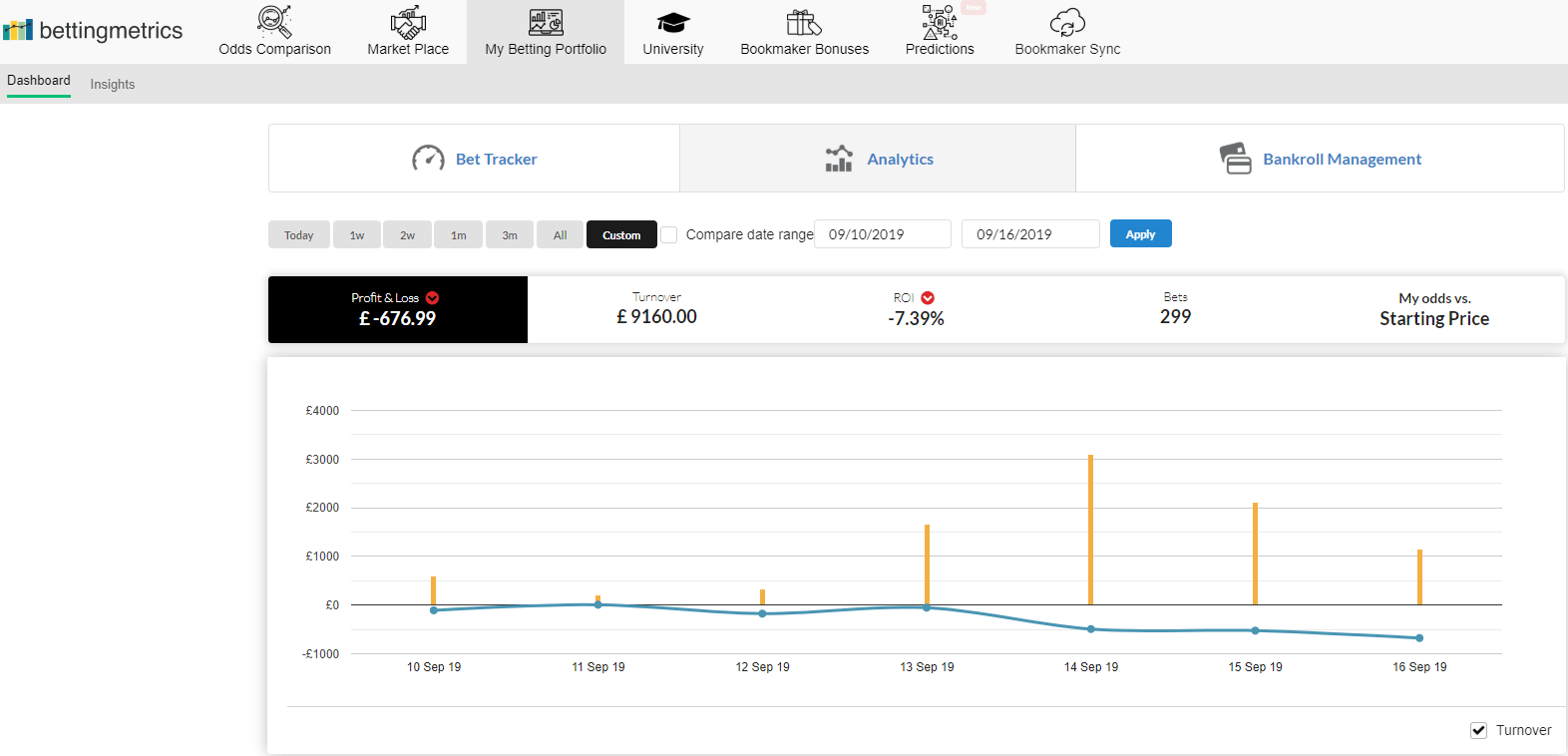 The sports weekend was pretty busy and I received tips via email every 10 minutes. Luckily, the software developed by Bettingmetrics gives me the opportunity to place each of my bets easily, with only a few clicks, and that's how I limited any potential waste of time for me.
Below you can check the performance of each tipster:
Park-Life-Tips posted 59 tips last week, 30 of which were winning. Unluckily, his perfect performance in my last few reports ended and his tips damaged my portfolio with a weekly loss of £127 and a negative ROI of 7%. Bettingmetrics analytics shows the fact that the big gap for PLT was on the weekend. He had very good shots with the major football leagues (Seria A, Premier League etc.) but his negative tips came from leagues such as Norway, Japan, Italy- Seria B. For next week, I have an idea for a new betting strategy, just read to the end to find out.
Anyway, from the beginning Park-Life-Tips generated me a profit of £2346 and I'm very confident he will increase that amount at least twice till the end. He possesses very good knowledge and if you follow him you can achieve good profits. I placed all PLT tips last week with a flat stake of £30.
freguli had once again an unsuccessful week. I received 45 tips from him, but I won only 12 of them. This negative statistic weakened my portfolio with £457. He suggested tips with very good average odds - 2.00, but couldn't achieve much. I placed all of his tips with a stake of £20 last week, which limited my losses.
TennisTipsUK has shown again why he is one of the most important participants in this portfolio. He suggested only 3 tips last week and won 2 of them. This led me to a weekly profit of £104 with a positive ROI of 69%. As I mentioned many times on my reports, TennisTIpsUK follows his own strategy to suggest a few tips but all of them are built on quality, value, and information. I placed his tips with a set stake of £50. From the start of this journey, he generated me a profit of £388, a fact that I really like.
TennisTipsUK week 17 tips:

Last week I had a second consecutive week of loss with the tips from Rosso27 . He provided 71 tips, which generated me a weekly loss of £303 with a negative ROI of 14%. All of his tips were placed with a set stake of £30. Once I checked the analytics on Bettingmetrics, I immediately noticed how I can make money from the tips provided by Rosso27. The profitable market, where he has success is – second-half goals. If he continues to perform good on this market, I will increase the stake only for it.
Bobbie2006 suggested 120 tips last week. He had a very good hit rate of 66.7% and generated me a weekly profit of £117 with a positive ROI of 2%. His active approach contributes very well to my portfolio and I like to place his tips although they are with low odds (averaging 1.50). I placed all of his tips last week with a set stake of £35.
The week was not good for my portfolio and I lost £676. Although I lost money my confidence is not damaged. For next week I will incorporate another strategy in an attempt to increase the profit of my portfolio.
I will sort all of the tips, which I receive from 4 tipsters (Bobbie2006, Park-Life-Tips,freguli and Rosso27), and I will place bets only on 8 leagues (Champions League, League Europa, English Premier League and Championship, Italian Seria A, Germany Bundesliga, Spanish La Liga, and France League 1). All the tips will be bet with a set stake of £40. I will use again Bettingmetrics odds comparison , to bet with the best odds, which is very important for a long-term portfolio like mine. TennisTipsUk is excluded from the list, and I will place all of his tips with a stake of £50.
Since I started my betting journey I lost £309 with a negative ROI of 0.33%, but I'm absolutely positive the winds will change and I will double the starting amount of 9K until next May.
Profit&Loss all-time graph: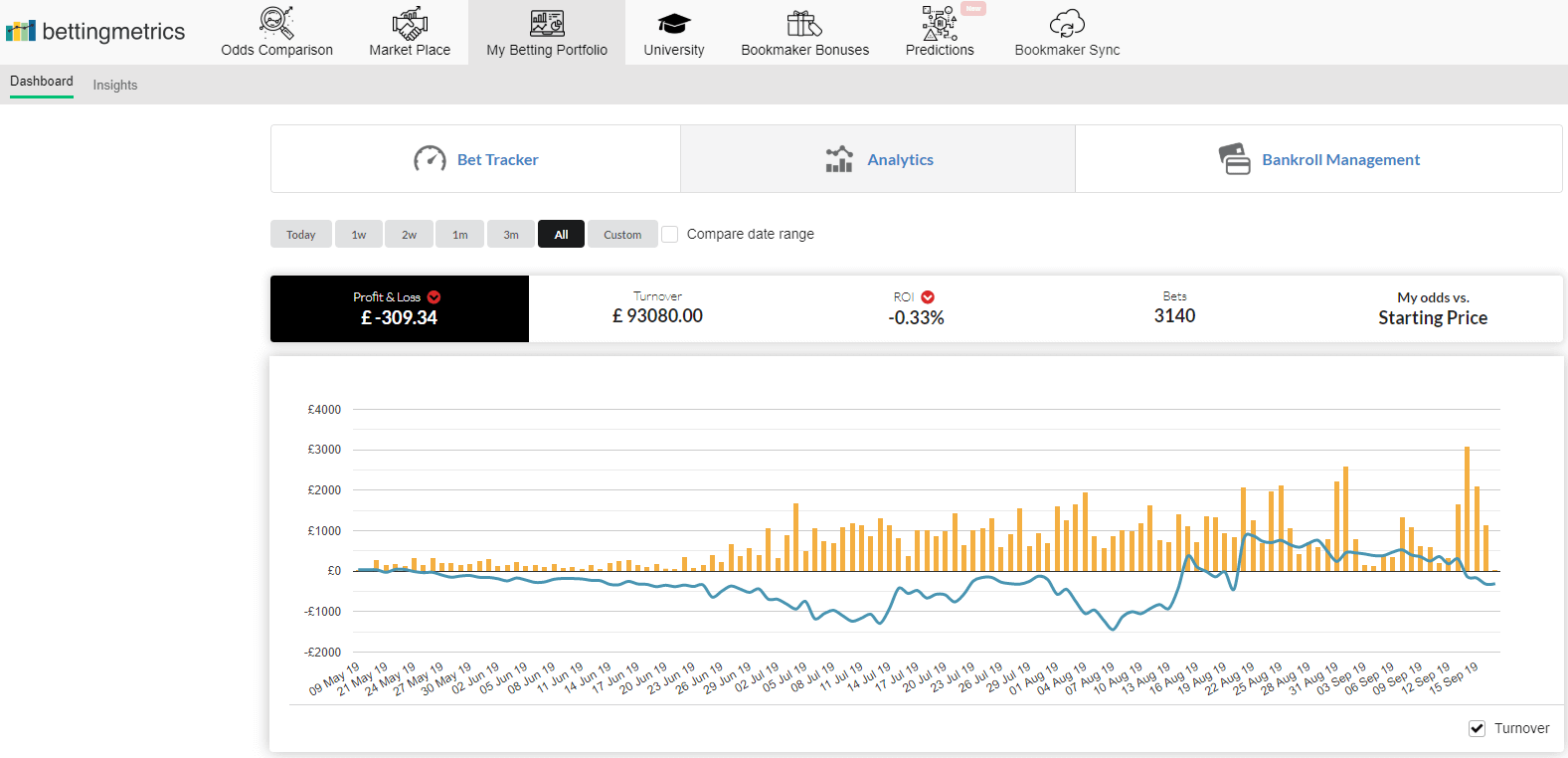 Stats Summary Week 17
Total bet amount: £9160
Profit/Loss: -£676
ROI: -7%
Bets Placed: 299
Won: 152
Lost: 138
Push: 6
Half Won: 1
Half Lost: 2
Winning: 51%
Average Odds: 1.90
Average Win odds: 1.70
Average Losing odds: 2.18
Average Bet size: £30