In order to avoid losses and build on what has been achieved, my portfolio has undergone changes in both betting strategies and participants because I do not want to fall into situations where there is no escape. Last week I added a new tipster in my bet journal whose name is Rosso27, and with his impressive results, he becomes the leader of the tipster competition on Bettingmetrics (where everyone can join for free). My move came after the attempt to change the trend and to increase my betting bank.
Last week I placed 134 bets, 74 of which were winning. The week contained football events and tennis tips but they were not profitable for me. In week 16 I lost £97 with a negative ROI of 2%.
Week 16 Profit&Loss graph: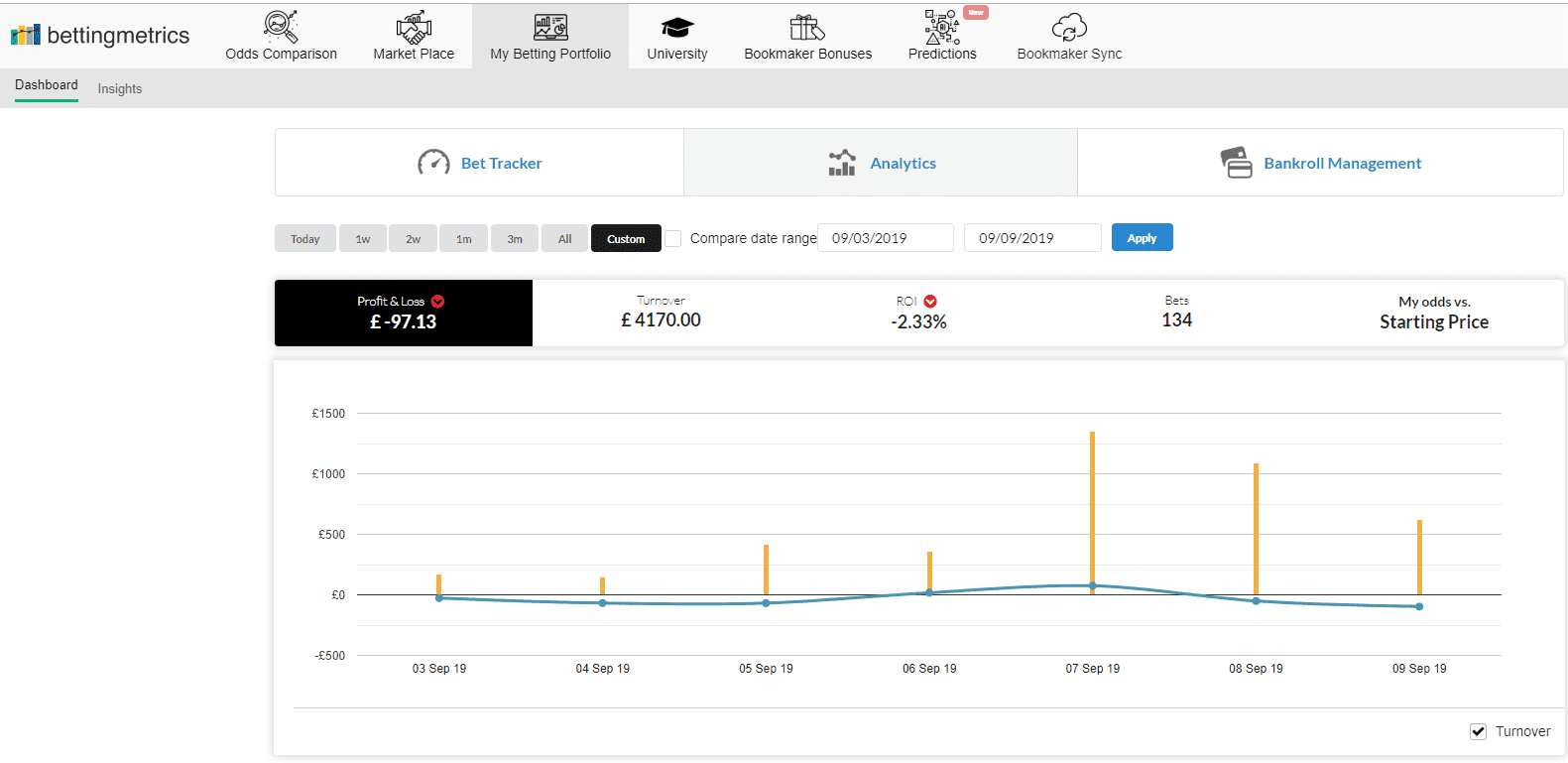 Although my betting portfolio is not performing exceptionally well so far I am quite happy with the time I spend on a daily basis to place and track my bets. On average I spend no more than 30 minutes per day to maintain my betting portfolio.
Since the time is the most valuable commodity as you can imagine I always have my focus on improving my efficiency. Therefore I would like to underline that I use Bettingmetrics odds comparison to place and track bets simultaneously directly from one single interface.
Here is a brief break down of the performance of each tipster from last week:
The new tipster in my portfolio - Rosso27 suggested 19 tips last week, 9 of which were winning. I placed all of them with a stake of £30 but this generated me a weekly loss of £74 with a negative ROI of 13%. I analyzed the first week of Rosso27 participation in the betting journal, and I noticed the good signs of value in his tips as on a few occasions his suggested odds beated the closing line odds provide by major bookmakers such as bet365. His average odds are 2.00, which predisposes for long-term profit if you follow him with the right money management strategy.
Park-Life-Tips had another great week and I avail from that fact. He provided 21 tips and generated me a weekly profit of £114 with a positive ROI of 18%. His August performance continues in September, and from the beginning of the journal he generated me a profit of £2473, a commendable fact. During his participation in my betting portfolio, he always suggests value-oriented tips with average odds of 2.60, which I reckon is a long-term approach that I am confident will results in consistent profits and happier days. Now, Park-Life-tips is at position 7 in the Bettingmetrics free tipster competition, but if he succeeds to keep his very good performance until the end of the month, for sure this will help him to climb in top 3.
PLT tips

freguli had a poor week and advised 24 tips with no success. I bet all of them with £20 but I lost 15 of his tips and that fact weakened my betting bank with £89 with a negative ROI of 18%. freguli is very football oriented tipster and probably the low volume of football events past week is the reason why he suggested unprofitable tips. Anyway, he had good average odds of 2.60 and nice shots like 3.60 Almeria to beat Malaga.
Bobbie2006 suggested 66 tips, which I placed with £35 each. 44 of his tips were winning, and I had a small profit of £37 with a positive ROI of 1%. When I checked his performance in the Betttingmetrics analyses I utterly noticed his pretty low odds but even that, his hit rate of 68% contribute well to my betting portfolio.
TennisTipsUK lost both of his tips last week. He damaged my portfolio with £100 but I'm very confident the upcoming weeks he will fix that stats and will increase my betting results. As I explained in my previous reports, he prefers to post a few tips per week but with extremely high-value, and well-informed motives. So if you follow him don't panic if for example he posts only 1 tip and loses it, you can trust him and bet on his tips with confidence. From the start of the journal, TennisTipsUK brought me a profit of £284 with a positive ROI of 10%.
The week wasn't profitable but wasn't too bad for me. I lost only £97 and that Is something usual in the betting because you can't always win (unfortunately). I followed a new tipster, which I believe will increase my profits in the long run.
As that was pretty quite week I was looking for some free cash to have some fun. I decided to open a few accounts with some less popular bookmakers and make the most of their new customer offers. As you can imagine I used Bettingmetrics expertise to decide where to open an account. I was nicely surprised when I found the special bonus page on Bettingmetrics where they aggregated all special bonuses that in general terms difficult to find out.
Bettingmetrics bookmaker special offers page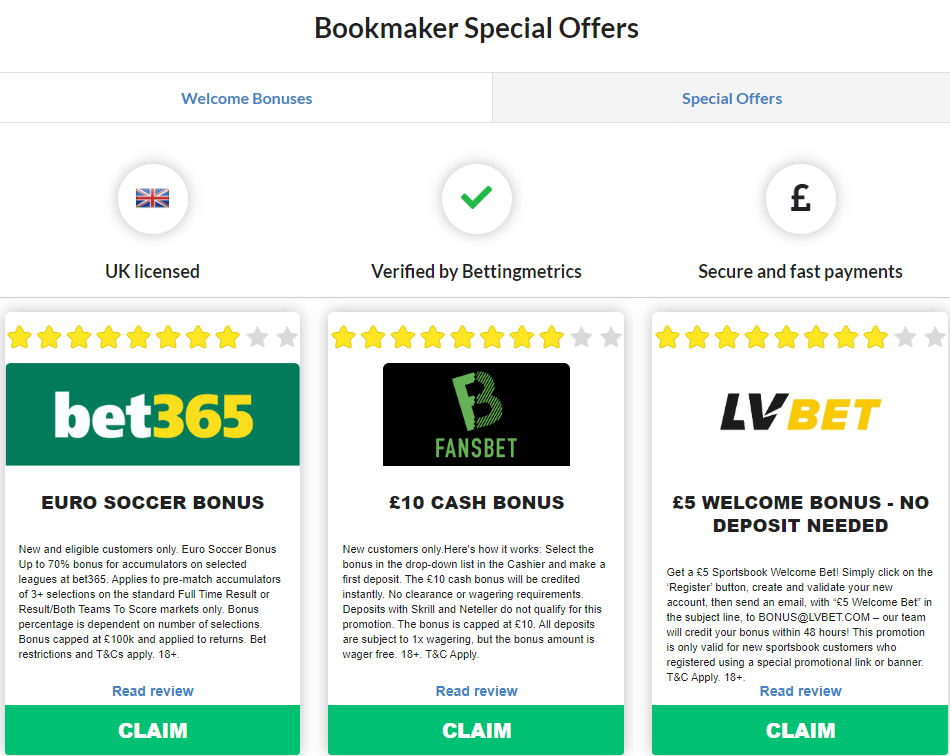 Since I started, I placed 2840 bets and I am standing at a profit of £302, but my ultimate goal is to double the starting amount of 9K until next May.
Thanks for your time, see you next week.
Profit&Loss graph since the beginning: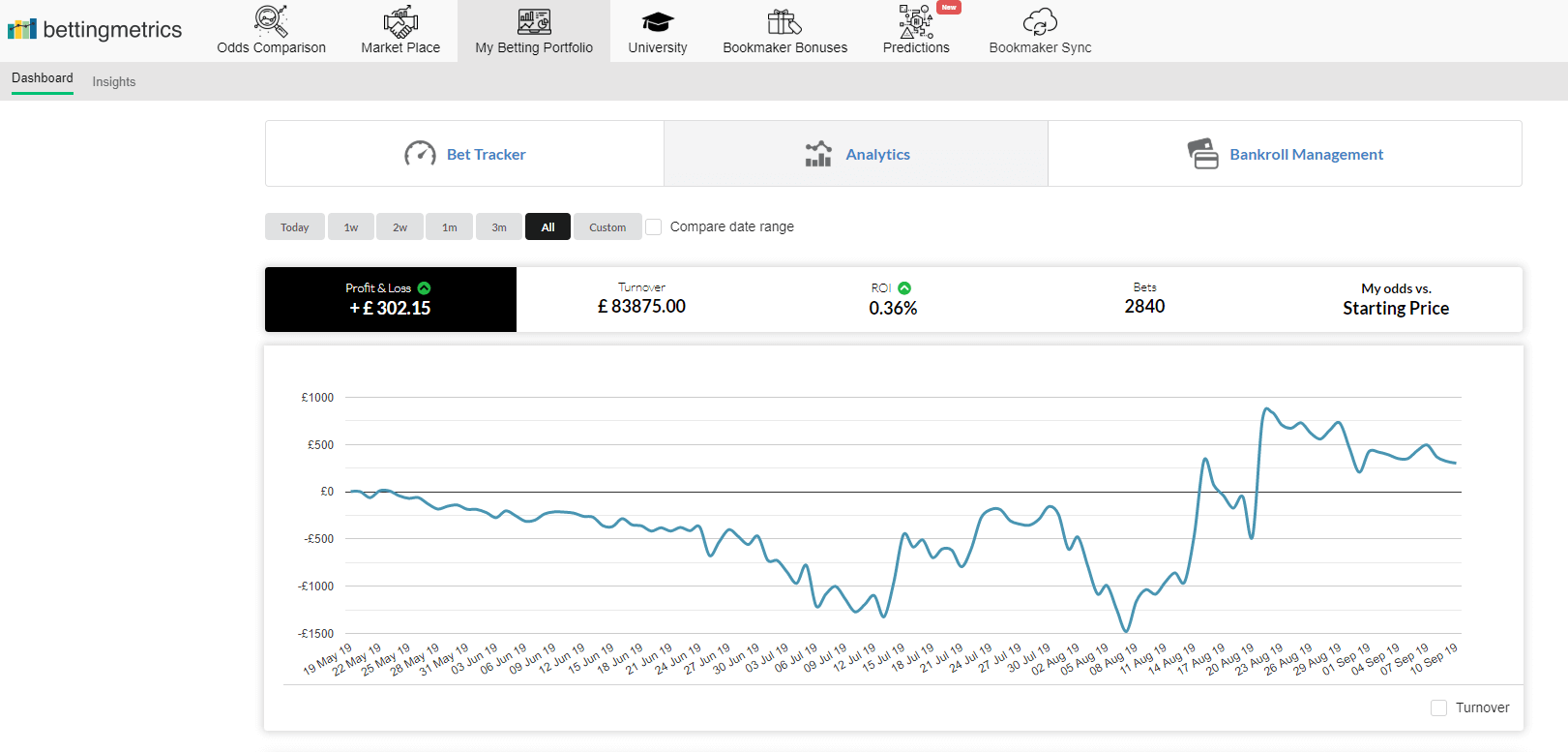 Stats Summary Week 16
Total bet amount: £4170
Profit/Loss: -£97
ROI: -2%
Bets Placed: 134
Won: 74
Lost: 56
Push: 3
Half Won: 1
Winning: 56%
Average Odds: 1.90
Average Win odds: 1.70
Average Losing odds: 2.22
Average Bet size: £31