I can't believe the time goes so fast, now is the 15 week of the start of this journal. Obviously, we went through different betting strategies, a wide spectrum of tips, and profitable (and not so much) tipsters.
Just like in life the betting has its ups and downs. After two successful reports fulfilled with profits, last week my portfolio was on minus. In week 15 I placed 268 bets suggested by my 5 tipsters (Park-Life-Tips, KaluGuru, TennisTipsUK, freguli, Bobbie2006). 4 of my tipsters provided me with winning tips, only KaluGuru had a negative week, but one tipster is enough to damage my portfolio. Last week I lost £165 with a negative ROI of 2%. The week passed under football domination and most of the tips were on it. My tipsters are not concentrating only on major leagues such as English Premier League or German Bundesliga. They suggested tips with value odds, which they found on Bettingmetrics odds comparison and their tips contained leagues such as Japan J-League, Mexican league, Slovenian league, and more leagues not so popular for betting. The famous tennis tournament - US Open has worked well for me and my tipsters suggested plenty of tips for that event.
Week 15 Profit&Loss graph: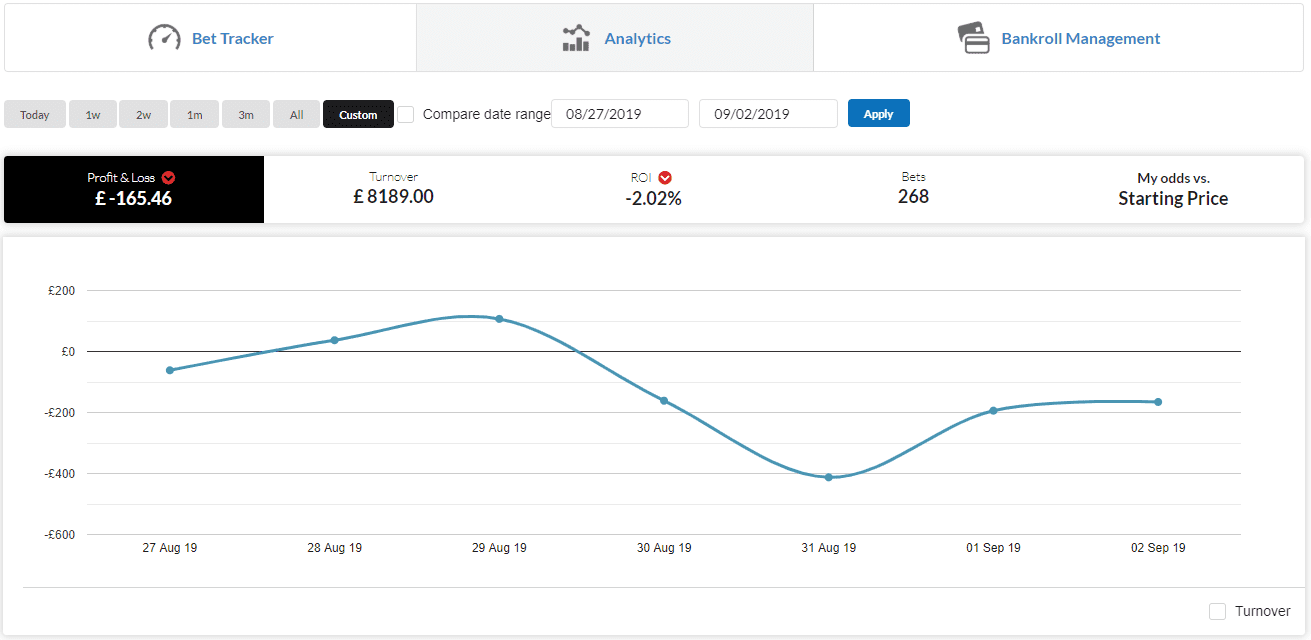 In my regular report, you can check the performance of each tipster last week.
Bobbie2006 suggested 62 tips, which I placed with £35 each. He had a good week and generated me a weekly profit of £108 with a 5% positive ROI. While I was analysing his performance on Bettingmetrics "My betting portfolio'' section, I noticed that he had good strikes on the odds range between 1.40 - 1.70 (76.47% hit rate). You can say the odds are with no great value, but if Bobbbie2006 has 5 weeks like the previous, I can win more than £500 only from his tips with those odds.
Only £38 profit by the freguli tips last week, but better than nothing. He posted 75 tips, 33 of which were winning. I bet on his tips with £20 each but last week he showed good odds strikes such as 8.00 FC Minsk to win against Bate Borisov. If you follow him and bet on his tips emphasized in the odds range 3.20-4.20, where Bettingmetrics analyses show the fact that he has good value signs on this range.
reguli successful tips:

TennisTipsUK advised 2 tips only last week. Yes, I know it's nothing for a tipster of his rank but the regular profits, which he generated me since the beginning of the journal, reassuringly secure his long-term participation on this journey. Last week he won both of the tips, which I placed with £50 and generated me a weekly profit of £136. Quite obviously, quality over quantity.
TennisTipsUK successful tips

Park-Life-Tips hit his fifth week on profit in a row. In the beginning, when I deeply researched the tipsters on Bettingmetrics platform, I noticed his value-oriented approach underline with high betting discipline. After his few weeks of loss, which damaged my portfolio, now he is on commendable position. Last week he posted 48 tips, which brought me a profit of £41 with a positive ROI of 3%, keep in mind I bet on each tip with only £30.
The good news ends here. One of my favourite tipsters had again a negative week. KaluGuru posted 78 tips and lost only 27, but his low odds weakened my portfolio with £527 with a negative ROI of 15%. Definitely, I like his approach to explaining why he posts each tip, but I can't see any value on that kind of odds ranges. Probably, if you follow him with a different strategy or with high stakes, he can bring you good profits, but on this journey, he couldn't make it.
I would like to replace KaluGuru in an attempt to refresh the team. The tipster whose name is Rosso27 is the leader of the tipster competition, which is running now on Bettingmetrics. He prefers football tips and odds over 1.80, which motivates me to add him in this journal, I reckon he can be profitable for me and for everyone who follows this journey.
Rosso27 Bettingmetrics profile:
Week 15 of the journal brought me a loss of £165 with a negative ROI of 2%. From the beginning, the betting portfolio is on positive position and since now I won £491. My total balance now is £9427. With the new tipster, which I added I believe that number will increase very soon.
See you next week.
Stats Summary Week 15
Total bet amount: £8189
Profit/Loss: -£165
ROI: -2%
Bets Placed: 268
Won: 152
Lost: 111
Push: 1
Half Won: 3
Half lost: 1
Winning: 57.1%
Average Odds: 2.10
Average Win odds: 1.73
Average Losing odds: 2.50
Average Bet size: £30