Today is the day to report the results of week 14 of the betting journey. I'm in a good mood and that is because my portfolio continues with the profits. In week 14 I received 306 tips, 161 of which were winning. This result makes me a weekly profit of £672 with a positive ROI of 6%. My betting balance raises to £9592.
Week 14 Profit&Loss graph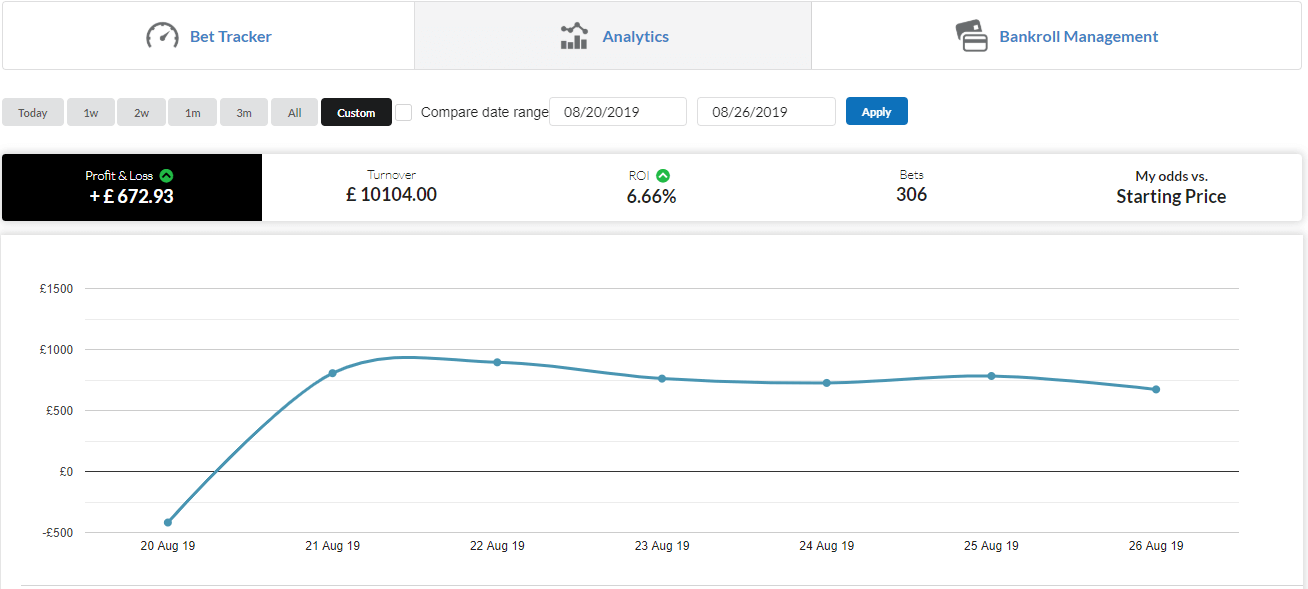 I definitely love to report when my portfolio is on the positive side. Those reports make me happy and satisfied because they show me that the patience and the right strategy are two of the most important factors when betting. After I suffered from a loss a few weeks from the tips and inefficient betting strategies, I found the best way to make every one of my tipsters contribute to the journey.
Before I place my bets directly via Bettingmetrics odds comparison , I always check the analytics about each of my tipsters, the betting platform developed that area really well and I use it every day for my betting activities. That section is helpful for me and every time when I am in doubt about my betting, I trust it. The deep analytics give me a good view of the lucrative odds ranges, on which sport or which day, my tipsters are successful, and all this data increases my betting profits.
The strategy, that I added recently gives the results, which I expected, and I am not planning to make changes. Successful football coaches know the fact that, when the results are on your side, you can't afford to make any substitutions or strategy changes.
My journey consists of 5 tipsters, and on the brief below you can check their performance last week:
Same as my last report, Park-Life-Tips took the lead last week. He is in good shape, and I am very happy when I receive lucrative tips from him. PLT posted 47 tips last week, again I took the risk to bet some suggestions, in which I saw good value, with high stakes and this fact led me to success. The tips received from PLT increased my betting portfolio balance with £1150. The positive ROI of 52% is commendable and I hope it continues.
Park-Life-Tips tips with increased stakes:

KaluGuru damaged my portfolio last week with a loss of £589. He posted 93 tips, all of them I placed with a set stake of £40, but his suggestions weren't profitable for me and the portfolio. When I checked his performance back in time, I noticed the fact that it continues for too long and is not a calculated risk for me to keep him in this journey. I will place his tips one more week, and if nothing changes I will rethink his participation in my portfolio. Although he has a success rate of over 50%, the low odds and his unconvincing tips can make me substitute him for another tipster.
Bobbie2006 posted 69 tips last week, 42 of which were winning. His tips generated me a weekly profit of £15 with a positive ROI of 0.7%. I placed his suggestions with only £25, but for next week I plan to increase that amount to £35. Bobbie2006 posts regularly, and have good signs of value in the odds range 1.70-2.50, a fact which I noticed thanks to the analytic tools on Bettingmetrics and I increased the stakes to £100 for few of his tips last week. I will continue to keep an eye on that odds range when I place my bets for next week.
freguli suggested 93 tips last week, 46 of them won. He had good strikes in the odds range 2-2.50, and despite the fact that I placed all of his tips with only £20, he generated me a weekly profit of £233 with a positive ROI of 12%. If you decide to follow him keep an eye on those odds (2.00 - 2.50), where freguli has 68% hit rate.
TennisTipsUK is my disappointment of the week. If we put aside that he posted only 3 tips last week, which I bet with £50, all of them lost which caused me money loss of £150. A real shame, I think he should rethink his strategy if he wants to gain more followers.
TennisTipsUK week 14:

Week 14 of the betting journal, which I started on the popular betting platform Bettingmetrics was successful (with some exceptions). I received 306 bets, which brought me a profit of £672 with a positive ROI of 6%. Now the platform is running a tipster competition and all of my tipsters are part of it. Hopefully, with the lucrative cash prize, which the guys from Bettingmetrics give to the winners, should stimulate my tipsters to continues with the valuable tips.
Since the beginning of the journey, my tipsters generated me a profit of £632 and I hope in every report this number will increase.
See you next week.
Stats Summary Week 14
Total bet amount: £10104
Profit/Loss: £672
ROI: 6%
Bets Placed: 306
Won: 161
Lost: 139
Push: 5
Half Won: 1
Winning: 52.9%
Average Odds: 2.10
Average Win odds: 1.83
Average Losing odds: 2.40
Average Bet size: £33