This is the tenth week of the beginning of my betting journey. Although until now my portfolio had ups and downs, the negative results did not disappoint me or made me rethink my main goal which is to make money from following tipsters.
I'm glad to say that the past week was successful and I'm happy with the results and the gained profit.
Last week I was fully focused on betting and I managed to track and bet all the tips I received on time. Most often I bet in dozens of online bookmakers in an attempt to catch the best odds and bonuses. I have the betting discipline to have an account with many bookmakers and this makes me sure I will not miss events, bonuses or value odds. From a while, I use the bankroll management which Bettingmetrics presents to its members and I successfully manage all my money and bookmakers' balances. The punters who bet like me know how hard is to do all the money management calculations, so for sure this is one useful tool.
Last week I placed 184 bets and I won 110 of them which indicate a good hit rate and give me the confidence I'm on the right way.
The tipsters generated me a weekly profit of £279 with a positive ROI of 4%. The most profit I gained at the beginning of last week where I placed bets mostly on Champions League Qualifications and the ATP tennis tournaments such as Gstaad, Atlanta and Hamburg. Some of the tips last week were in-play and thanks to the fast oddsin-play area on Bettingmetrics I caught the best odds without leaving the website where I received the tips. This for sure gives me a good way for profit because I bet directly via Bettingmetrics odds comparison and this saves me a lot of precious time.
Profit & Loss graph:

You can check the entire performance last week below.
First off, I decided to replace gerry5 as he did not show any satisfying activity for the past few weeks. My move came after not receiving any tips from gerry5 last week. This is not the first week he has low activity. Because he gave me some good horse racing tips, I will keep my radar on him and if he improves his activity, I might reconsider my decision.
The tipster which will take his place is freguli. I checked his performance on Bettingmetrics and the depth analyses which the website presents for every tipster gave me good signs of value of his tips. I hope he will show his skills in this journey and successfully make me a profit.
freguli performance on Bettingmetrics: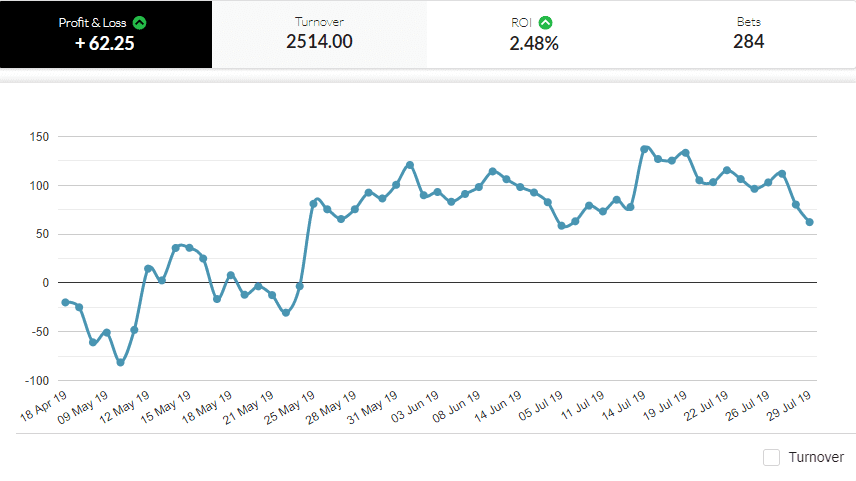 Last week KaluGuru posted 91 tips, 64 of which were won. This statistic gained me a profit of £371 with a positive ROI of 10%. The week was good for him and thanks to the analytics I use to track the tipsters I can see he started to raise his average odds and now they are 1.60 which is better than compared to the beginning of the journey. The odds were really with no value and I wasn't happy with this fact. Thankfully, KaluGuru recognized his mistake and proves that he is one of the main tipsters on Bettingmetrics who deserves the trust which he receives. If he continues with that good performance, I expect to increase my potential ROI and for sure increase my profit thanks to his tips.
Last week the tennis expert TennisTipsUK advised just 6 tips. Only 2 of them were with success and this generated me a weekly loss of £17 with a negative ROI of 7%. He won the last tip with odds of 4.10 which helped me to limit the loss. Generally, TTU is one of my favorite players in this journey because he always tries to give you value with his tips - he prefers quality than quantity.
Park-Life-Tips performed really bad last week. He suggested 34 tips and lost 24 of them which I really disliked. Unfortunately, his bad performance generated me a weekly loss of £236 with a negative ROI of 24%. As you know, I like to analyse the tipsters which I trust and I'm not taking any underestimated risks. I still have my own opinion about PLT which is positive because I follow his tips for a long time, but if he did not change his betting behaviour in the next few weeks he is inefficient for me and the journey. I have one more idea for PLT and I will set a £20 flat stake for his tips for the next week.
Bobbie2006 had a week with a good success rate. He posted 52 tips and won 33 of them which generated me a weekly profit of £138 with a positive ROI of 6%. I compared the 3 weeks which he belongs to this betting journey thanks to Bettingmetrics analytics. There I can compare everything which interests me about the tipsters and their performance, and all this data showed me that Bobbie2006 has the most profitable week since now. His tips are with average odds of 1.60, but the analysis shows me he has a very good rate in the range 2.50-4.20 which is great and I encourage him to take the risks and send tips on this range because they can bring anyone an exceptional profit.
Last week my long term oriented view was confirmed once more. I gained a good profit, but this doesn't break my focus and doesn't lift me into the clouds. Soon, the major football leagues are going to start and this gives me extra confidence because most of my tipsters prefer the king of the sports - football.
The tips last week gained me a weekly profit of £279 with a positive ROI of 4%. My portfolio balance now raise to £8660
From the beginning of this adventure, I lost £342 with a negative ROI of 0.9% which I plan to burn away and soon start gaining the long term profit I expect.
Stats Summary for week 10
Total bet amount: £7110
Profit/Loss: £279
ROI: 4%
Bets Placed: 184
Won: 110
Lost: 71
Push: 1
Half Lost: 1
Half Win: 1
Winning: 60%
Average Odds: 1.90
Average Win odds: 1.70
Average Losing odds: 2.17
Average Bet size: £38