It has been a week since Bettingmetrics launched its betting journal and as you most likely know I am Anthony. I have quite a few years of experience in the iGaming sector and I want to help people improve their betting results.
I will be building my own betting portfolio by following various tipsters and provide you with weekly updates. I have started following 5 tipsters on 20.05.19 and it is now time for my first report.
My portfolio is worth £9k and my ultimate goal is to double the size within 12 months
My betting portfolio currently consists from 5 tipsters. In week 1 I have placed a total of 212 bets which considering the part of the season ( most of the major European football championships have already finished). I have generated a weekly loss of £192. The total turnover was £1920 driving my portfolio at a negative ROI of 10%. My current betting balance is £9,808
I will now briefly observe the performance of each tipster individually.
Park-Life-Tips (PLT) tipster advised me 102 bets with 44.12% Hit rate meaning that I won 45 bets. He generated a weekly loss of £128 with negative ROI of 13%. Something I quite like about him is the odds ranges. I personally feel very comfortable to place bets with odds around the 2 mark and PLT tips were with average odds of 2.20.
Alcuni another tipster from my portfolio started his journey with us with 20 bets. Unfortunately, this week was not the best for him neither and 16 of his tips lost. He generated a weekly loss of £67 with a negative ROI of 44%. I have placed the advised bets with small amounts because of the suggested high odds - average around 3.60 suggesting large variance.
The tennis master in our portfolio is TennisTipsUK. He advised 7 bets last week all with plenty of value. He achieved some tiny profit considering the really small stakes I have used for the first week. Tennis Tips UK generated a weekly profit of £15 with positive ROI 24%. I prefer his tips because the average odds are around 2.60 and this is an opportunity for a good profit.
Another tipster that is part of our portfolio is Drazen. Last week following his tips I placed 13 bets and I won 5 of them. He made a profit of £28 with positive ROI – 38%. I can see great value in his tips and will keep a close eye on his predictions.
KaluGuru is the last tipster of my current portfolio. He has advised me the most tips in comparison to all other tipsters. He suggested 68 tips and lost 47, generating a loss of £24 with a negative ROI of 3%. The average guided odds were 1.70 which were easily obtainable.
This week I generated an overall betting portfolio loss of £192 and a negative ROI of -0%. I am not worried at all as this is just one week worth of data. Let's see what will happen next week.
Profit & Loss Graph: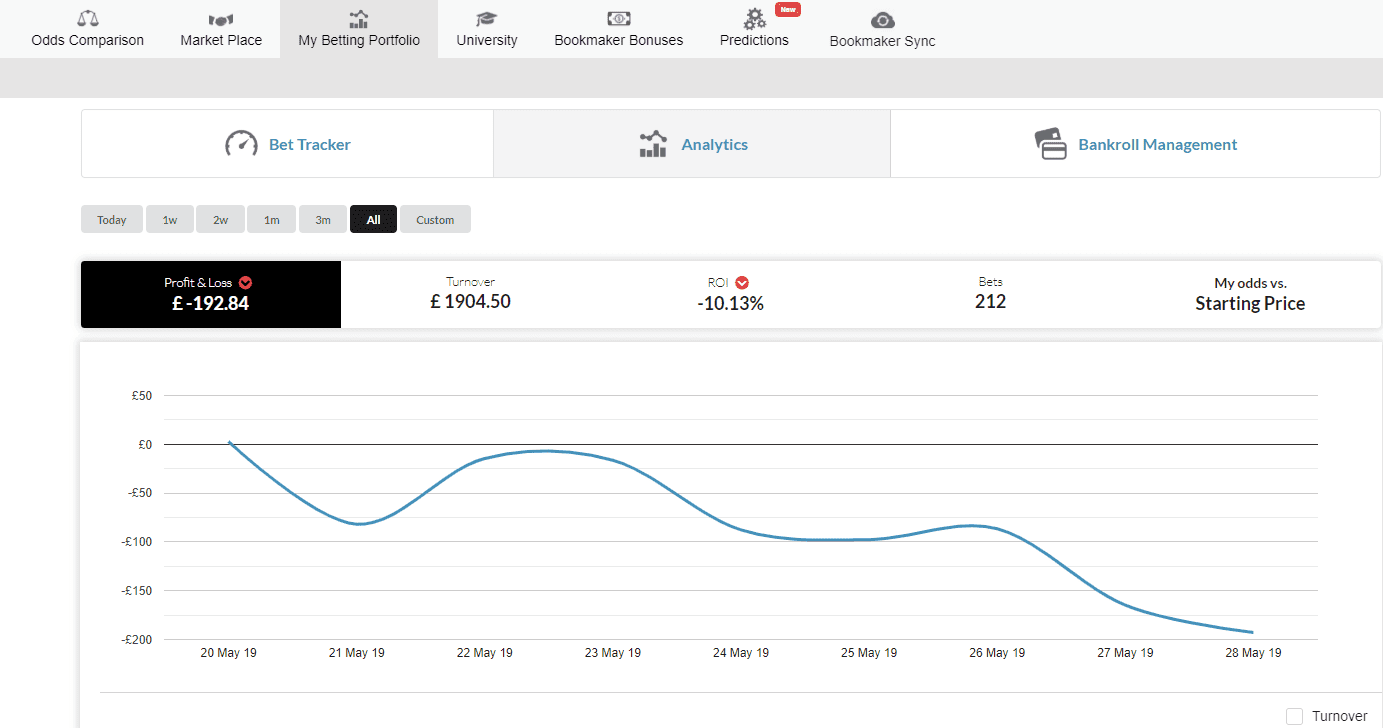 Stats Summary for week 1
Total bet amount: £1905
Profit/Loss: -£192
ROI: -10%
Bets Placed: 212
Won: 105
Lost: 96
Winning: 49.0%
Average Odds: 2.40
Average Win odds: 1.87
Average Losing odds: 3.07
Average Bet size: £ 9