As we have recently closed our second round of investment the whole Bettingmetrics team is now focused on adding more features and improving the software.
First, I would like to start with an announcement about the launch of our own Bettingmetrics affiliate program. The affiliate program is designed for betting bloggers, people with popular social media accounts and anyone who believes Bettingmetrics is an important tool for punters that want to increase their betting profits. The sign up process is simple and straight forward. To find out more about the program follow this link . By joining the program and spreading the word about Bettingmetrics you will not get rich quickly but for sure you will make some money while helping others to get better results from their betting.
Following the recent launch of our alpha odds comparison section we added two more bookmakers: bet-at-home and perhaps one of the best bookmakers ever pinnacle – find out why here . With those two bookies being added the total amount of bookmakers available in Bettingmetrics odds comparison adds up to six. We also support 14 different betting markets.
Apart from adding more bookmakers we have enhanced our odds comparison algorithm and we support odds comparison for both pre-game and in-play odds. Our strong focus remains the fastest odds updates and as many as possible in-play odds. In addition we upgraded the design of our odds comparison vision. We structured the events view by date so it easier and faster to find the event you are looking for in case you are not using the search bar of course.
Another feature we added is the ability to fully synchronise your Betfair account with Bettingmetrics and place bets straight from the odds comparison to Betfair. To synchronise your account simply use click the drop down menu located in the header of site and click log in as shown in the below picture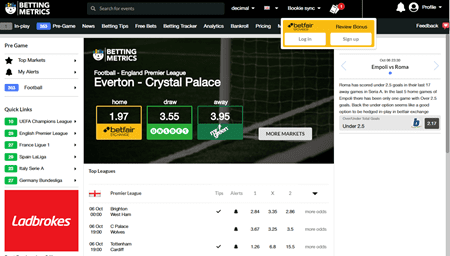 For the once that enjoy trading on any exchange we added the ability to track trades to Bettingmetrics bet tracker . We aimed to make it as simple as possible and all you have to do is click the exchange trade tag. Please feel welcome to test it and provide us with any feedback.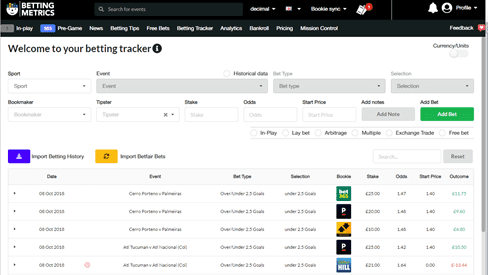 An updated profile area has also been released - you can download all you betting history from there, restart your account or permanently delete it.
A recent feature we added to Bettingmetrics is automated weekly performance report. If you want to receive it please go to your profile and select "YES" as shown on the picture below and every Monday you will receive an email from Bettignmertics underlying the most important key performance indicators for your betting portfolio.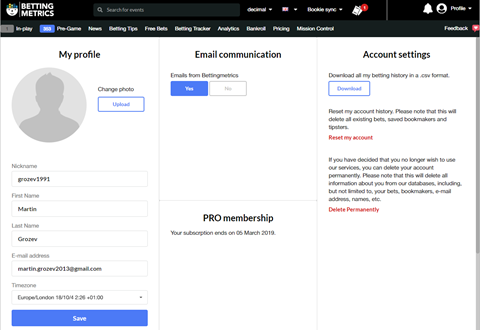 Some other very cool features are to be added soon so sign up if you have not done yet.